The Kiefer Sutherland Action Hidden Gem Series You Can Binge On Hulu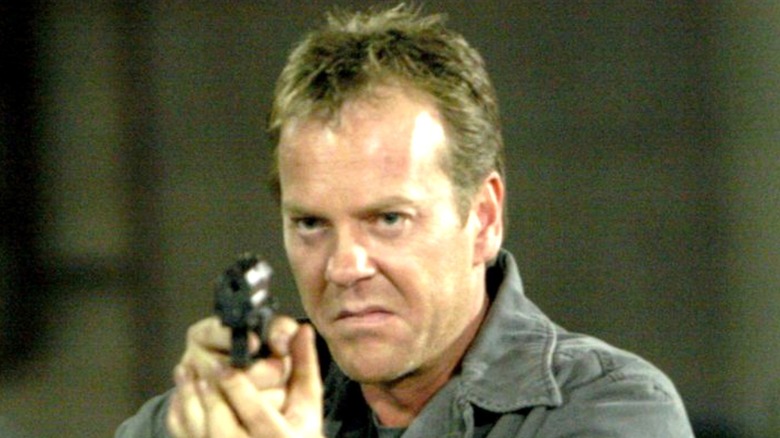 Fox
Emmy Award-winning actor Kiefer Sutherland has had quite an amazing career that spans across film and television, including roles in such memorable features as the coming-of-age drama "Stand by Me," the horror thriller "The Lost Boys," the sci-fi thriller "Flatliners," and intense military drama "A Few Good Men." It's arguable that Kiefer Sutherland — the son of legendary actor Donald Sutherland — made his biggest impact on TV, starring in several series over the years, including an update of the chase thriller "The Fugitive," the underrated sci-fi drama "Touch," and the political thriller "Designated Survivor."
"Designated Survivor" boasts a particularly unique plot, which begins with Kiefer Sutherland's Tom Kirkman, who is serving in a low-level White House cabinet position as the Secretary of Housing and Urban Development. Tom's life is dramatically changed, when he is sworn in as U.S. president after an attack on the U.S. Capitol wipes out the commander-in-chief and every member of his cabinet. The series was a big hit for Sutherland when it ran on ABC for two seasons from 2016 to 2018, before it was picked up by Netflix for its third and final season in 2019. 
Perhaps one of the reasons for the success of "Designated Survivor" is that it had a sense of urgency throughout, something reminiscent of a groundbreaking series that made Sutherland a TV icon during its eight-season run from 2001 to 2010.
All eight seasons of Kiefer Sutherland's 24 are streaming on Hulu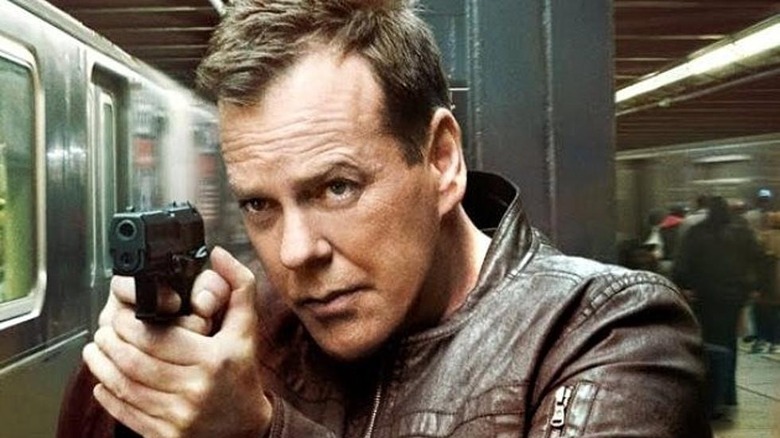 Fox
An edgy product of Fox Television when it originally aired on broadcast TV, "24" followed the harrowing exploits of Jack Bauer, a government counterterrorism agent who each season faced life-and-death scenarios with insurmountable odds that needed to be resolved within a 24-hour time period. The first season finds Jack attempting to thwart the assassination of David Palmer (Dennis Haysbert), a prominent U.S. senator running for president. Jack faced different daylong catastrophes-in-the-making in subsequent seasons, including threats of nuclear attacks, biological warfare, and unfolding terrorist plots.
Without question, one of the most creative elements of "24" was that it was a series that played out in real time. As such, each season contained 24 episodes that — including commercials — ran an hour a piece. One of the show's hallmarks was a ticking LED time clock detailing the hour, minute, and second, which popped up onto the screen, and tantalizingly led viewers in and out of commercial breaks.
All seasons of Sutherland's "24" can now be binged on Hulu, and depending on fans' subscription packages, episodes run approximately 45 minutes for premium subscribers or an hour those whose viewing plan includes commercials. No matter the case, the fast-moving action scenes and continual intrigue of the series are bound to keep viewers glued to their seats for hours at a time, as each episode peels back more layers to reveal unforeseen plot twists.
Audiences were knocked out during the eight-season run of "24," as critics give it an average Rotten Tomatoes ranking of 87% on the Tomatometer. Viewers' average audience score also sits at 87%. The television industry loved "24" as well, as the series scored 68 nominations that yielded 20 Emmy wins over the course of its impactful run. Check it out, if you haven't already seen it, and if you're planning to revisit, there's no better time than now.