The Best Bensler Moment In Law & Order: SVU Season 3
"Law & Order" is a sprawling franchise that has had decades to rip the occasional murder or scandal from the headlines, craft compelling fictional cases, and introduce the world to numerous detective partnerships investigating various crimes, mostly in New York City but also moving into cities like Los Angeles and Chicago at certain points. There is no shortage of unique and entertaining team-ups in the Dick Wolf-produced franchise, but it would be difficult to argue that there exists a more significant pairing than that of Detective Olivia Benson (Mariska Hargitay) and Elliot Stabler (Christopher Meloni) from "Law & Order: Special Victims Unit." 
In the world of "SVU," Benson and Stabler are often referred to as "Bensler" by fans. With Stabler recently returning to the "Law & Order" scene with appearances on his old "SVU" stomping grounds, as well as headlining his own series, "Law and Order: Organized Crime," it's been a great time for Bensler fans. It's also a great time to revisit some of the old moments, big and small, that solidified this relationship into what it is today. Some of these moments have certainly been ones of mutual attraction, but there are also ones driven by personal and professional respect. This connection makes Benson and Stabler not just great friends but effective partners. 
Here is a look at the best Bensler moment from early on in their partnership — all the way back in Season 3 of "Law & Order: SVU."
One of Bensler's most challenging cases was in the Season 3 episode 'Guilt'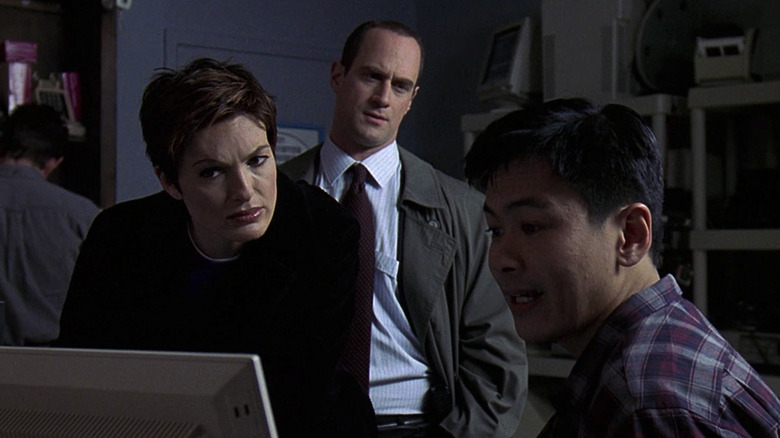 NBC
Season 3 is still early days for Benson and Stabler's relationship, but it's clear by this point on "Law & Order: Special Victims Unit" how well the two complement each other; their secret weapon is a shared dedication to the victims, who they remain committed to protecting in every episode. In the Season 3 episode "Guilt," the Special Victims Unit detectives face one of their most challenging cases, a serial abuser of young boys who shows zero remorse or interest in confessing to crimes that are sexual in nature. Things get heated between Benson, Stabler, and Assistant District Attorney Alexandra Cabot (Stephanie March) as the case begins to fall apart, with the only major evidence being the statement of a frightened young man (Bret Harrison) who still has connections to his abuser.
Benson and Stabler are required to have more of a united front here, especially when Cabot yells at the detectives to do their jobs and find more evidence instead of relying on her to "fix" their cases. It's an intense moment, but one that makes it all the more clear later why Bensler works so well together. The two don't let Cabot's words break them, and neither gets personal. However, there is a moment when Stabler seems ready to jump out of his shirt with anger, and Benson nearly steps in before tensions diffuse.
If you or anyone you know has been a victim of sexual assault, help is available. Visit the Rape, Abuse & Incest National Network website or contact RAINN's National Helpline at 1-800-656-HOPE (4673).
If you or someone you know may be the victim of child abuse, please contact the Childhelp National Child Abuse Hotline at 1-800-4-A-Child (1-800-422-4453) or contact their live chat services.
Bensler showed they cared about the victims more than anything else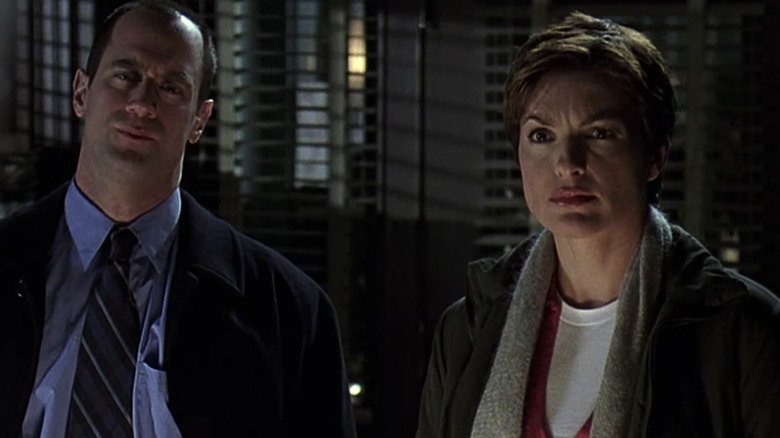 NBC
"Dad's made," Detective Fin Tutuola (Ice-T) informs Benson and Stabler when they return to the office after performing a search with Cabot that leads to new evidence. The trouble is there is no actual search warrant, something Benson and Stabler quickly realize when they are confronted about the incident and recall Cabot's vague language.
Considering the shouting match that occurs earlier in "Guilt," it would be easy for Stabler and Benson to toss Cabot to the wolves. Instead, they defend her, with Benson saying she was "trying to protect" them. This protection of Cabot has nothing to do with the ADA but rather the victims. Benson and Stabler know they have found new evidence proving a man's guilt, and their commitment is to see justice done. Even when they are told their jobs are on the line, the two stand tall, even while knowing Cabot lied to them. They don't need to exchange a look or have a team huddle beforehand because Benson and Stabler are best when they have to act as one.
Cabot's actions are later called "deplorable" in court, but the team gets their man — a man viewers know is guilty. It couldn't have been done without the help and support of Bensler in that pivotal moment, which shows the true strength of their professional partnership.