Will Smith May Be In Bigger Trouble With The Academy Than We Thought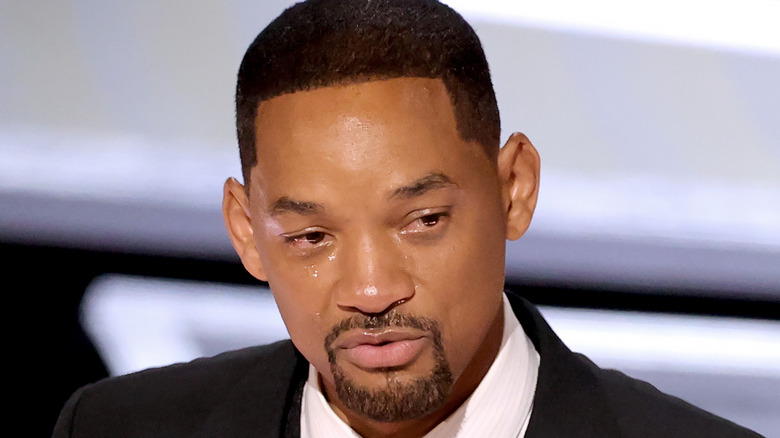 Neilson Barnard/Getty Images
The aftermath of the slapping incident between Will Smith and Chris Rock at the 94th Academy Awards continues to send shockwaves across the entertainment industry. Celebrity reactions have been all across the board, though many think that Smith crossed the line. Fans haven't been too welcoming of Smith's Oscars outburst, either. 
The Academy has already condemned Smith's actions, and announced that it intends to deal with the incident after a formal review. Still, since Academy Governor Whoopi Goldberg has also stated that the Best Actor winner will retain his Oscar, and Rock seems unlikely to press charges, it's easy to assume that Smith's comeuppance will be little more than a (presumably metaphorical) slap on the wrist. 
However, newly surfaced information suggests that this might not be the case after all. In fact, it turns out that Will Smith might be in much bigger trouble with the Academy than an outside observer could have guessed.
Consequences seem imminent for Will Smith after an Academy emergency meeting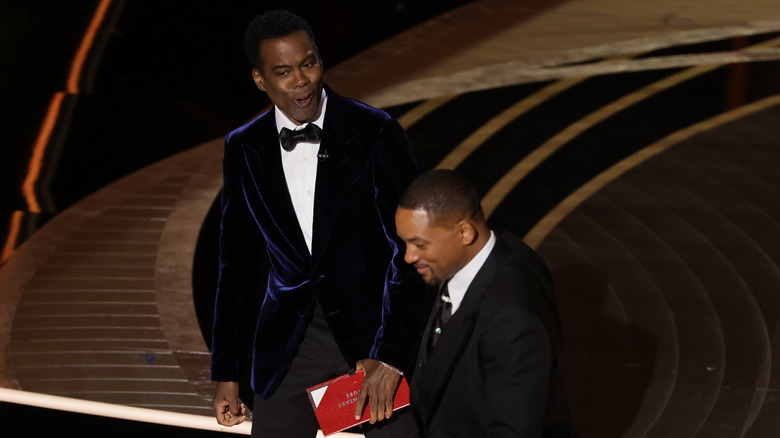 Neilson Barnard/Getty Images
Will Smith is aware that there'll likely be consequences for his actions, and according to exclusive information obtained by Variety, he said as much during an apologetic Zoom meeting with Academy bigshots David Rubin and Dawn Hudson shortly after the incident. On March 27, the Academy's Board of Governors had a wider meeting to discuss the situation, and while the conversation between Rubin, Hudson and Smith reportedly didn't come in play there, the consensus seems to be that the Best Actor winner is in hot water.
Another report by Variety revealed that the post-slap situation was rather chaotic, and it appears that Smith wasn't explicitly told to leave the premises in the aftermath of the incident — in fact, some say he was specifically asked to stay put. Regardless, the Academy seems to have decided that Smith will be punished for the incident. It remains to be seen just how this will happen, but per Deadline, the possibilities include expulsion from the Academy — a nuclear option that has been deployed on occasion, such as in 2017 when the Academy showed Harvey Weinstein the door (per the Los Angeles Times). 
However, both Smith and the public will have to wait for some time before the matter is settled. "At the next board meeting on April 18, the Academy may take any disciplinary action, which may include suspension, expulsion, or other sanctions permitted by the Bylaws and Standards of Conduct," the Academy's statement on the matter read.