This Is How Much Yellowstone's Taylor Sheridan Is Actually Worth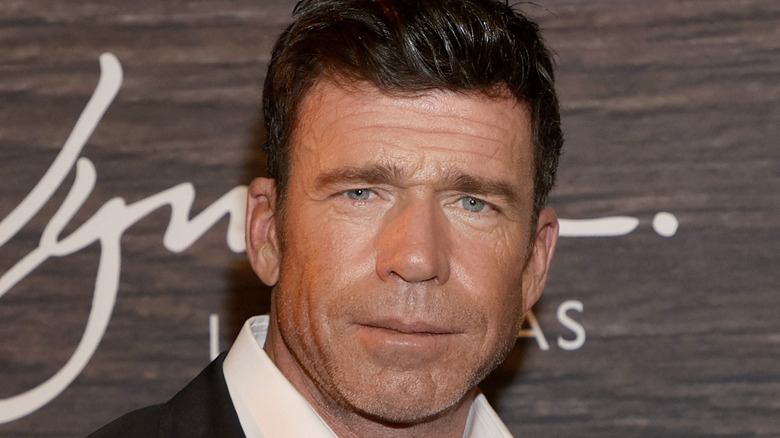 Ethan Miller/Getty Images
In the space of just a few short years, Taylor Sheridan has transformed himself from struggling B-list actor to one of Hollywood's most prolific, and in-demand creators. That stunning transition, of course, began when Sheridan famously walked away from a steady gig on "Sons of Anarchy" to begin his career as a writer. His first screenplay laid the foundation for Denis Villeneuve's surprise 2015 hit "Sicario." The second script — for 2016's "Hell or High Water" — earned Sheridan an Academy Award nomination for Best Original Screenplay, with the actor-turned-writer adding "director" to his resume with his follow-up project, 2017's "Wind River." 
A year later, Sheridan hit pay-dirt and then some on the small screen when he brought the neo-Western ranching drama "Yellowstone" to Paramount Network. Now four seasons into its run, "Yellowstone" has become a ratings hit beyond likely even Sheridan's expectations. The series' blockbuster success has made a legit power player of Sheridan in certain Hollywood circles. It has, naturally, also helped make a wealthy man of the multi-hyphenate filmmaker. 
With all that success in mind, here's how much "Yellowstone" boss Taylor Sheridan is actually worth.
Taylor Sheridan's net worth is not entirely certain these days
We should tell you up front that Taylor Sheridan's net worth is actually a bit of a mystery at the moment. And some of the sites that track such stats are providing dramatically different reads on his financial situation. Case in point, several sites, including CAknowledge.com, are currently claiming Taylor Sheridan's net worth to be approximately $2 million. While that figure would be beyond impressive based on where Sheridan's career was just a few years ago, it seems unlikely given his astonishing success — realistically, his fortune should be much larger.
In a 2021 piece, The Cinemaholic offered a more optimistic view of Taylor Sheridan's net worth, estimating the filmmaker's fortune at approximately $10 million. That is also, quite likely, a low estimate: The Wall Street Journal recently reported Sheridan had indeed inked a lucrative $200 million production deal with ViacomCBS and Paramount to create new content for their streaming and cable TV wings. While the exact details of the deal aren't known, Sheridan's take almost certainly lifted his net worth well above the $10 million mark. Considering he's also just bought a stake in Texas' famed 6666 Ranch (per The Houston Chronicle), Sheridan's real estate portfolio is obviously nothing to slouch at either. So even if we can't put an exact number on Taylor Sheridan net worth these days, he's clearly doing quite well for himself. And his wealth will likely only grow for the foreseeable future.