This Is How Much Money The Big Bang Theory's Jim Parsons Is Actually Worth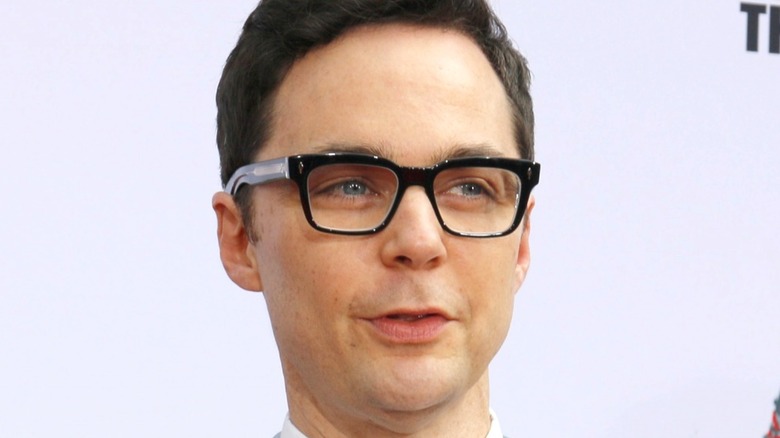 Tinseltown/Shutterstock
It aired its series finale nearly three years ago, but somehow "The Big Bang Theory" still feels like it's one of the biggest shows on television. That's partly because it actually was the biggest show on television for much of its 12-season primetime run. But it also remains a massive hit in syndication with fans able to pop in and out of episodes in the cable realm almost any time of day.
Even as many of the series' central cast members have moved on to other projects, "The Big Bang Theory" remains such a prominent fixture on the airwaves that they continue to be identified with their beloved on-screen personas. That's particularly true of Jim Parsons, who became the series' most legit breakout star for portraying the "Soft Kitty"-loving, socially challenged genius Sheldon Cooper.
And if there's one member of the cast who may never fully live down their "Big Bang Theory" character, it's Parsons, whose Sheldon became not only the face of the hit series but a central figure in the pop culture zeitgeist of the 2010s. Parsons was, of course, rewarded for his career-defining turn as Sheldon to the tune of four Emmy wins (via IMDb) and an indelible place in the annals of television history. And yes, he was paid handsomely for his work on the series as well. Here's how much Jim Parsons from "The Big Bang Theory" is actually worth.
The Big Bang Theory made Jim Parsons a very wealthy man
Prepare to pick your collective jaws up off the floor, because according to Celebrity Net Worth, Jim Parsons is currently worth a "bazinga!"-inducing $160 million. While Parsons had been working in Hollywood for five years prior to his "Big Bang Theory" breakout, landing roles in "Garden State," "Judging Amy," and "School for Scoundrels," the bulk of his massive fortune undoubtedly came from his time on the CBS megahit.
Parsons' massive "Big Bang Theory" salary was widely publicized by the end of the show's run as well, with Forbes reporting he was the highest-paid star on television in 2018, netting a robust $26.5 million. Since "The Big Bang Theory" typically aired 24 episodes per season, that means Parsons was earning just over $1 million per episode. On top of that per-episode tally, Celebrity Net Worth claims Parsons, along with co-stars Johnny Galecki and Kaley Cuoco, negotiated a lucrative deal in later seasons of the show that gave them each 1% of its back-end earnings from syndication. With reruns continuing to dominate the airwaves, Parsons and company are no doubt earning big bucks from that deal too.
As it is, Sheldon Cooper, who was inspired by a real person, seems to be the character that keeps on giving for Jim Parsons, with the actor not only cashing checks to narrate the "Big Bang Theory" spin-off, "Young Sheldon," but also serving as an executive producer on the series. And with that series proving a big hit in its own right, Parsons' staggering wealth should only continue to grow.