Moon Knight Fans Have Strong Feelings About Oscar Isaac's Accent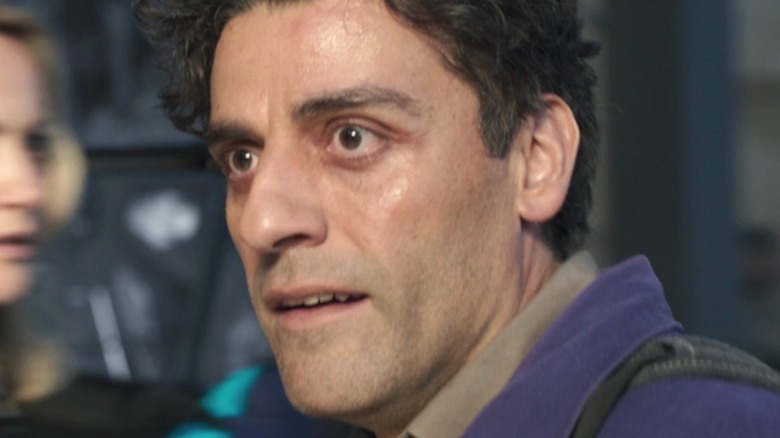 Disney+
Marvel's newest Disney+ series "Moon Knight" is finally here, and with it comes the arrival of acclaimed actor Oscar Isaac to the MCU. The Juilliard grad and Golden Globe winner portrays Marc Spector, a mercenary and the show's titular hero who also lives with dissociative identity disorder. As a result of his condition, Isaac's character has multiple identities, including Steven Grant — a British gift-shop worker who has blackouts and memories of another life that is not his own. Then, of course, there's the whole Moon Knight/Egyptian moon god Khonshu thing — but that's beside the point. All anybody seems to want to talk about is Steven Grant, and that wild accent Isaac decided to give him.
"I stand by the sound of Steven 100 percent," Isaac told Empire in a February 2022 interview. "It's cool [the accent] got people excited, and some were like, 'That sucks!' and others were like, 'That's great!' But there are reasons [for it]."
Described perfectly by Empire, Isaac's accent for his Steven Grant personality is "part Dick Van Dyke, part Dickensian orphan, part soft-spoken-bloke-down-a-London-pub." It's one that even the actor himself has poked fun at. "Please, sir, may I have some more," he jokingly stated during a "Moon Knight" trailer reveal video, in reference to the famous line from "Oliver Twist."
Since the show's debut on Disney+, fans have pretty much been saying the exact same thing about Isaac's performance — with many having no idea that Grant's accent was bad on purpose.
Fans think the accent 'sounds like an American who watched Guy Richie films'
While there are people who recognize what Oscar Isaac is trying to do with the Steven Grant personality in "Moon Knight," most have been dragging the new Disney+ series online and elsewhere for allowing such a god-awful display of British verbiage to exist in Hollywood.
"His London accent would give Dick Van Dyke nightmares," wrote Nick Hilton, a London-based writer for The Independent, in his review of the Marvel series. "His dialogue is stuffed with idioms that seem to have been reverse engineered through Google Translate ('laters, gators!')" Hilton added. "But the phoniness of Steven Grant will soon make sense, as the voices in his head take over." 
Still, despite a lot of people being aware of the actual reasoning behind Isaac's accent, the hate for it has been pretty astounding. "Oscar Isaac, you're a terrific actor, you really are, but your British accent in this Moon Knight is appalling," tweeted @Tomi_kamz. 
"Move over Dick Van Dyke, Oscar Isaac is here to take your crown for [worst] British accent ever," @knives_sorrow_ wrote, repeating Hilton's diss from earlier that references Van Dyke's British accent in the film "Mary Poppins" — which he himself declared to be "atrocious" (via The Guardian).
But Isaac ultimately doesn't care. Because deep down he knows the purpose for his performance. "That voice is about where Steven's from, where he's living now, and some of his believed heritage," he told Empire. "It's not an idea of what Brits actually sound like."