The DC Comic Book Movie Villain You Likely Forgot Sharon Stone Played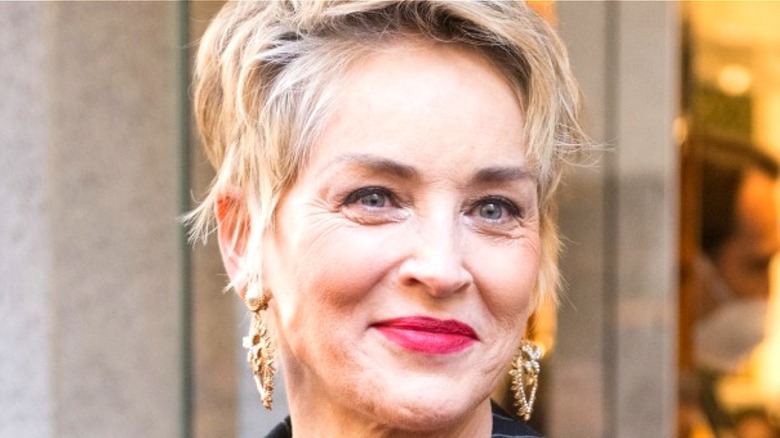 Jacopo Raule/Getty
While she may have some rough patches on her résumé, Sharon Stone has solidified herself as one of Hollywood's most recognizable stars. Over the last four decades, the actor has appeared in numerous hits, including the sci-fi mind-bender "Total Recall" with Arnold Schwarzenegger, Martin Scorsese's grimy crime drama "Casino," and "Basic Instinct," which is Stone's most well-known performance.
Stone is no stranger to playing morally ambiguous characters, so it should come as no surprise that DC and Warner Bros. have roped the "Sliver" star into playing the villain in the upcoming "Blue Beetle" film from director Angel Manuel Soto. Stone will play Victoria Kord, a new villain specifically created for the film. Fans are under the assumption that Victoria is related to Ted Kord, who has previously taken on the mantle of the Blue Beetle in the comics.
As interesting as this casting is, audiences might have forgotten that "Blue Beetle" won't be Stone's first stint as a DC villain.
Sharon Stone played the bad guy in Halle Berry's Catwoman
Back in 2004, Halle Berry took a step back from her stint as Storm in Fox's "X-Men" films to take a stab at playing Catwoman in the film of the same name. Berry's iteration of the character was a stark departure from the source material, and audiences clearly noticed — the film has a shockingly low 9% on Rotten Tomatoes.
In "Catwoman," Sharon Stone played Laurel Hedare, a character created for the film. Stone's Hedare spearheads a cosmetics company that is on track to release a skin cream that is revered for its age-reversing properties but unbeknownst to consumers, will disintegrate the skin if it is not applied regularly. Berry's Catwoman spends the majority of the film investigating the cream and its strange side effects.
"Catwoman" failed to make a splash at the box office, ending its theatrical run with just over $82 million (via Box Office Mojo). The film has mostly been forgotten in recent years, but it is interesting how Warner Bros. is tapping Stone to play a comic book movie baddie again. Only time will tell if Stone's villain in "Blue Beetle" will manage to make more waves than her evil role in "Catwoman."