The Highest-Grossing Sam Elliott Movie Might Surprise You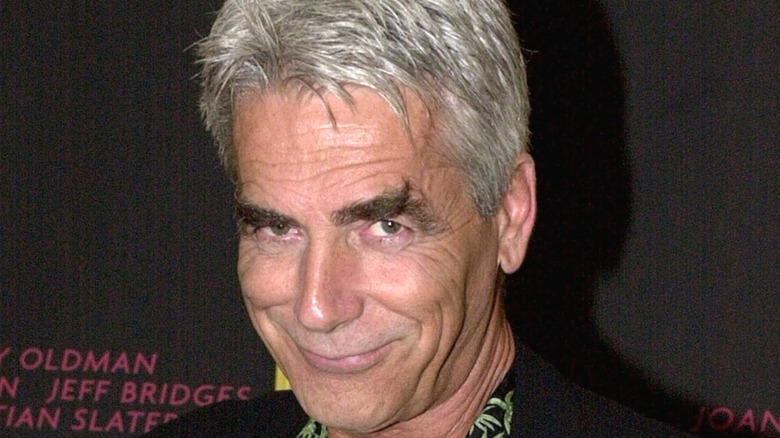 Getty Images/Getty
Modern Westerns wouldn't be as special as they are without Sam Elliott. The star has made a name for himself as one of the go-to actors to capture the hoarse and stoic vibe of cowboys. Elliott's charm and mystique have intrigued audiences for decades, which is why it's no surprise that the actor has a slew of prestigious hits under his belt. 
Despite rising to prominence in the '70s and '80s, Elliott's first appearances on screen see him take on minor roles in iconic Westerns like "The Way West" and the Oscar-winning, endlessly influential "Butch Cassidy and the Sundance Kid." Elliott's career really gained traction when he starred alongside Cher in "Mask" as a gruff motorcycle rider, and he continued to work as a character actor as the decades went on, occasionally acting in major Westerns like "Tombstone," "The Hi-Lo Country," and "The Ranger, the Cook and a Hole in the Sky." In the 2000s, Elliott moved into major blockbuster territory with big-name projects, including Ang Lee's "Hulk," the Leonardo DiCaprio-starring "Blood Diamond," and "Ghost Rider," in which he appeared as a former version of the titular hero, riding a flaming horse (via IMDb).
Recently, the star has now taken to television. Elliott acted in the final season of "Justified," and he currently stars in the "Yellowstone" prequel series "1883" – both Westerns. While his roles have varied throughout the decades, Elliott's characters are generally known to exude a stern and composed exterior. Although he's mostly known for playing macho cowboys, Elliott's highest-grossing film sees him at this most vulnerable.
Sam Elliott left us in tears in A Star is Born
It's not hard to imagine that Sam Elliott's highest-grossing film is one of his blockbuster projects, like Pixar's "The Good Dinosaur," or one of his umpteenth Westerns. But surprisingly, Elliott's biggest financial performer is Bradley Cooper's directorial debut "A Star is Born," which also serves as Lady Gaga's first lead role. Elliott appears in the film as the older half-brother and manager of popular country-rock artist Jackson Maine, played by Cooper. Though his role is brief when compared to Cooper and Gaga's, Elliott stands out as the supportive and emotionally vulnerable Bobby Maine, who just wants to do right by his melancholic brother.
/Film's Chris Evangelista praised Elliott's performance in his glowing review of "A Star Is Born," saying "Elliott has a lot of dramatic weight to carry, and he never stumbles ... It's incredible." The performance landed Elliott his first Academy Award nomination. "A Star Is Born," which opened against Sony Picture's "Venom," debuted to over $44 million opening week (via The Numbers). The fourth American remake of the tragic story went on to gross over $431 million worldwide, making it Elliott's highest-grossing film, beating out "The Golden Compass," which ended its theatrical run in 2007 with $367 million (via The Numbers).
Not only does Elliott manage to move audiences to tears with his performance as Jackson's struggling older brother, but "A Star Is Born" also ended up as his highest-grossing film, which is no surprise considering it continues to be one of the most popular films from the last decade.