The Sam Elliott Scene You Likely Didn't Know Was Improvised In A Star Is Born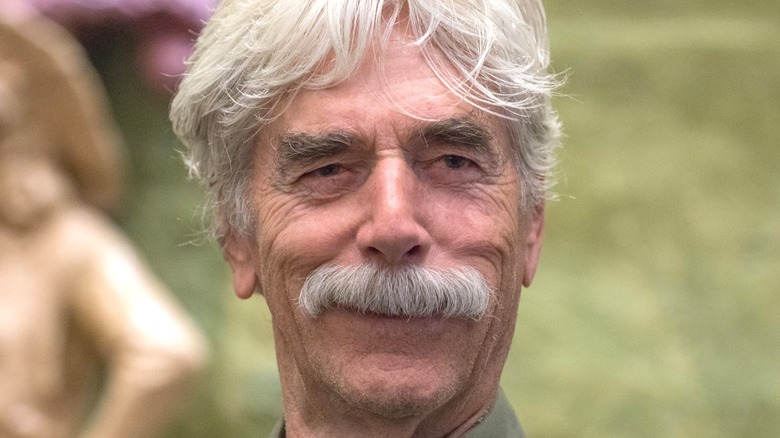 Rick Kern/Getty Images
An unlikely duo teamed up together in 2018 to bring back the classic story of "A Star is Born." Bradley Cooper joined forces with Lady Gaga to craft a new, modern version of the tale that is both heartwarming and heart-wrenching. The film tells the story of Ally (Gaga) who encounters famous singer Jackson Maine (Cooper) while performing at a club. She allures him with her talent and soon after, he seeks her out, eventually bringing her on stage at one of his concerts. From there –- you guessed it –- a star is born. The two fall in love and viewers are treated to the highs and lows of Hollywood and romance.
"A Star is Born" features some considerably heavy material from time to time as Jackson deals with mental health issues and a sorted past. Cooper and Gaga are able to convey raw emotions in these moments which is what adds to the moving quality of the film only complimented further by Sam Elliott, who plays Jackson's brother Bobby. Fans may assume that all of these scenes were carefully written into the script, but might be surprised to discover one of the most emotional scenes in the film was improvised.
The scene where Jackson tells Bobby he is his idol was completely improvised
In a small, but emotionally powerful scene of "A Star is Born," Bobby is giving Jackson a ride to his home. The two brothers laugh and joke around about their father and the band Bobby and him used to play in together. The two reach Jackson's home, and as Jackson steps out of the truck, he lingers behind to say something to his brother. He struggles to get his words out, so viewers know they are in for a tear-jerker. He ultimately reveals to his brother, "It's you I idolized, it wasn't Dad." This is a very touching moment as the two have a rocky history with their father, but Bobby has always done his best to be there for Jackson. After Jackson's word, Bobby turns around to the camera holding back tears as he drives off.
In an interview with Yahoo Entertainment, Elliott revealed that this scene was improvised. The emotional revelation that Jackson unloads onto Bobby was not originally in the script. Elliott explained how he could tell Cooper was going to say something, but he wasn't quite sure just what. He further detailed that when Cooper exited the truck, he went into director mode, grabbing the monitor for the camera behind Elliott's head. The veteran actor then added something even more surprising, saying, "And the only reason I turned around was to back out of the shot. It wasn't to [show my face]. That's where I was at the moment."
Who knew that such a moving scene in the film was not only improvised but somewhat unintentional as well? Cooper and Elliott are amazing talents, so it's no wonder they were able to capture this raw, unscripted moment.