The Character You Likely Forgot Sam Elliott Played In Butch Cassidy And The Sundance Kid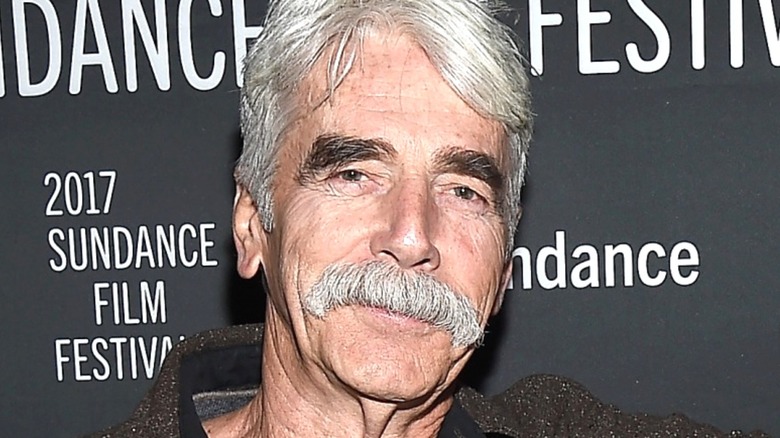 Matt Winkelmeyer/Getty
If Sam Elliott had not naturally occurred in the world, Hollywood would have had to create him. The Sacramento native didn't land his first credited acting role until he was around 25 years old, in 1968 (via The Eugene Register-Guard), but he has more than made up for that with his longevity and staying power. Elliott has appeared in more than 100 films and television programs since his television debut in the 1968 TV crime procedural "The Felony Squad," all the way to his recent 2019 Oscar nomination for Best Supporting Actor for "A Star is Born" (via IMDb). 
Once he found his way in front the camera, Elliott's deep voice, lean 6-foot-2-inch frame, and legendary mustache often ended up beneath a cowboy hat. He admitted to Slate's Aisha Harris that "it was either the cowboys or the bikers and I kind of got into this box." For a time, he found this typecasting "limiting in some respects" but eventually realized that opportunities like working with Joel and Ethan Coen in "The Big Lebowski" or Kurt Russell and Val Kilmer in "Tombstone" would not have come his way if not for his established identity as America's cowboy. 
Still going strong in his 70s, Elliott currently stars alongside Faith Hill and Tim McGraw in the Oregon Trail-centered "Yellowstone" prequel series "1883." But in one of his first acting roles, Elliott shared a sound stage with two of the most iconic actors in film history — although if you sneeze at the wrong moment while watching the movie, you'll miss him entirely.
Elliott played cards on screen with Robert Redford and Paul Newman
The 1969 Western "Butch Cassidy and the Sundance Kid" stars two of the era's biggest film stars, Robert Redford and Paul Newman, as the legendary pair of outlaws. In one of the movie's early scenes, a saloon card game turns tense when a player named Macon (Donnelly Rhodes) accuses Cassidy (Newman) of cheating. As Cassidy turns to leave, Macon asks, "How good are you?", and Cassidy turns on his heel and shoots the gun off of Macon's hip. 
Behind Macon in the shadows lurks a 25-year-old Elliott, known only as Card Player #2. He is on screen for just a couple of seconds and we don't get to hear his now-legendary voice, but he's there. Elliott later referred to the part as nothing more than a "shadow on the wall, a glorified extra in a bar scene." 
His future wife Katharine Ross stars in "Butch Cassidy and the Sundance Kid" as well, but Elliott said he "didn't dare try dare try to talk to her then. She was the leading lady" (via AARP Magazine). The two would officially meet on the set of "The Legacy" in 1978 and get married in 1984. Elliott told the Los Angeles Times that "we just like making movies and having that creative experience together is the best. It's just fun." 
While Elliott only gets a few moments on screen in "Butch Cassidy and the Sundance Kid," the role signifies the start of his illustrious career, and he came away with the much more valuable experience of working with two Hollywood legends — and almost meeting his future wife.