The CSI Actor Who Has The Most Episode Appearances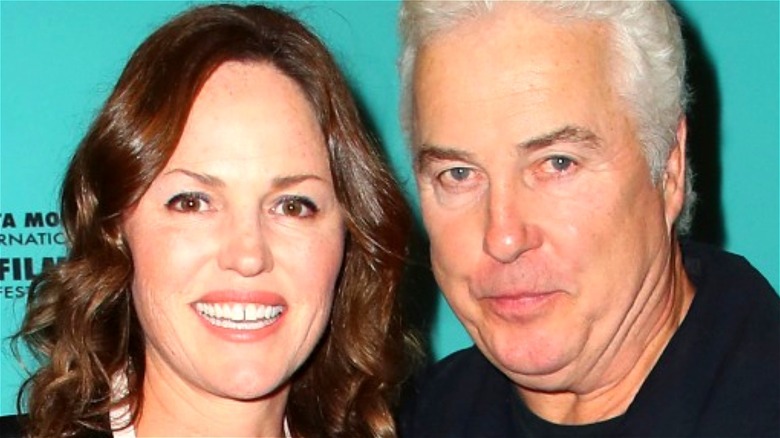 David Livingston/Getty Images
Since its debut in 2000, "CSI: Crime Scene Investigation" has been a franchise fueled by its legendary cast. Actors like William Petersen, Jorja Fox, Marg Helgenberger, George Eads, Gary Dourdan, Ted Danson, Laurence Fishburne, Elisabeth Shue, and Paul Guilfoyle, have all spent multiple seasons on "CSI" entertaining the TV masses and doing their part to help dish out justice on the CBS series one crime scene at a time. With a track record and episode count like "CSI" has, it's easy to get lost when trying to figure out who may have appeared in the most episodes over the years.
When looking back at everyone's episode count, we can see that there have definitely been a number of "CSI" heavyweights and regulars. According to IMDb, more than 10 different actors have appeared in 100 episodes or more. This includes Helgenberger, Eads, Fox, Petersen, Dourdan, and Guilfoyle, as well as supporting cast members Eric Szmanda, Robert David Hall, David Berman, Wallace Langham, Jon Wellner, and Archie Kao. Then there is the 200-episodes-and-more club, which features Helgenberger, Eads, Szmanda, Hall, Guilfoyle, Fox, Berman, and Langham. 
After that, we start getting into the "CSI" icon territory. Per IMDb, only four people have appeared in 300 or more episodes of the popular crime drama. They include Eads, Szmanda, Hall, and Guilfoyle. Out of those four, which do you think possibly holds the record for most episodes? The answer might surprise you.
Eric Szmanda has the most CSI appearances ever
That's right, folks. Eric Szmanda, who plays DNA specialist Greg Sanders, is the titleholder for most "CSI" episode appearances in the show's history, per IMDb. Not including "credit only" appearances, Szmanda showed up in 327 episodes since the show's debut in 2000. Our runner-up is forensic investigator Nick Stokes AKA George Eads, who appeared in 323 episodes. 
While Szmanda's Greg Sanders was a supporting character who didn't get out of the lab much in the earlier seasons of "CSI," he would later evolve into a more in-depth and interesting personality on the long-running series. "I think Greg has matured over the years," Szmanda told CSI Files in a 2013 interview. "Having started in the lab he was kind of removed from the harsh reality of crime scenes and over the last several seasons, he's been out working in the field and that has started to wear on him, as it would anybody. It has a profound impact on your attitude towards work and professionalism at a crime scene that you can't make a practical joke over a dead body." 
During its run, Szmanda was featured on every single season of the original "CSI" series — from 2000 to 2015. The longtime actor told CSI Files that it was nice to see things change over the years, including his character. As he explained, playing the same character for 13 years meant seeing the character evolve from a more jokey figure to someone who takes his job more seriously. He explained, "I think it was just a natural progression for the character and me as an actor. I can't do the same old shtick for thirteen years."