Moon Knight's Director Confirms What We Suspected About Oscar Isaac's On-Set Behavior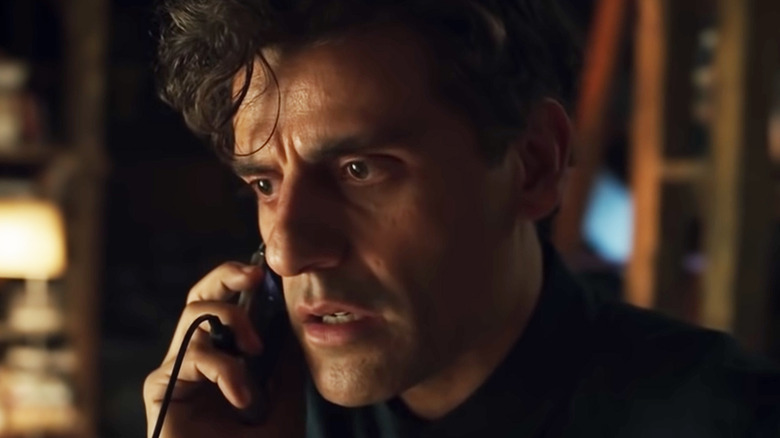 Courtesy of Marvel Studios
In January, when the first full trailer for upcoming Disney+ Marvel series "Moon Knight" premiered, a number of viewers criticized an English accent briefly deployed by lead actor Oscar Isaac while portraying a British personality of lead character Marc Spector named Steven. Isaac eventually revealed that his principal inspiration for the accent was frequent Ricky Gervais collaborator Karl Pilkington in the series "An Idiot Abroad," seeming to confirm that his performance is intentionally comedic at the very least.
Although "Moon Knight" directors Justin Benson and Aaron Moorhead weren't the ones who decided to cast Isaac in "Moon Knight," both told Looper that they're big fans of many of his prior acting performances. It comes as no surprise, then, that regarding Isaac's British accent in "Moon Knight," Moorhead had largely positive things to say in a recent interview that touched on the subject. Furthermore, Moorehead detailed the process through which Isaac landed on the accent on-set, characterizing the "Moon Knight" lead as a considerable acting talent.
Aaron Moorhead praised Oscar Isaac's skill as a performer
In late March of 2022, well after the widespread criticism of Oscar Isaac's British accent in "Moon Knight" kicked off, British TV and film website Digital Spy spoke to director Aaron Moorhead about how the series ultimately landed on such a performance. Moorhead revealed that the accent emerged during a meeting in which all of the show's principal creatives were rehearsing scenes and revising scripts simultaneously. Isaac, it turns out, first acted out his take on Steven not while performing a scene in-character, but simply during a discussion about Marc Spector's British personality.
"The first time that Oscar was not even playing Steven – because we weren't just reading all the lines. He was talking about Steven," Moorhead said. "And that's when he first dropped into the accent, and it was absolutely beautiful. And that was when it clicked for us that he was all in. You know, he's already just thinking like this person. That was extremely exciting."
Moorhead went on to describe how Isaac embodied Steven physically not just while filming, but during camera tests relatively early on in the production process. "I've never seen anything like that in my life," Moorhead said. "He didn't have to be speaking for you to know what character he was playing."
Episode 1 of "Moon Knight" premieres on March 30.