The Most Awkward On-Screen Love Scene In Grey's Anatomy
The popular ABC medical drama "Grey's Anatomy" has endured as a cornerstone of nighttime television since 2005. Over the years, the series has successfully navigated the fluctuations of the commercial media industry, continuing to rank as one of the most-watched shows on U.S. television (via Yahoo). Created by showrunner icon Shonda Rhimes, "Grey's Anatomy" traces the triumphs and woes of a group of surgical residents at Seattle Grace Hospital. As one critic noted about the series' lasting appeal, "[It] has never flagged in brilliantly stitching together the personal, the professional and the soap-operatically outrageous" (via New York Times). During this time, the story has followed the evolution of Meredith Grey's (Ellen Pompeo) romantic life, allowing viewers to celebrate and mourn her momentous occasions right alongside her.
While "Grey's Anatomy" is currently airing its 18th season, many fans continue to harbor a soft spot for the earlier chapters of the show, particularly when it comes to the swoony relationships among its core ensemble (via Glamour). Whether it's Izzie Stevens (Katherine Heigl) risking her entire career to save the life of her patient Denny Duquette (Jeffrey Dean Morgan), or Derek Shepard (Patrick Dempsey) initiating illicit rendezvouses with Meredith, original episodes of the series wholeheartedly embrace the tantalizing dramas of love. At the same time, not every plotline strikes the perfect note. In fact, some love scenes have prompted confused, disappointed, or downright angry responses from fans.
The notoriously terrible night that Meredith and George spent together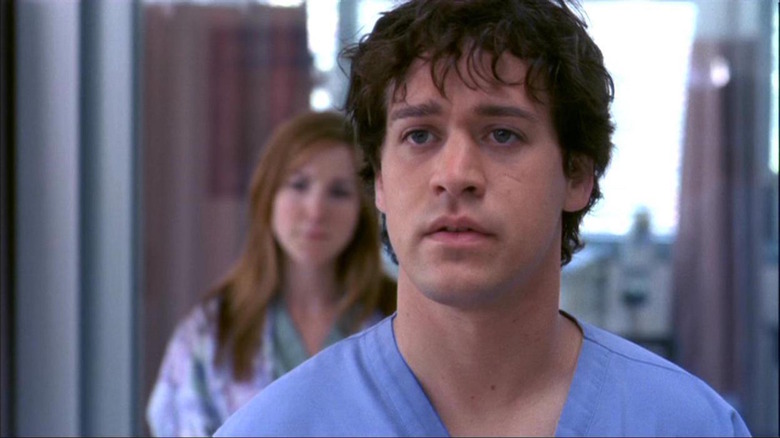 ABC
In season 2, resident George O'Malley (T.R. Knight) harbors an unreciprocated crush on Meredith. Eventually, the two friends end up sleeping together — and it proves to be an utter disaster. Meredith, heartbroken over her relationship with Derek, cries during the encounter, which causes George to grow angry and embarrassed. Ultimately, he ignores her for the rest of the season, while Meredith's other friends disparage her for "leading" George on.
Many fans dislike this love scene not just for its "awkwardness" but for what they consider to be immature and hurtful behavior from George. Much of the criticism levied against this scene rightfully call out the toxicity of George's "nice guy" persona. As one writer explained on Bustle, the term refers to "men who believe they are entitled to women because they're 'nice guys.'" On Reddit, u/tvcriticgirlxo detailed the issues with the scene, clarifying, "Meredith was clearly drunk and sad. When he walked in that room (YES HE PURSUED HER) he had only one thing on his mind ... getting what h[e] thought he deserved." The user added, "It was evident there was something wrong ... but [he] chose to ignore it."
In this way, many viewers condemn the storyline for positioning Meredith as the villain, specifically because George appears to take advantage of her sensitive state. Not only does the scene raise red flags when it comes to consent, but it also falls prey to a damaging (and sexist) interpretation of Meredith's character. It is a plotline that arguably fails on multiple levels — and continues to age poorly.