Sandra Bullock And Daniel Radcliffe Detail The Lost City And How She Became An Expert Leech Picker - Exclusive Interview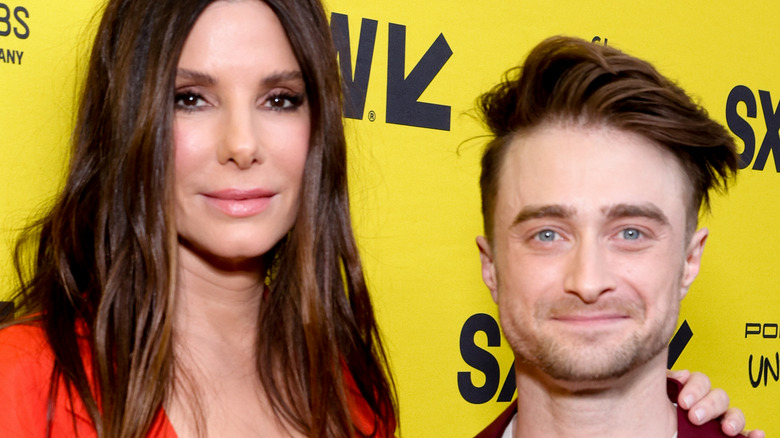 Rich Fury/Getty Images
The stars are shining bright over the new romantic comedy adventure "The Lost City," even though most of the action takes place in the daylight. When you have a cast as stellar as Sandra Bullock, Daniel Radcliffe, Channing Tatum, and Brad Pitt anchoring your film, you know the adventure is going to be loaded with the elements the four actors have brought to their audiences over the years. Essentially, "The Lost City" has it all, from uproarious comedy, a helping of drama and some thrilling action — all encased within a fantastical adventure.
Now playing in theaters, "The Lost City" stars Bullock as Loretta, a romance novelist who, despite her immense success, has lost the passion for her work. Having studied archaeology in college with plans of going on a great adventure with her late husband that never materialized, Loretta is relegated to imagining her stories of discovering ancient lands and artifacts in the pages of her romance novels with her fictional hero, Dash McMahon. Naturally, Dash needs to be hunky and prominently featured on the covers of Loretta's novels, so Fabio-like model Alan Caprison (Channing Tatum) has assumed that role and enjoyed a fan following of his own because of it.
However, Loretta's literary imagination transforms into a strange reality when an unhinged billionaire, Abigail Fairfax (Radcliffe), kidnaps her and flies her off to a faraway jungle that contains an ancient city. There, Fairfax needs Loretta to decipher clues in a dead language to find the mythical "Crown of Fire," a priceless artifact she wrote about in her new novel "The Lost City of D." Feeling terrible about a disastrous book tour appearance together, Alan sets off with mercenary Jack Trainer (Pitt) to rescue Loretta from the dangerous Fairfax and unforgivable jungle terrain.
In an exclusive interview with Looper, Bullock and Radcliffe discussed how their wide-ranging film choices ultimately affect their work. Also, Radcliffe finds a connection between his work on the "Harry Potter" film saga and "The Lost City," and Bullock finitely details her leech-picking prowess in the film.
The serious aspects of comedy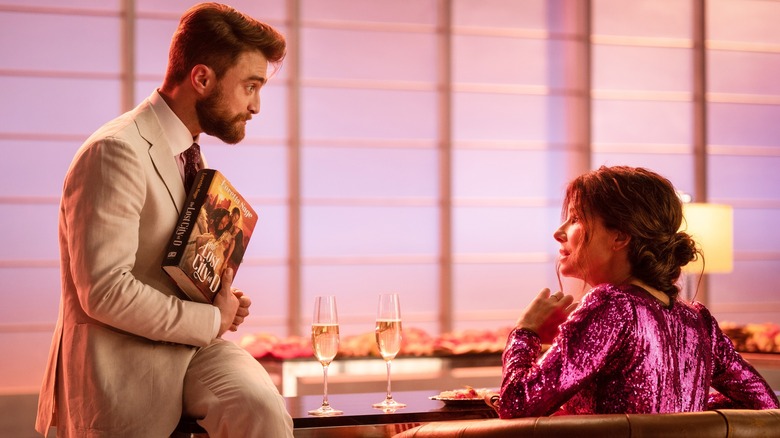 Paramount Pictures
Sandra, I've loved your comedic work over the years, especially "The Heat," but you got this great dramatic sense of style too, with most recently "The Unforgivable." When you come back to comedy in a film like "The Lost City," does doing drama in between help replenish your comedic sensibilities in a sort of way? After all, comedy and drama aren't too far apart, and the underpinnings surrounding your character, Loretta, in the film is a profound loss.
Sandra Bullock: Absolutely. I think something that has always come easily to me, since I was a child, was physical comedy ... My mother was German and had no sense of humor, but when I fell and injured myself, she would laugh. So, I realized, "Oh, falling down a set of stairs — safely — will make my mother laugh." I took it for granted a lot. Also, I didn't see it written in films in a way that suited my comedic stylings.
"The Heat" was so much fun because I played the straight man to someone who's a loose cannon, but that's a lot of physicality, as well, that I could play. It's such a relief to get back to comedy when you know you can do the style that is yours. Everyone has different timing in comedy and [you want] to make sure it's compatible. Channing and I are very similar, and then you bring Daniel into the mix, and we go, "Oh, our styles blend well." It's a scary thing because you want to be able to do your shtick, but then what happens if it's not in sync with someone else's shtick?
Daniel Radcliffe: Yeah. Most of the time, I genuinely have to talk myself into doing anything that's not a comedy now. It's so much fun to be on set where your main mission is to make people laugh. Going back to drama, it's a real drag.
Bullock: Yeah, especially now.
The work is about bringing happiness to the audience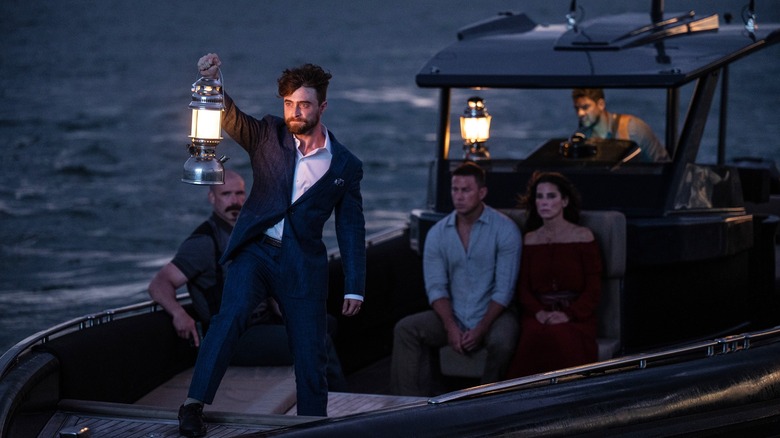 Paramount Pictures
Now, Dan, you brilliantly brought that young wizard to life from the pages of a book. Has your perspective about romance novels changed after doing "The Lost City"? I ask because Loretta calls the books she writes "schlock" in "The Lost City," but Channing's Alan points out, "Hey, they bring happiness to people." So, it doesn't matter what the material is. As long as that happiness is there, that's what really matters most.
Radcliffe: Romance novels are not what I read, generally. I've read some very romantic love stories and things, but so much of the genre — it's not necessarily my thing, but anything, as Channing says in the movie ... It's a really wonderful point. Anything that makes people that happy is something you can only be proud to be associated with. I feel, honestly, very similarly about "Potter." There's some work in there that I find really embarrassing to watch because I was a kid, and it's embarrassing kid-acting, but ultimately, if they are making so many people so happy, it actually can only be a really wonderful thing. I fully agree with Channing's character there.
The art of leech picking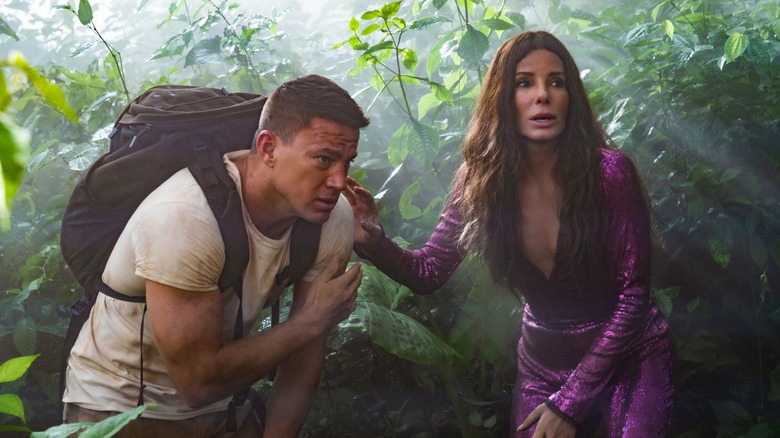 Paramount Pictures
Sandy, between a rescue attempt by a handsome devil played by Brad Pitt or picking leeches off a butt-naked Channing Tatum, which is more exhilarating?
Bullock: I feel like there's a great technique to leech picking that has not been acknowledged yet in my work, and I'm glad you brought that up. Look, I did it with surgical precision. I think the question should be, "How were you so amazing in that scene in picking the leeches off of some guy's butt?" It's like, it could have been anyone's butt. I would've been precise and methodical, no matter whose ass I was freeing from blood-engorged sacks. That's who I am as an actor.
Radcliffe: She's a pro!
Bullock: I'm committed. I should be ... committed! [Laughs]
Directed by Aaron Nee and Adam Nee, and also starring Da'Vine Joy Randolph, Patti Harrison, and Oscar Nunez, "The Lost City" is new in theaters Friday, March 25.
This interview was edited for clarity.