Aaron And Adam Nee Gush Over The Lost City With Sandra Bullock, Channing Tatum And Daniel Radcliffe - Exclusive Interview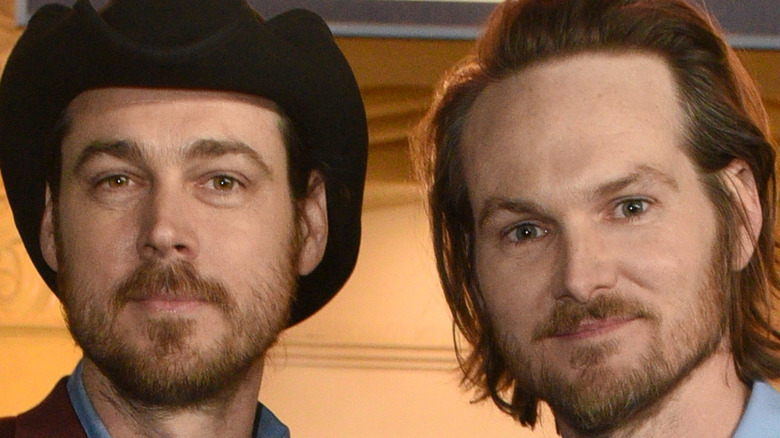 Vivien Killilea/Getty Images
It's only appropriate that filmmaker brothers Aaron Nee and Adam Nee were hired to direct the romantic comedy/treasure hunting adventure "The Lost City." Considering that the independent filmmakers only had a couple of titles under their belts before getting a call from Oscar-winning actor and esteemed producer Sandra Bullock to direct her film, suddenly, the holy grail of film assignments was materializing right before their eyes.
New in theaters Friday, March 25, "The Lost City" stars Bullock as prolific romance novelist Loretta Sage who, despite her success, is still struggling with the death of her husband and a career that never quite followed the adventurous path the two hoped to take. Originally studying to become an archaeologist, Loretta's career took a detour, and she incorporated her love for ancient history into the pages of romance novels instead. Loretta's romance novels need to have a hunky, Fabio-like model on each cover, and her go-to-guy is Alan Caprison (Channing Tatum) — who is the physical embodiment of her novels' hero, Dash McMahon.
However, Loretta's fiction turns into a real-life adventure when she is kidnapped by crackpot billionaire treasure hunter Abigail Fairfax (Daniel Radcliffe). Flown to a remote, ancient city hidden within a jungle, Fairfax is convinced Loretta can decipher clues to help him find the mythological "Crown of Fire," which she has written about in her new novel "The Lost City of D." On their tail to rescue Loretta is Alan, who feels bad about how their friendship has soured. Enlisting the help of a mercenary, Jack Trainer (Brad Pitt), and relying on the aid of Loretta's publicist and best friend, Beth (Da'Vine Joy Randolph), her hipster social media manager, Allison (Patti Harrison), and a local cargo pilot, Oscar (Oscar Nunez), Alan attempts to rescue Loretta as they traverse the dangerous terrain to get away from some very dangerous people.
Aaron Nee and Adam Nee — who has more than 20 acting credits apart from directing films with his brother — discussed their wild film adventure with Looper in an exclusive interview.
The Nee brothers couldn't believe the offer from Bullock was real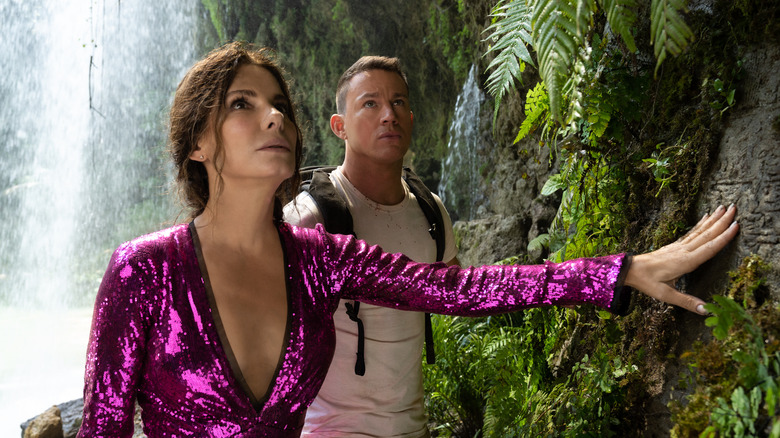 Paramount Pictures
Congratulations on the film, Aaron and Adam. I understand that Sandra hired you to direct "The Lost City" after seeing your film "Band of Robbers." When your agent called to tell you guys that Sandra Bullock was interested in you directing a film that she's producing and starring in, did you go, "Okay, what day is it? April 1st? What's going on here?" What was your reaction?
Aaron Nee: That is what our reaction was. We initially heard about the film, heard that she was producing it and was going to be acting it, and we were asked [if] we want to throw our hat in the ring. We're like, "That would be awesome, but we're not going to get this job." Then we get a call saying, "No, Sandy is asking to meet with you." I'm like, "Okay, we'll do it." It was a whirlwind, it happened so fast that we met with her, we had a great meeting. It was clear that we shared a common vision for what we wanted this movie to be, and before we knew it, we were in the jungle shooting together.
The all-star cast made the brothers' Lost City shoot seem even more surreal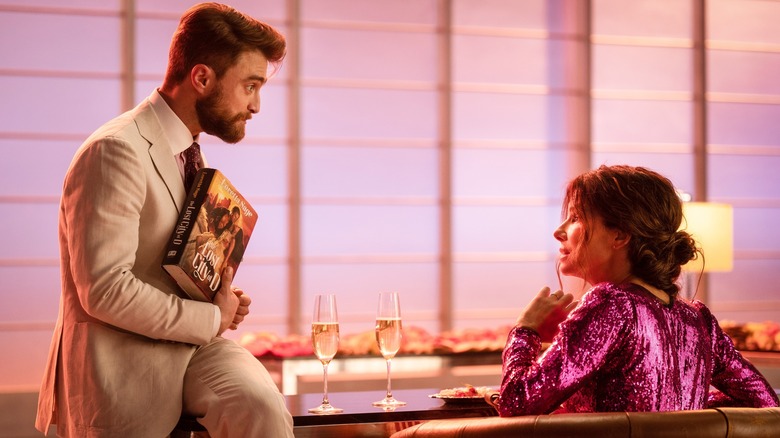 Paramount Pictures
As if having Sandy producing it and starring in it isn't enough, you get Channing Tatum, you get Daniel Radcliffe, and you get Brad Pitt. How surreal was that as it was happening? Maybe you still don't believe that it actually happened.
Adam Nee: I feel like it's going to take some time for us to really process the caliber of actors that we got to make a film with. Sandy deserves a lot of credit because having her involved really makes people pay attention, but we got our first choice in every single role, and I think that's going to spoil us for the rest of our careers, to have this amazing diversity of different talents — Daniel as the villain, and then even going down the list of ... Da'Vine Joy Randolph is incredible and carries this whole B plot. Patti Harrison is a comic assassin, Oscar Nunez, [who is] one of my favorite actors from television — to be able to have these people in our film, I still haven't come to terms with it.
It's interesting how Aaron, you largely are a behind-the-scenes filmmaker, and Adam, while you direct, you got a lot of acting credits. So, Adam, would you consider you're the actor's director part of the directing team, and Aaron, you're more of the technical guy? How does that work?
Adam Nee: No. I think that's what people assume might be the case, but on set, it's really fluid. We both are talking to actors, we're both talking to camera. I would say the one distinction is Aaron is a visual effects artist, so he really has a lot of know-how in that world that I don't have, but in terms of talking to actors, it's equal.
From a Lost City to an iconic Universe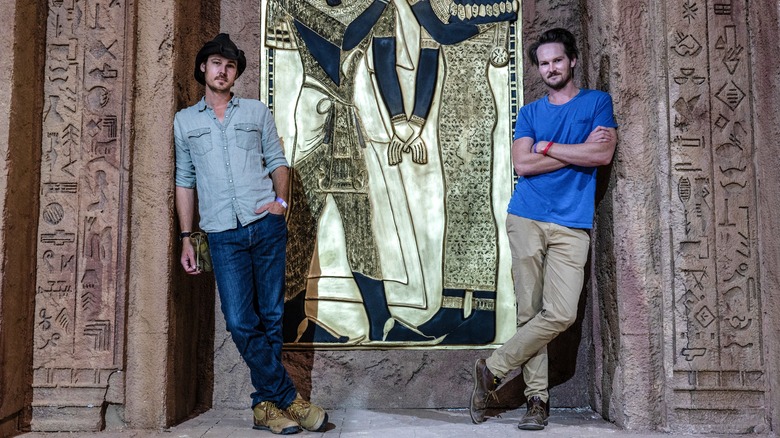 Paramount Pictures
I understand you both have "Masters of the Universe" on the writers' and directors' docket for 2023. What can you share about the film at this point, and do you feel pretty good coming off of "The Lost City," knowing you have a couple of "He-Man" types in the cast like Brad Pitt and Channing Tatum? Maybe you can nudge them a bit, guys!
Adam Nee: Come on over! Give us a cameo! 
Come on over! Come on! He-Man is waiting for you!
Aaron Nee: We're super excited to be jumping into "Masters of the Universe." Playing with those toys were a formative part of us learning how to tell stories and imagine other worlds, and that kind of childhood experience of the excitement and empowerment that came from playing is what we're hoping to bring to the screen.
"The Lost City" opens in theaters nationwide March 25.
This interview was edited for clarity.