Here's What Critics Are Saying About Morbius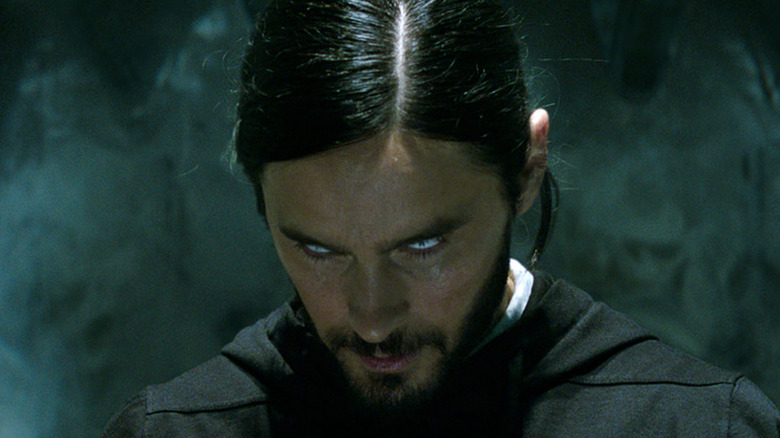 Sony Pictures
Although Sony and Marvel Studios have shared-custody of Spider-Man (Tom Holland) so that he can exist in the Marvel Cinematic Universe alongside the Avengers, the former studio is still pushing ahead with its own universe of Spidey villains and anti-heroes.
"Venom" was a surprise hit back in 2018, raking in $856 million (via Box Office Mojo) — so audiences are clearly interested in Sony's edgy approach to superheroes. It's no surprise, then, that the studio is working on a solo "Kraven the Hunter" film starring Aaron Taylor-Johnson, as well as a "Madame Web" adventure with Dakota Johnson and Sydney Sweeney.
But Jared Leto's "Morbius" is finally set to arrive in theaters on April 1, and it's been a long time coming. The movie was originally intended to debut on July 10, 2020, but that was delayed to July — and then the pandemic hit, causing Sony to push the release back several more times (via Deadline). "Morbius" follows Leto as Dr. Michael Morbius, a genius who is determined to find a cure for the rare blood disorder that he's suffered from since childhood.
His research leads him to an experimental procedure using bats, and it transforms him into a vicious beast with the comic-accurate gray skin and red eyes, enhanced senses, super-strength, and the ability to fly. Unfortunately, he also has to contend with Loxias Crown (Matt Smith) and FBI Agent Simon Stroud (Tyrese Gibson).
The first reactions from critics have made their way online, and they paint an interesting picture of Sony's latest Marvel movie.
Critics blast Morbius for its poor story and the 'worst' post credits scenes
Fans have waited years to see "Morbius," but they might be disappointed. The first reactions have made their way online, and they're not kind to Jared Leto's Living Vampire.
Twitter user @SabAstley blasted the movie for its poor story, tweeting, "Morbius is about as bad as you were expecting. A 2005 plot collides with visually confusing CGI to create a bit of a snooze fest." They went on to say that the post-credits scenes are disappointing: "But don't worry, they've saved the worst for last. Featuring some of the worst post credits scenes you've EVER seen, Sony are off their rocker."
The We Have a Hulk podcast's Nicola Austin echoed the sentiment, noting that it doesn't live up to the "Venom" corner of Sony's Marvel universe. "Well Morbius is unfortunately not great (some really shoddy vfx & 00s formulaic plot) & definitely not as fun as Venom. Really confused at the future of the Sony Spiderverse following the post-credits scenes & the editing." 
Meanwhile, @EscapeFilmClub tweeted that the film's visuals can't save it: "Morbius proves that no matter how many famous faces or shiny visuals you squeeze in, Sony will always find a way to impressively misunderstand basic storytelling."
@RenGeekness followed that up, writing, "Matt Smith gloriously hams up the place and Oliver Wood delivers some visual flare to the action sequences. Aside from that, the bad plotting & messy cgi, confusing editing & worse sound mix result in absolute incoherence. But the post-credits manage to outdo it all." Ouch.
What does this mean for Morbius' future?
One of the biggest questions fans have about "Morbius" is: When is he going to meet the other Sony Marvel characters, like Venom? Obviously, an earlier trailer reveals a look at Michael Keaton's Vulture, which implies that a Sinister-Six style team-up is on the way at some point. Sony has been keen to make a movie about the squad of "Spider-Man" villains for quite some time, and the original plan was to spin it out of "The Amazing Spider-Man" franchise.
For the moment, it's not clear if, or when, Morbius will cross over with the likes of Venom, Vulture, or Kraven. Although, Jared Leto previously told Screen Rant that of all the Marvel characters the Living Vampire could meet, "Venom would make a lot of sense. That would be fun."
It's worth pointing out that just because the film has had a negative reaction from critics doesn't mean it won't be successful at the box office. At the end of the day, if "Morbius" is hugely profitable, then Sony will likely continue to use the character in sequels and crossovers. Leto himself revealed on "The Late Late Show with James Corden" that he could easily cross over into Mahershala Ali's "Blade" movie, saying, "That is a good question, and I could see that happening in the future. I could see that happening, yeah" (via ComicBook.com).
For now, it's probably best to go into "Morbius" with a little caution.