Kraven The Hunter Release Date, Cast, Trailer, Rating And More Details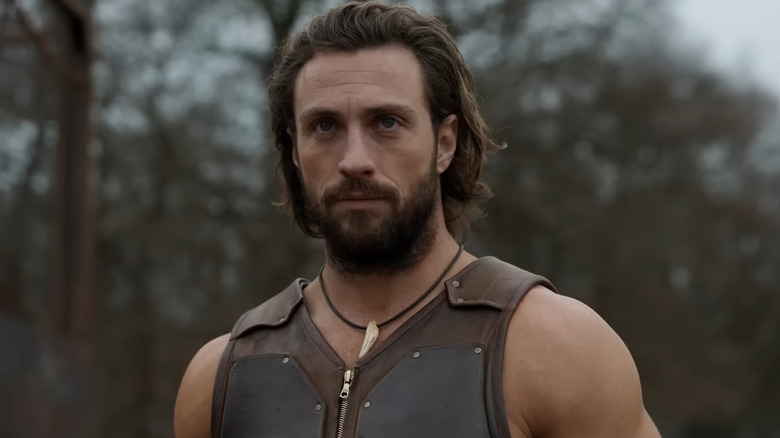 Sony Pictures
We may receive a commission on purchases made from links.
Sony's Spider-Man Universe has been a bit hit-or-miss. Basing their films on some of Spidey's most iconic villains, they found great financial success with their two "Venom" movies, but they took an absolute drubbing from critics and audiences alike when "Morbius" danced its way into theaters. Now, the folks at Sony are hoping to rebound from their vampire debacle with a new big bad taking on the role of cinematic antihero.
Enter Kraven the Hunter.
A Russian aristocrat whose real name is Sergei Kravinoff, Kraven made his comic book debut in 1964, courtesy of Stan Lee and Steve Ditko's "The Amazing Spider-Man No. 15." A bloodthirsty baddie, Kraven's dream was to bag Spider-Man, thus proving himself the greatest big-game hunter on the planet. Over the years, Kraven has encountered characters like Black Panther, Venom, and Squirrel Girl, and now he's coming to theater screens — although this is going to be a slightly different take on the fur-clad character.
If you want to learn more about Sony's new superhero flick, read on for everything you need to know about "Kraven the Hunter."
When will Kraven the Hunter be released?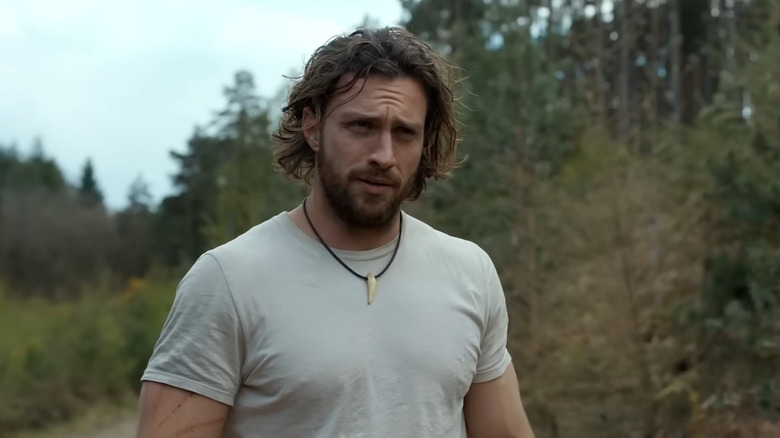 Sony Pictures
People have wanted to see Kraven the Hunter in a film for quite a while now. For example, Sam Raimi hoped to use the villain for his Spider-Man series, and Ryan Coogler wanted T'Challa to battle the poacher in "Black Panther." However, movement on a Kraven film finally started for real in 2018, when a writer was hired to pen the script (more on that in a bit).
In other words, like any good hunter, Kraven has been patient — waiting until his time to pounce. Now, we know exactly when he'll strike. Originally, "Kraven" was set to hit theaters on October 6, 2023. However, due to the SAG-AFTRA strike, the Sony flick was pushed all the way back to August 30, 2024. According to Deadline, Sony really wants the cast of the film to be able to promote the movie, which they can't do during the actors' strike.
As a result, we can expect to see "Kraven" in action when August 2024 rolls around. And that month, it'll be facing some serious competition from titles like Fede Álvarez's "Alien," Eli Roth's "Borderlands," and "Captain America: Brave New World."
Who is starring in Kraven the Hunter?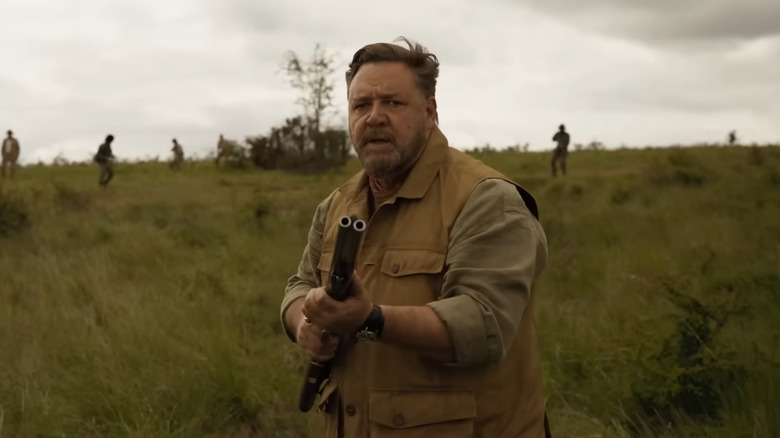 Sony Pictures
When casting the role of Kraven the Hunter, the people at Sony were looking at quite a few A-listers. According to Deadline reporter Justin Kroll, Brad Pitt, Keanu Reeves, Adam Driver, and John David Washington were all considered for the role. However, Aaron Taylor-Johnson's performance in "Bullet Train" blew the Sony execs away, and once they saw the dailies on David Leitch's action film, they happily offered Taylor-Johnson the part.
Taylor-Johnson is no stranger to the superhero genre, playing Quicksilver in "Avengers: Age of Ultron" and the titular vigilante in "Kick-Ass." And with the aforementioned "Bullet Train" and other notable titles like "Tenet" under his belt, we totally get why Sony thinks he's perfect for the part. In fact, Johnson has signed on for multiple films, proving Sony has a lot of faith in both the actor and his character. But who will be joining Taylor-Johnson for his big hunt? Well, Russell Crowe of "Gladiator" fame will be playing Kraven's villainous dad, Nikolai Kravinoff, and Ariana DeBose (who won best supporting actress for "West Side Story") will star as Calypso. In the comics, Calypso is Kraven's love interest and a voodoo priestess, and we're excited to see what DeBose will do with the role.
Fred Hechinger — who played the canoe-loving Quinn Mossbacher in "The White Lotus" — will portray the Chameleon, a character who can disguise himself as anyone and who also happens to be Kraven's half-brother. Christopher Abbott — who you might recognize from titles such as "Possessor," "Girls," and "It Comes At Night" — will play a villainous mercenary by the name of the Foreigner. Rounding out the lead cast, Alessandro Nivola of "The Many Saints of Newark" and "The Art of Self-Defense" will play one of Spider-Man's most memorable B-tier baddies, the Rhino.
We also expect to see Levi Miller of "Pan" and a "Wrinkle in Time" playing a younger version of Kraven.
Who is directing Kraven the Hunter?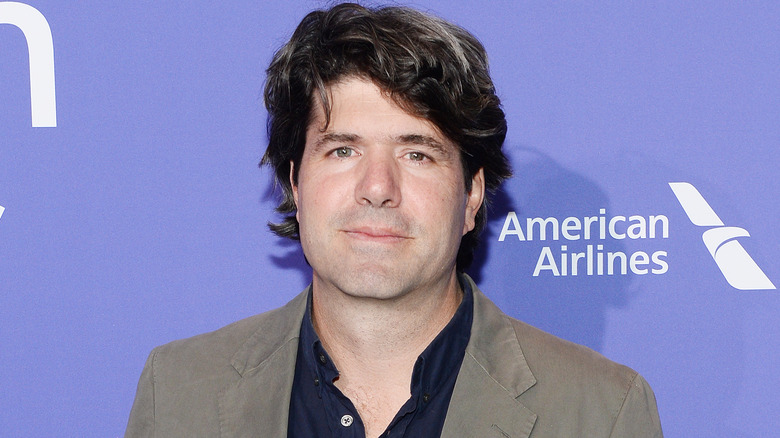 Noam Galai/Getty Images
When it comes to who's sitting in the director's chair, filmmaking duties have gone to J.C. Chandor. While Chandor isn't a household name, he definitely deserves far more fame than he currently has.
Basically, everything Chandor touches turns to gold. For example, he directed "Margin Call," a gripping tale about the onset of the 2007-2008 financial crisis. He oversaw the indie drama "All Is Lost," which found Robert Reford adrift at sea, and he helmed "A Most Violent Year," a crime story that feels straight out of "The Godfather." Most importantly, he directed the likes of Ben Affleck, Oscar Isaac, Pedro Pascal, and Charlie Hunnam in "Triple Frontier," an action film that needs way more love and one that proves Chandor is the perfect man to bring Kraven to life.
Who is writing Kraven the Hunter?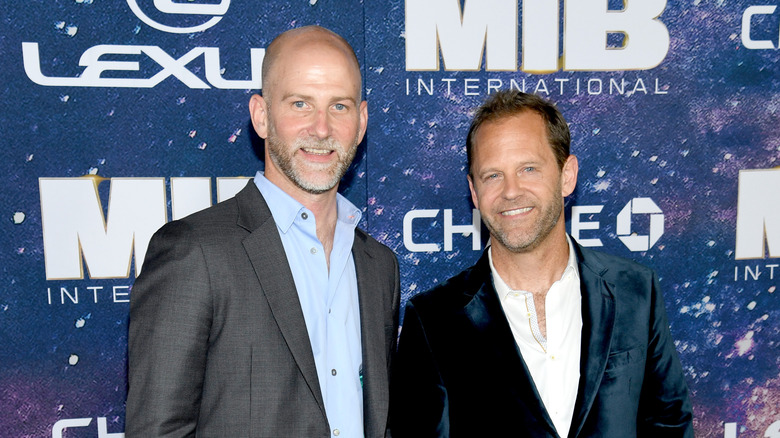 Dimitrios Kambouris/Getty Images
"Kraven the Hunter" is the screenplay son of many fathers, the first of whom is Richard Wenk. A man who excels at writing action flicks (2016's "The Magnificent Seven," "The Expendables 2," all three "Equalizer" movies), Wenk was brought onto the pic in 2018. Originally, he intended to draw a lot of influence from the comic storyline "Kraven's Last Hunt," in which the titular villain succeeds in tracking down and killing Spider-Man. In fact, Wenk planned on including Peter Parker himself in the proceedings, but that doesn't seem to be what's happening in the finished product.
Unless Sony is doing an amazing job at keeping Spidey's involvement a secret — and anyone who followed the lead-up to "Spider-Man: No Way Home" knows Sony isn't particularly skilled at keeping those kinds of secrets — Spider-Man won't be showing up in this film in any way, shape, or form. That's par for the course with every other entry in Sony's Spider-Man Universe, and we're assuming the wall-crawler was cut out of the script when two additional screenwriters were brought on board for rewrites.
In August 2020, it was reported that Art Marcum and Matt Holloway ("Men in Black: International," "Uncharted") had taken a stab at the script. It seems that in their version, Kraven is less of a big-game hunter and more of a vigilante hero. In June 2022, Aaron Taylor-Johnson told Variety that his character was "a human with conviction. An animal lover and protector of the natural world." That lines up with the film's official trailer, where Kraven brutally destroys some poachers. It's definitely a new take on a character who used to hang human heads up on his wall as trophies, but we're interested to see Marcum and Holloway's version of the bad guy.
What will Kraven the Hunter be rated?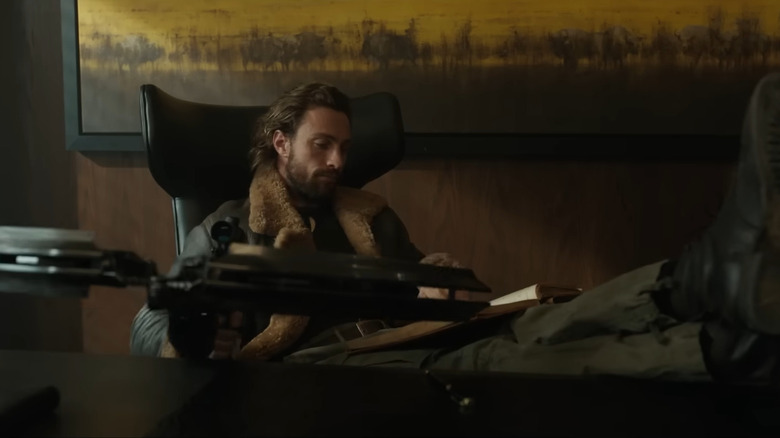 Sony Pictures
While the movies in Sony's Spider-Man Universe have all been a bit edgy and grim, they've all been PG-13 ... until now.
We knew that Kraven's story would be more intense than previous Marvel fare when Russell Crowe told CBR.com that the movie would be set in "an unexpectedly dark world." Then at 2023's CinemaCon, attendees were treated to "Kraven" footage that promised an incredibly bloody time. Just how bloody, you ask? Well, when Aaron Taylor-Johnson took to the stage in a pre-recorded video, he asked, "Will it be rated R? F*** yes, it will be rated R." 
The general public got a first-look at the carnage to come (no, not that Carnage) with the film's trailer, and yeah, it appears that "Kraven the Hunter" will be a delightfully gory affair, which makes sense when your main character is a hunter of human beings.
Is there a trailer for Kraven the Hunter?
In true Marvel tradition, the trailer for "Kraven the Hunter" promises some serious conflict between our antihero and his not-so-dear dad. (Marvel dads are the worst.) We see Russell Crowe's mobster raising his two boys — Kraven and the Chameleon — with an iron fist. The man is obsessed with showing strength and stamping out weakness, so when Kraven is savaged by a lion during an African safari, the gangster leaves him behind to die.
Well, that was a big mistake because the attack turns Kraven into a superbeing — one who can use a connection with animals to track down and murder his enemies. And when he does battle with the bad guys, he slaughters them with any means necessary. In the trailer, we witness Kraven shoot a dude with a crossbow, stick a guy with a spear, sic someone with a wolf, and rip a poacher's nose off with his own teeth. "My father puts evil into the world," Kraven says. "I take it out." And he seems to be doing a pretty good job of it.
Of course, the trailer ends with a pretty great set-up for another superbeing on the horizon. As the skin on his arm morphs into a rough gray hide, we hear a menacing Alessandro Nivola say, "There is an animal in each one of us. Don't you want to know why they call me the Rhino?"
Where to watch the other movies in Sony's Spider-Man Universe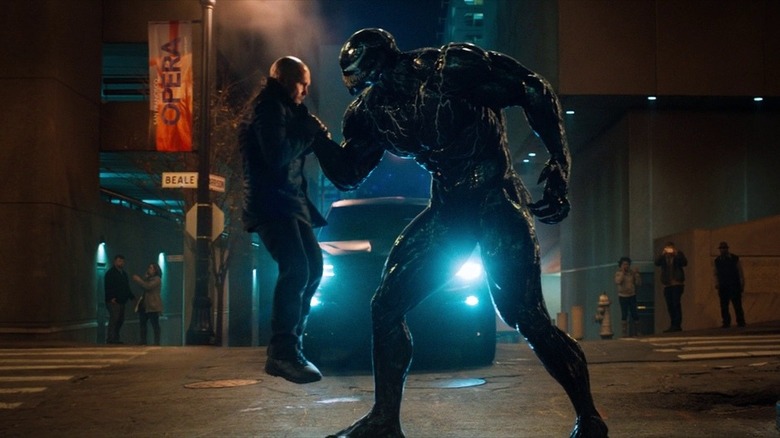 Sony
While we don't exactly know if Kraven the Hunter will encounter any of the other characters from Sony's Spider-Man Universe, you might still want to check out those previous antihero adventures. If nothing else, watching Tom Hardy ham it up as Eddie Brock is always worth your time.
On that note, the first film in the franchise is 2018's "Venom," which finds Eddie playing host to a parasite party. Unfortunately, that parasite has a bad attitude and a big appetite, leading Eddie to become the man-hungry crime-fighter known as, yep, Venom. You can stream the film on Starz, or you can rent it for $3.99 on Prime Video, Google Play, Vudu, and YouTube.
If you like the psychotic buddy energy of the first film, "Venom: Let There Be Carnage" takes that to the max, complete with an epic breakfast scene and Woody Harrelson going nuts as the titular symbiote baddie Carnage. You can stream the "Venom" sequel on Starz, or you can buy it on Prime Video, Google Play, Vudu, and YouTube.
And then there's "Morbius," the Jared Leto vampire flick that nobody actually liked but was memed into oblivion. Yep, it's morbin' time, so if you want to see Matt Smith dancing, you can stream the infamous Marvel movie on Netflix, or you can rent it for $4.29 on Prime Video or $3.99 on Google Play, Vudu, and YouTube.