The Anthony Moment That Went Too Far On Bridgerton Season 2
"Bridgerton" Season 2 spoilers ahead
It feels like it took forever, but "Bridgerton" is back with Season 2. The period drama set in Regency era London focuses on the love stories of the Bridgertons, who are among one of the most popular and well-regarded families in London. In the sensational tone of an anonymous writer, Lady Whistledown, who airs the dirty laundry of the 'ton, the show provides a look into the encumbering societal rules of the time.
While the first season set up Phoebe Dynevor's Daphne Bridgerton as the lead, Viscount Anthony Bridgerton (Jonathan Bailey) served, largely, as the villain for much of the season. To begin with, he completely ignored his sister's happiness, while his patronizing and often sexist attitude only made matters worse. To top it all off, his troubled relationship with an opera singer cast him in an unflattering light.
Based on Julia Quinn's book, "The Viscount Who Loved Me," Season 2 follows Anthony, as he hunts for a suitable wife and finds a match in Edwina Sharma (Charithra Chandran). The only problem: Anthony loves Edwina's elder sister, Kate (Simone Ashley). Determined to fulfill his duties and avoid a love match, a stubborn Anthony still pursues Edwina.
To be set as the hero, Anthony gets a redeeming arc this season, but the storyline merely adds context to his behavior. As he was in Season 1, Anthony remains equally insufferable in Season 2. But a moment when he hurts a beloved member of his family makes for a difficult watch.
Anthony's past casts a shadow over his present
In Season 1, Anthony's assuredness that he knew what was best for the Bridgertons and its reputation was a major source of strife between him and his family, especially Lady Bridgerton (Ruth Gemmell). In different instances, she mocked, argued, and even berated Anthony for choosing his family's reputation over the happiness of its members.
In Season 2, Lady Bridgerton is shown at odds with Anthony due to his rejection of the idea of a love match. From the beginning, she appeals to him to get to know the women he's courting as he callously judges them on the basis of their knowledge or talent. Even as Anthony sets his eyes on Edwina, the season's diamond, Lady Bridgerton insists that he waits for love instead of hastily proposing marriage.
For the Bridgerton children, Lord and Lady Bridgerton's blissful marriage set a high standard. However, this season, flashbacks from after Lord Bridgerton's death show a young Anthony forced to take up the burden of a Viscount too soon. They also show the toll his mother's grief took on him. Watching his mother struggle after his father's passing compels him to abandon the thought of a love so consuming, its absence becomes unbearable. Unlike his siblings, he begins to believe the love between his parents to be too painful, and Anthony's blunt revelation of this truth is delivered thoughtlessly, making for a moment gone too far.
Anthony's blunt candor reopens old wounds for Lady Bridgerton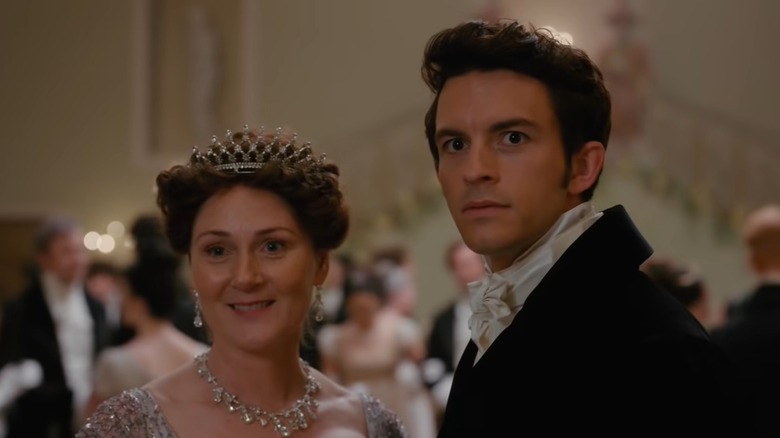 Netflix
In Episode 3, Lady Bridgerton finds Anthony visiting Lord Bridgerton's grave. Worried about him, she reminds him that his father didn't let the burden of his duties keep him away from love. Defending herself, Lady Bridgerton recalls Anthony was a sweet boy with "a kind word and a joke" in the beforetimes, but since his father's death, he's begun to see love as a weakness. She appeals to Anthony to marry for love, the way she and his father did.
The mention of his parents' relationship, however, brings back the trauma of his father's death and Anthony lashes out. He explains he merely wants an "amiable" match so that his life remains free of the "ravages of grief." But he doesn't stop there. "You were barely even there after he died, and yet I myself am cursed to remember every waking moment," Anthony says to Lady Bridgerton. "I can never be the cause of such pain." He walks away leaving Lady Bridgerton shocked at what she'd just heard.
Anthony's fears about love, especially after seeing his mother struggle, might be valid. But his blatant use of her trauma as an excuse to dismiss her thoughts on his match — which she has the right to express as his mother — leaves her in a great deal of pain. This cruelty, even for Anthony, is a bit much.