The Jackass Episodes You Likely Forgot Featured Brad Pitt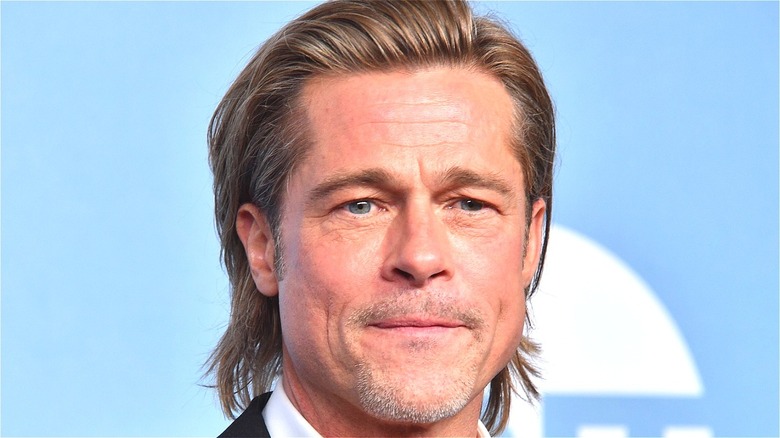 Gregg Deguire/Getty Images
In 2000, MTV still played a good number of music videos, but the popular channel was already shifting to reality show content. Shows like "The Real World," "True Life," and "MTV Cribs" reigned over on the channel — that is, until the slapstick prank show "Jackass" came on the scene. Each episode of the series starring Johnny Knoxville, Steve-O, Bam Margera, and more not-so-professional stuntmen was filled to the brim with gag-worthy, cringy bits. Who could forget when Steve-O swallowed a goldfish only to throw it up wholly intact minutes later? Or what about all the times Knoxville messed with a bull?
The series arguably invented a new genre of comedy, and it all started when Knoxville was a writer, according to GQ. For a story for "Big Brother" magazine, Knoxville pitched the idea to test a taser, bulletproof vest, and pepper spray, using himself as the dummy. Jeff Tremaine, the editor at the time, filmed videos of the stunts as well and they somehow got in front of MTV producers, and the rest is history. "It all happened so fast—I don't know how," Knoxville told GQ. "We were on the air, and ratings exploded, and I'm on the cover of 'Rolling Stone.' It just happened in an instant."
Thanks to their newfound fame, the "Jackass" crew occasionally enlisted the help of some famous faces to make their stunts that much more exciting, including none other than Brad Pitt himself.
Brad Pitt dressed up as a monkey and got abducted on Jackass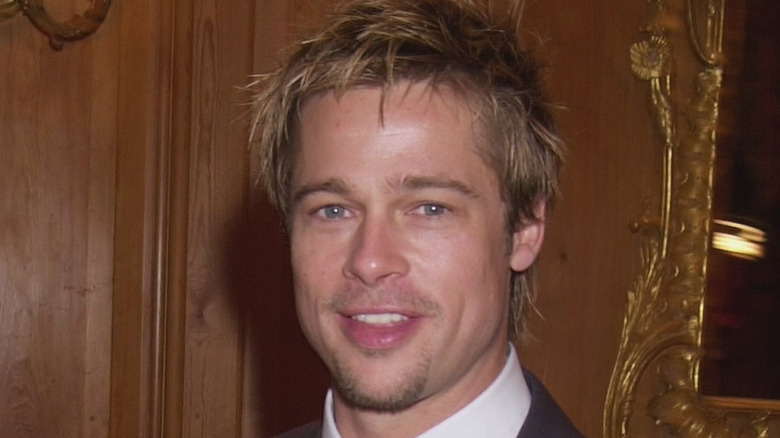 Dave Benett/Getty Images
During Season 3 of "Jackass" in 2002, the series was massively successful. But also massively successful at that time was Brad Pitt. The actor was riding high from his hit movies "Fight Club" and "Ocean's Eleven," so you wouldn't necessarily think performing on "Jackass" would be high up on his to-do list. Well, it seems the movie star wanted in on the action as he starred in two episodes of the show.
In Season 3, Episode 7, Pitt dons a gorilla suit with Johnny Knoxville, Bam Margera, Chris Pontius, and Steve-O. In the "Night Monkey" bit, the five suited-up pranksters take to the streets of L.A. to cause a little bit of mayhem. They run around the city, jumping into bushes, playing in shopping carts, and crashing into each other on scooters.
Additionally, Pitt starred in the Season 3 finale for a bit called "The Abduction." Just like it sounds, Pitt pretends to stand in line for a hot dog when a group of masked kidnappers suddenly yank him away while he thrashes. His performance was so convincing that several bystanders even tried to help — but to no avail.
Apparently, Pitt was ready to go on the show, Knoxville said on Hot Ones. "We were all like, oh, we really don't want him to get hurt, because he's Brad Pitt and he's... But he did not care, he was ready to do it," he recalled. "He was the first one in the middle of the street, we're like, 'No, no, no, no! Don't do that!' But he didn't care."