The CSI Franchise You Likely Forgot Featured Emmitt Smith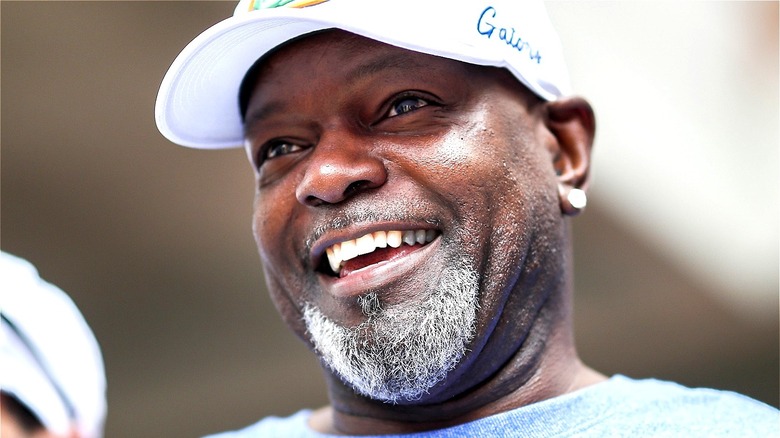 James Gilbert/Getty
It's been almost 18 years since Dallas Cowboys football legend Emmitt Smith decided to hang up his cleats and retire from the NFL (via ESPN) — and in all that time, no other running back has even come close to being as dominant as he was during his prime. Smith still holds the record for career rushing yards and career rushing touchdowns, and he helped lead his team to three Super Bowl championships throughout the 1990s. The Hall of Fame running back also ran for 11 consecutive 1,000 yard seasons, an absolutely absurd statistic to consider nowadays, as the league continues to shift in favor of pass-heavy offensive schemes (via Pro Football Hall of Fame).
Despite the fact that he's been out of the national spotlight for almost two decades, Smith has certainly kept busy in the years following his retirement, as his surprisingly extensive IMDb page will tell you. He's appeared in many different reality series, such as "Dancing with the Stars," "MasterChef Junior," and even "Celebrity Family Feud." He's also done some acting work in comedies like "How I Met Your Mother," though undoubtedly the strangest project he's ever been attached to was the short-lived "CSI: Cyber" series.
Emmitt Smith plays himself in CSI: Cyber
"CSI: Cyber" is a spinoff of the main "CSI: Crime Scene Investigation" franchise that follows a select team of FBI special agents who focuse solely on cyber crimes, led by FBI Deputy Director Avery Ryan (Patricia Arquette). Though the series has a star-studded ensemble cast featuring everyone from Ted Danson to Bow Wow, it only managed to get through two seasons before being canceled due to its relatively negative reviews, standing at only 34% on Rotten Tomatoes, and low ratings (via Deadline).
Season 2, Episode 11, "404: Flight Not Found," sees Emmitt Smith playing himself and signing autographs on the streets of Washington D.C. Bow Wow's character, Brody Nelson, recognizes the former football star and strikes up a quick conversation with him before being called away for work. It's a little cameo that seems to be almost entirely meaningless in retrospect, as it has nothing to do with the rest of the episode. That said, it is still entertaining to see the NFL's all-time leading rusher rubbing shoulders with a team of incredibly serious fictional FBI special agents.