Here's Where You Can Watch Every Episode Of CSI: Cyber
We may receive a commission on purchases made from links.
For most "CSI" fans, "CSI: Cyber" was the little engine that never could, having been canceled after just two seasons in 2016. But maybe it's time people gave the Patricia Arquette-led procedural a second chance?
Over the years, "CSI" has slowly morphed into one of the most iconic television franchises of all time, and each iteration of the forensics drama shows off creator Anthony E. Zuiker's appreciation for crime scene investigators and their work, and that includes "Cyber." The series starred Arquette with an ensemble cast featuring James Van Der Beek, Ted Danson, and Shad Moss, aka Bow Wow. Arquette's character, Dr. Avery Ryan, heads the FBI's Cyber Crime Division, with the others all serving alongside her.
Reviews were ultimately mixed, and "Cyber" now sits with a 5.5 rating on IMDb and 34% Tomatometer score on Rotten Tomatoes. But were people perhaps too harsh toward it? Thanks to the wonderful world of streaming, you can watch (or rewatch) every episode of "Cyber" right at this very moment and see for yourself. Here's where...
"CSI: Cyber" is available to buy on Amazon, iTunes, and Vudu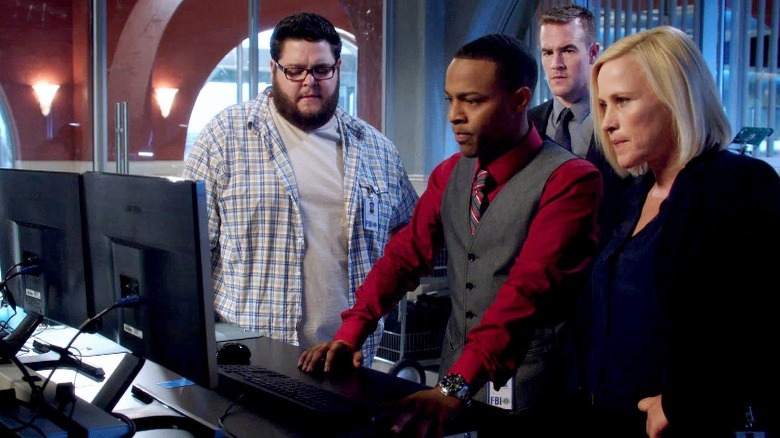 CBS
While the series may not be free to stream right now, episodes of "CSI: Cyber" can be purchased individually or by the season through several different streaming apps. On Amazon, Season 1 is available in HD for $11.99 and individual episodes for $3.99, with Season 2 available in HD for $15.99 and individual episodes for $2.99. iTunes offers both seasons in HD for $11.99 each. Over on Vudu, you can find single episodes for $1.99 and each season for $29.99 and $34.99, respectively.
"'CSI: Cyber' stars Emmy Award winner Patricia Arquette in a drama inspired by the advanced technological work of real-life Cyber Psychologist Mary Aiken," the show's synopsis on iTunes reads. "While other agents search for criminals in dark homes and alleys, Ryan and her team search the 'dark net,' a place deep in the bowels of the Web where criminals are anonymous, money is untraceable and where everything is for sale with just a keystroke."
It's unclear how long "Cyber" will be available to stream in the coming months and years as more and more shows get swapped out or scrubbed from collections. So check out this unique "CSI" series while you can.