The Best Netflix Sci-Fi Comedy That Only Lasted One Season According To Fans
Netflix has been a juggernaut in the streaming industry and continues to offer a seemingly never-ending list of content. Popular genre shows such as "The Witcher" or "Stranger Things" have become cultural phenomena that inspire a large following. But while the streaming platform is quick to greenlight new shows, they are even quicker to cancel series for a multitude of reasons.
Lesser-known comedies that have flown under the radar only lasted one or two seasons. 2018's "Everything Sucks!" depicted a realistic view of high school life in 1990s Oregon. "Teenage Bounty Hunters" was also an underrated gem that was put on the chopping block before it got a 2nd season. Though these series meant a lot to the fans who watched them, Netflix was less impressed.  With so much content, decisions are made hastily, and sometimes, truly tremendous shows are given the ax. This was the case for one sci-fi show in particular that fans continue to mourn.
I Am Not Okay With This suffered due to the pandemic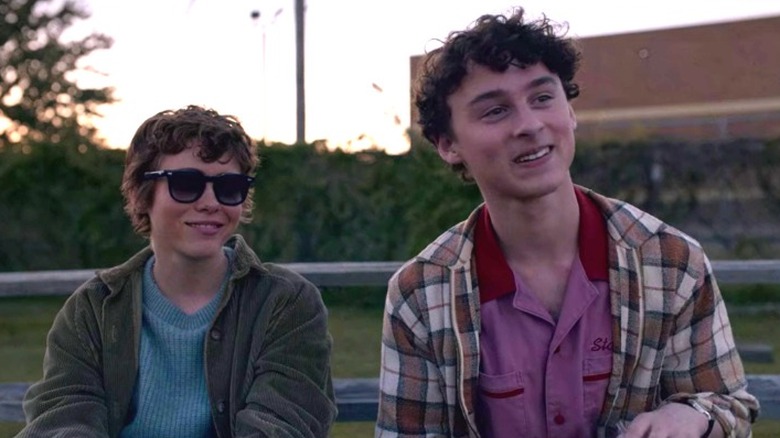 Netflix
One of the many recent issues arising in the entertainment industry is the challenge of the COVID-19 pandemic. Aspects like filming, writing, and logistics all require collaboration between the creative forces. This is the main reason that "I Am Not Okay With This" was tragically canceled after Season 1. Initially envisioned as a two-season series, creator Jonathan Entwistle went on the record with Insider about why Netflix killed the series. 
"When the pandemic hit, we moved out of the office and there was definitely a shift within Netflix. We finished the scripts and it was hard work in the Zoom-writer's-room," Entwistle explained. He went on to say that the longer the show was delayed, the more concerned they became about the future of the show. Entwistle suspected this also had to do with being such a "smaller, niche" show. With the delays, Netflix concluded that it was becoming too expensive with not a wide enough audience to back it up. Entwistle expressed disappointment at the outcome, especially since they had already planned the show's ending in Season 2. 
Fans of I Am Not Okay With This are really not okay with this
Entwistle was not the only one who was disappointed. Fans on Reddit were devastated, lamenting the loss of  Sydney Novac (Sophia Lillis) and her struggle to survive high school in the wake of her father's death. "It was so good. SUPER different from any other show I've ever watched," posted u/Jadertott. What poured salt on the wound was how it ended. 
After seven episodes, the series was left on a cliffhanger with Sydney's fate hanging in the balance. She spends the short season at first coming to terms with having telekinetic powers and then figuring out that she may be able to control them with the help of her friend Stan (Wyatt Oleff). Unfortunately, the series ends after Sydney explodes her nemesis Brad's (Richard Ellis) head. "I was so bummed when it was canceled. the show was just getting started," wrote u/BatFrmOuterSpace. With many ways that the series could conclude, fans wonder what might have been. Regrettably, everyone will have to make do with the show's only season still streamable on Netflix.