Is Dante Really Leaving The Equalizer?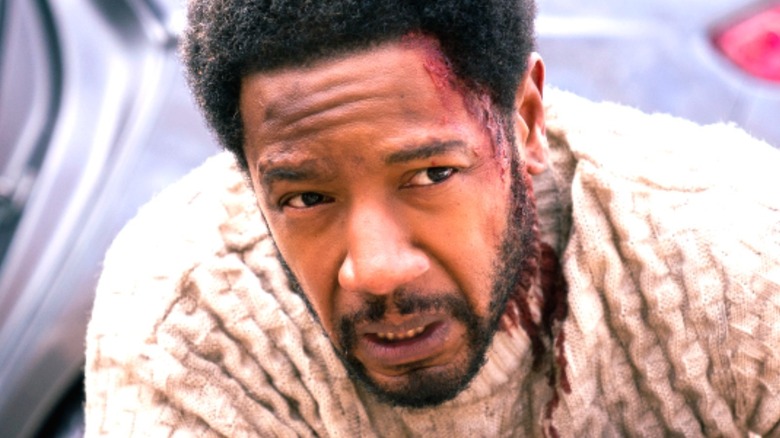 Michael Greenberg/CBS
With nearly two seasons now under his belt, "The Equalizer" actor Tory Kittles has become a welcomed mainstay on the rebooted CBS series, which first premiered back in February 2021. Since then, Kittles' Detective Marcus Dante has repeatedly been at the forefront of the classic crime drama, which sees Queen Latifah's Robyn McCall as "the Equalizer" (aka series vigilante) this time around.
With Dante constantly on Robyn's trail — and both of them wanting to carry out justice in New York City — "Equalizer" writers finally made the decision to have the two characters work as allies during Season 2, which is currently in full swing and slated to wrap up in May 2022. But as viewers saw in the most recent March 20 episode of the show, Dante's future has officially come into question. 
For those who didn't watch, the divorced NYPD detective was abducted during the episode by a pair of cops who racially profiled him. Things nearly turned deadly for Dante after he was shot and abandoned by his captors, but Robyn was able to find the wounded lawman and rush him to safety. Dante survived and recovered, but not before questioning his place on the police force.
At the end of the most recent episode, Kittles' character offers to resign and turn in his badge. Now, with three weeks until the next episode of "The Equalizer" is set to air (via IMDb), fans have started wondering if Dante's days on the show are numbered. 
Dante doesn't appear to be going anywhere just yet
After this week's traumatic ordeal, it appeared that Marcus Dante wanted nothing to do with the NYPD or his future as a cop. But as fans and media outlets point out, that doesn't mean Tory Kittles' character has to leave "The Equalizer" altogether. 
"I see him teaming up with the Equalizer herself to create an even bigger and more powerful Network," a fan named @MinisterCheryl wrote on Twitter. The website Matt & Jess TV Commentary offered up a similar explanation: "We think tonight's episode is meant to start larger conversions, and we think that Dante needs to be here in order to have those be all the more effective," the site reported. "We'd honestly love to see him work even closer with Robyn and see things even more from her side — there's no denying that he'd bring ALL sorts of valuable experience to her cause!"
If "The Equalizer" writers do decide to keep Dante around, fans ultimately hope that means a blossoming romance with Robyn is in order. "They're so close to dating," tweeted one viewer. Another fan with the handle @CLF__423 wrote, "Hopefully Robyn and Dante will soon admit their real feelings for each other."