The Major Item Tim McGraw Took From The Set Of Yellowstone's 1883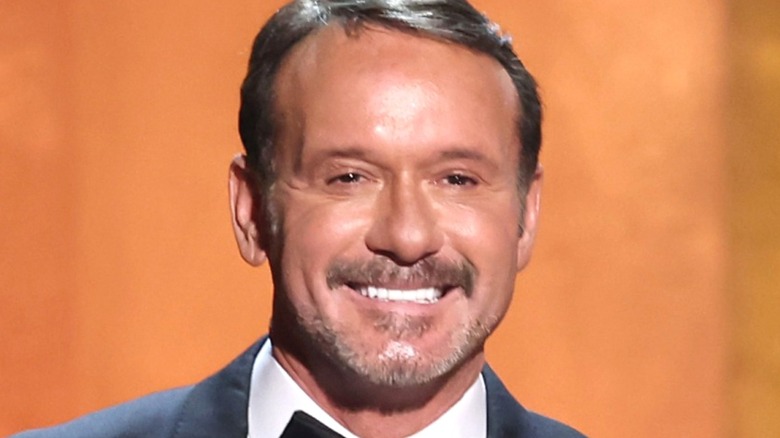 Rich Fury/Getty
With "Yellowstone: 1883"' now in the rearview mirror of Paramount+, the actors who took part in the successful spin-off can look back on their time making the program with fondness. The tragic and yet inspiring tale of the Dutton family's westward journey broke a lot of hearts and kept viewers on the tips of their toes. The death of Elsa Dutton (Isabel May) only episodes after the passing of her sweetheart, Ennis (Eric Nelsen), in particular, caused a lot of sad feelings among the show's fan base and provided devoted users with quite a shock.
By now, it's become very clear that the "1883" crew had quite a bonding experience on the show's rustic set, as well. After such a long time together creating a narrative that's true to the historical context of the era in which the program is set — as well as to the main body of the "Yellowstone" universe — apparently the show's actors left filming with a few fond memories. The show left a mark on them in a good way. Here's what Tim McGraw, who plays James Dutton on the show, took with him when he left the set of "1883" behind.
McGraw brought his chaps home from the set
Per an interview on "The Late Show with Stephen Colbert" which aired in February 2022 and is posted on YouTube, McGraw brought his chaps home "a few times."  Though, judging from the context of the comment, he might be kidding about his relationship with his real-life wife and co-star, Faith Hill, who portrays Margaret Dutton on "1883."
During the clip, Colbert asks McGraw what it's like to work with his wife. Referencing an interview he conducted with Hill previously, says that she told him they leave the show and their characters "completely at the door, you don't even rehearse lines at home." He then remarked that Hill "did imply that you sometimes roleplay as your characters." He added, with emphasis, "I only brought my chaps home a few times. Just the chaps."
"That does paint a picture," Colbert declared. Indeed, it does. 
"Yellowstone: 1883" has concluded its run but, per TV Line, Paramount+ will be progressing the same concept forward in history with another spin-off, "Yellowstone: 1932." Fans will have to stay tuned to find out what dramas and tragedies this new series will bring to the Dutton legacy.