The Walking Dead Season 11 Episode 13 Scene Fans Couldn't Help But Love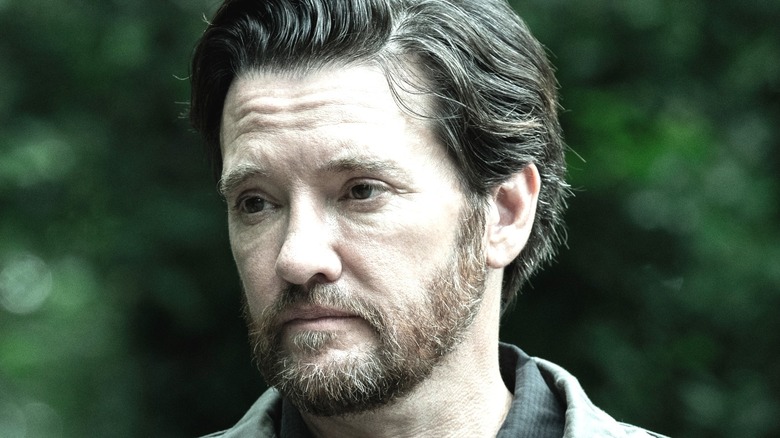 Josh Stringer/AMC
As Season 11 of "The Walking Dead" begins to approach the end of its three-part run, fans are finally getting a glimpse behind the curtain of the Commonwealth. The seemingly impenetrable community resembles a pre-apocalyptic world and is regarded as a haven for survivors, but not everything is as peachy as it seems.
Episode 13, "Warlords," plays out in a nonlinear fashion, slowly revealing that the immigration initiative that Aaron (Ross Marquand) convinced Father Gabriel (Seth Gilliam) to join has a dark side. Their would-be wholesome mission to onboard a struggling religious group takes a deadly turn when Toby Carlson's (Jason Butler Harner) true motive comes to light. When Aaron and Gabriel refuse to be complicit in this attack, they find themselves marked as enemies of the Commonwealth.
Toward the end of the episode, one character makes an unexpected return and makes a surprising gesture toward their nemesis. Against all odds, fans of "The Walking Dead" couldn't help but love this moment.
The return of Negan
AMC
Given his history of violence on "The Walking Dead," it comes as a surprise that so many fans were thrilled by the return of Negan Smith (Jeffrey Dean Morgan) in "Warlords." The former Savior walked away from the group in Episode 9, "No Other Way," after realizing Maggie Rhee (Lauren Cohan) had taken his advice to kill the Reapers.
"Warlords" revealed that Negan is now a member of the Riverbend community and must defend his new group and former allies against the Commonwealth. On Twitter, the show's official account shared a GIF of his return and wrote, "Negan, we missed you." Though some fans remain split over his redemption arc, many responded gleefully.
"I just said something earlier about probably not seeing Negan until the 3rd half and then he showed up!!! I haven't been that giddy in a while while watching the show," exclaimed @AMorrison2022.
Some fans added that "episodes just aren't the same without him," and praised his character development in Season 11. "Thank gawd!! Could not have made it the rest of the way through the season without a Negan fix," said @msstaceylace.
"Negan's probably the last good thing left about this show," tweeted @truth_burgers. "Lookin' forward to his spin-off series alongside Maggie."
While little is known about the upcoming series "Isle of the Dead," one thing is clear: Negan fans are ready for whatever's next.