The Walking Dead Scene That People Think Went Too Far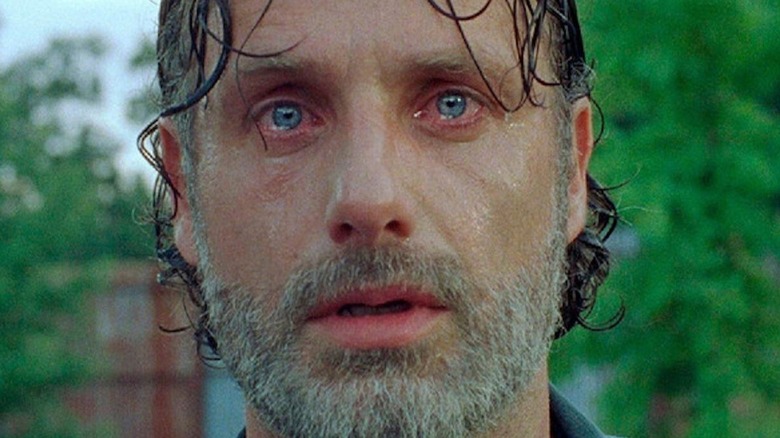 AMC
AMC has put out more than its fair share of hit television shows in the past several years, but the undisputed cornerstone of the network remains "The Walking Dead." Debuting on October 31, 2010, the program offered a dramatic new spin on the zombie genre by putting the focus on the human survivors and their quarrels with one another and using the reanimated masses — which aren't even called "zombies" in the show — as a backdrop. This approach made "The Walking Dead" a pop culture phenomenon in no time, propelling it for over a decade, with its 24-episode final season set to begin in late 2021 and wrap up in 2022. 
While "The Walking Dead" is immensely popular, it isn't exactly a show that's accessible to everyone. The collapse of modern society and the rise of flesh-hungry corpses known as "walkers" are enough to turn off viewers who are sensitive to such content. Factor in the excessive blood, gore, and general violence that follow the heroes throughout their struggles to survive, elaborate special effects and prosthetics that make scenes of injury and death look far too real, and the series' use of well-time jump scares, and you've got a recipe for a show that some people will absolutely loathe.
For the majority of "Walking Dead" viewers, this content comes with the territory, and there's no complaint to be had. However, there are a few odd scenes that unsettled even the most committed fans — and many have confessed that one "Walking Dead" moment in particular went way too far.
Glenn and Abraham's deaths were just too much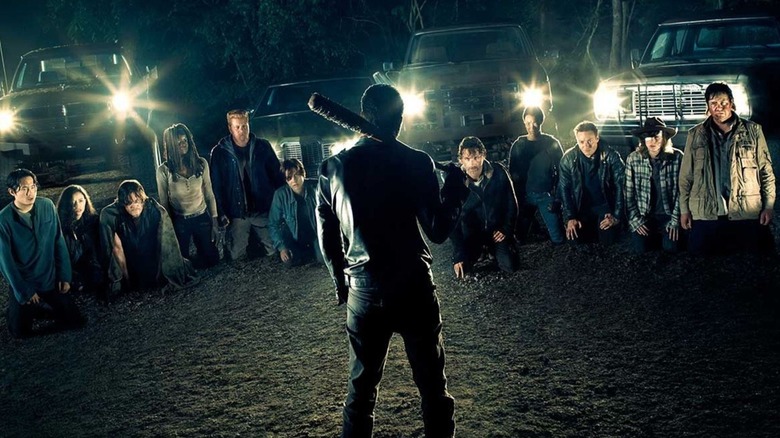 AMC
We here at Looper were curious about the "Walking Dead" fandom's picks for its most stomach-churning scenes, and the people didn't disappoint. When we polled 536 individuals from the United States, 27.61% (148 respondents) agreed that Negan Smith (Jeffrey Dean Morgan) brutally murdering Glenn Rhee (Steven Yeun) and Abraham Ford (Michael Cudlitz) was the hardest moment to handle — and the "Walking Dead" scene that crossed a line.
For those who don't recall, in the "Walking Dead" Season 7 premiere, ominously and aptly entitled "The Day Will Come When You Won't Be," Negan taunts Rick Grimes (Andrew Lincoln) and his group of fellow survivors, whom he has ordered to kneel on the ground and declare their loyalty to him. He chooses Abraham Ford (Michael Cudlitz) to make an example of, using his barbed-wire-covered bat Lucille to bludgeon him in the head. When Daryl Dixon (Norman Reedus) attempts to take a stand and punches Negan, things go from bad to worse. Negan decides that the group needs to be further punished, and he selects Glenn has his next victim, killing him in the same manner he killed Abraham.
Glenn and Abraham's murders have been remembered in infamy, and even one of the "Walking Dead" stars involved in the scene thought it went too far. During an appearance on the "Talk Dead to Me" podcast, produced by Skybound, Abraham actor Michael Cudlitz revealed his true thoughts. 
"I always think it was a bridge too far, personally. I thought it was too much. Either one of us should have lived a little bit longer, because people were very affected by it. They said, 'Oh my gosh, it was the most graphic, brutal deaths, it was murder porn,' all this stuff," he said. 
Cudlitz added that he knows more gruesome deaths happened in "The Walking Dead," but Glenn and Abraham's struck viewers because they loved the characters so much: "There were a lot of other killings and murders and lives lost on the show that were a lot more brutal. [But] the fact that I think you loved Abraham and Glenn so much as an audience, that's what makes it more brutal.
Other scenes that didn't sit right with Walking Dead fans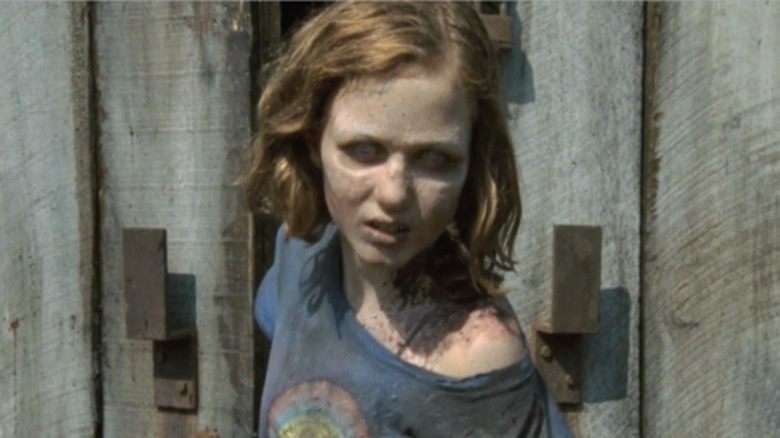 AMC
Unsurprisingly, for a show as gory as "The Walking Dead," Negan's big introduction wasn't totally unopposed in our poll about which scenes went too far. 
The Season 3 episode "Killer Within" features the death of Rick's wife Lori (Sarah Wayne Callies), who had to undergo an emergency C-section courtesy of Maggie Greene (Lauren Cohan) to save her baby Judith (Adelaide and Eliza Cornwell). That scene earned 26.68% — a tie with another gut-wrenching moment. At another point in the show, Lori and Rick's son Carl (Chandler Riggs) has to kill his mom before she returns as a walker, very much explaining why this event also secured 26.68% of the ballots.
From there, the examples get no less heart-wrenching, but they failed to garner as many votes. Rick killing Sophie Peletier (Madison Lintz) in her walker form in front of her mom Carol (Melissa McBride) earned 22.57%, followed by Carol shooting the severely disturbed Lizzie Samuels (Brighton Sharbino) at 17.35%, and finally, Noah's (Tyler James Williams) demise at the hands of a zombie horde took home the remaining 5.78%.
With 10 — soon to be 11 — seasons of material to look back on, this is surely just the tip of the iceberg when it comes to "The Walking Dead" testing the limits of cable television guidelines. Now that its historic TV run is coming to a close, one has to wonder if "The Walking Dead" will try to push the envelope once more for old times' sake, or have mercy on its audience and give us time to process its numerous extreme moments.