The Walking Dead Season 11 Episode 11 Scene That Had Fans In Tears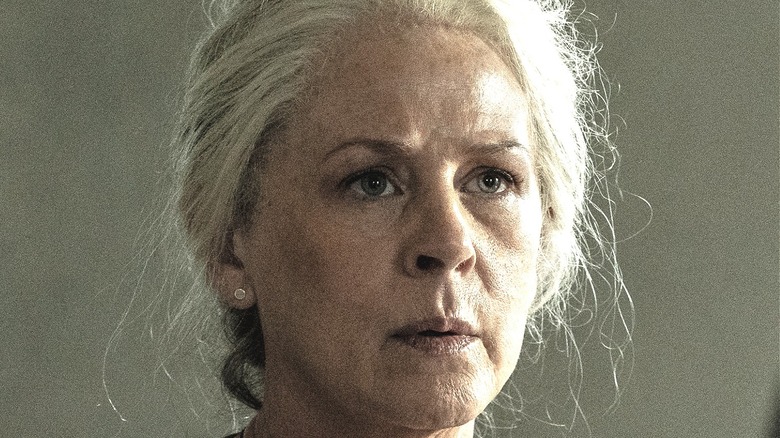 Josh Stringer/AMC
Contains spoilers for Season 11, Episode 11 of "The Walking Dead"
The second part of "The Walking Dead" Season 11 has officially taken off. As fans are lured closer and closer to the end of the series, the show's characters are still facing the day-to-day danger and drama that comes with the world's apocalyptic state.
Season 11 has seen several members of the main crew attempting to integrate themselves into the Commonwealth, an advanced community that is about as close to the pre-apocalypse world as we've seen thus far on the series. In Episode 11, "Rogue Element," the spotlight is primarily on Eugene (Josh McDermit) and Princess (Paola Lázaro) as they set out to find Eugene's girlfriend, Stephanie (Chelle Ramos). Eugene and Stephanie had a long-distance radio relationship, which brought the Alexandrians to the Commonwealth in the first place. However, after continuing to build that relationship in person following Eugene's arrival at the Commonwealth, Stephanie mysteriously vanishes.
After an official search for Stephanie is called off, Eugene takes matters into his own hands despite being warned not to. True to "The Walking Dead" fashion, what he discovers isn't exactly what he was hoping for. The whole episode is a roller coaster of events, but one specific scene left fans feeling particularly sad for poor Eugene.
Eugene realizes he's been duped
The scene in question is one in which Eugene comes face-to-face with Commonwealth mover and shaker Lance Hornsby (Josh Hamilton), who reveals (as many fans had already suspected) that the woman Eugene knew as Stephanie was, in fact, an imposter. Their relationship was a ruse to get Eugene to open up and spill details about himself and his community. Furthermore, the woman Eugene had come to know as Stephanie (real name Shira) wasn't even the same person he had been communicating with on the radio before he arrived at the Commonwealth. It's later confirmed that person was Max (Margot Bingham), Pamela Milton's (Laila Robins) assistant.
Eugene threatens to expose Hornsby for what he and "Stephanie" have done, but Hornsby doesn't seem to mind. He simply reiterates that he believes the Commonwealth is the best thing to ever happen to Eugene's group of people, and they should be thankful. He then rubs salt in Eugene's wounded heart by informing him that contrary to what she told him on the radio, "Stephanie" does not, in fact, enjoy Iron Maiden.
On Twitter, the official "Talking Dead" account asked fans to sound off on what they thought about Eugene's intense confrontation with Hornsby, and some fans were quick to offer their sympathies. User @Grimes_Clark was saddened by Eugene getting stood up, and wrote, "Poor Eugene. He really sat there all day waiting for her." Meanwhile, @BrianaVanwagnen offered, "I want to give Eugene a hug. I cried," and @rererob2 added, "I was sad for Eugene It was a heartfelt moment."
It's easy to see why some fans were upset, as the heartbreak is clear as daylight on poor Eugene's face as he learns that his life and his love are both a sham.