The One Role That Changed The Course Of Sigourney Weaver's Career Forever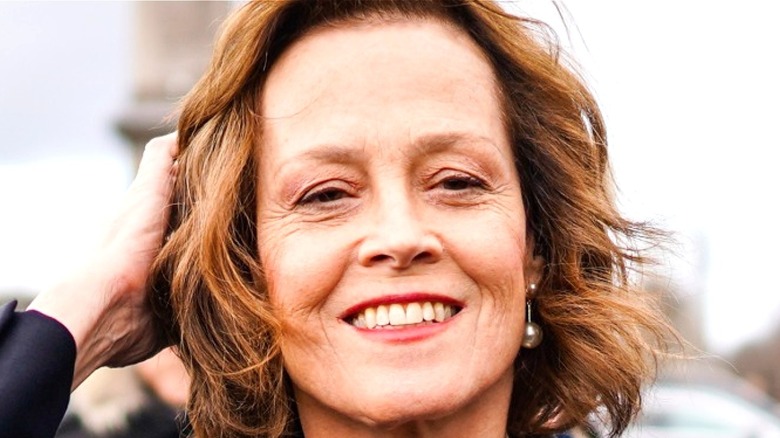 Edward Berthelot/Getty
Sigourney Weaver has had an incredible career. The legendary actor has starred in some of the most memorable movies of the last four decades, including hits like "Gorillas in the Mist," "Working Girl," "Galaxy Quest," "Avatar" (and all 73 of its sequels supposedly due out this century), and of course, "Ghostbusters." She even returned for a playful cameo in 2021's "Ghostbusters: Afterlife," though it comes so late in the film that her end credit appears before she does. Still, it's well worth it just to watch her flip the script on Bill Murray in a funny callback to the 1984 original.
The only thing missing from the talented thespian's résumé is an elusive Academy Award (via IMDb). But while she may not have won one of the coveted trophies, she's been nominated three times — including twice in one year. In 1989, Weaver was nominated for best actress in a leading role for her portrayal of primate expert Dian Fossey in "Gorillas in the Mist" as well as best actress in a supporting role for her character of the scheming boss from hell in "Working Girl" alongside Melanie Griffith and Harrison Ford. She's won dozens of other awards though, so don't feel too bad. Plus, she's really tall.
Despite all of Weaver's success, her career might have gone down a very different path if not for one iconic part. Most stars owe their fame to a breakout performance in what turns out to be a celebrated production, and Weaver is no exception. In fact, her big breakthrough was literally out of this world.
We heard Sigourney scream in space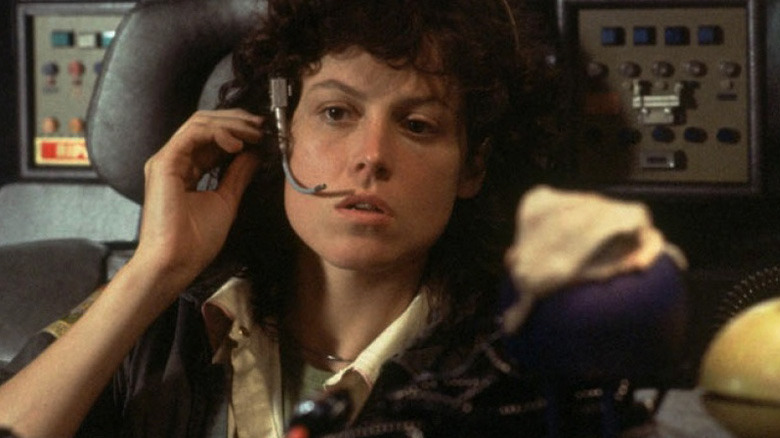 20th Century Studios
Well, of course it was "Alien." Director Ridley Scott's epic 1979 sci-fi masterpiece rocketed Sigourney Weaver into the annals of cinematic (and pop culture) history. Weaver starred as Ellen Ripley in the classic tale of a space flight crew that unwittingly picks up a terrifying creature, which proceeds to go on a vicious murder spree. It ends poorly for everyone on the ship except — unexpectedly — Ripley. Against all odds, Ripley manages to defeat the big mean monster and live to fight another day, becoming one of the first empowered female action heroes in the process and helping reshape the entire genre.
At the time, Weaver was a fresh face and a relative unknown. But that didn't last long. She reprised the role in director James Cameron's equally brilliant 1986 sequel, "Aliens," for which she received the first of her three Academy Award nominations, and went on to play Ripley in two more films in the still ridiculously popular franchise, which always seems to have new incarnations in the works. The impact of the original "Alien" movie cannot be understated. It currently sits at 98% on Rotten Tomatoes and is widely considered one of the best sci-fi films ever made — with Sigourney Weaver as the (human) face of the franchise.
So yeah, "Alien" kind of altered the trajectory of Weaver's career. Would she have even been in the groundbreaking "Avatar" (and its 73 sequels) if not for working with Cameron on "Aliens"? If she wasn't already a sci-fi icon, would she have been picked for "Galaxy Quest"?
Everything changed for Sigourney Weaver after "Alien." Lucky us.