Firestarter Release Date, Cast, And Trailer - What We Know So Far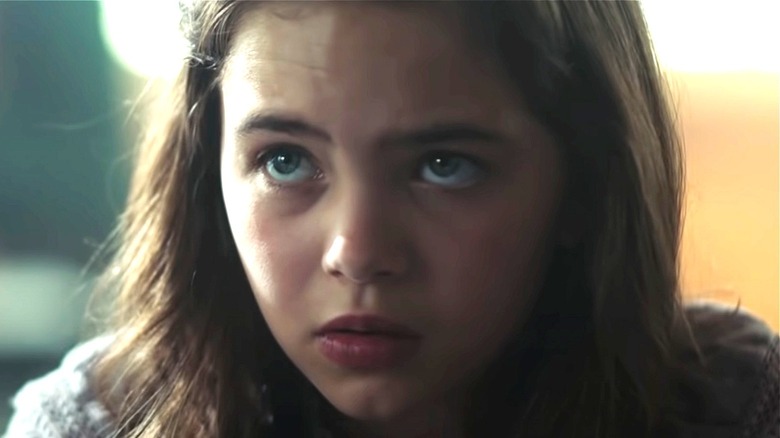 Universal Pictures/YouTube
Stephen King's "Firestarter" is getting a brand new film adaptation. The fan-favorite horror story of a young girl imbued with powerful abilities on the run from the nefarious government is King at his best and has already spawned multiple media adaptions over the decades, from a 1984 film starring Drew Barrymore to a television miniseries sequel in 2002. "Firestarter" even inspired the Duffer Brothers to create the character of Eleven (Millie Bobby Brown) for their massively successful Netflix series "Stranger Things," and a poster for the show depicted Eleven in a pose reminiscent of the cover for the 1984 film. Now, Universal Pictures and Blumhouse Productions are firing up a new reboot of the classic tale.
The new "Firestarter" movie has some serious talent behind it, as Jason Blum is responsible for producing such contemporary horror masterpieces as Jordan Peele's "Get Out" and his follow-up, "Us," as well as David Gordon Green's "Halloween" reboot series, which recently culminated in 2021's "Halloween Kills." Blum's co-collaborator for "Firestarter" is Akiva Goldsman, whose previous credits include "A Beautiful Mind" and "I, Robot." Of course, any Stephen King adaptation always stands a chance of being truly great, so it makes sense that fans who have long awaited the new reboot are beginning to wonder about the details of the project. So, from the official release date to the cast and theatrical trailer, here's what we know so far about "Firestarter."
What is the release date for Firestarter?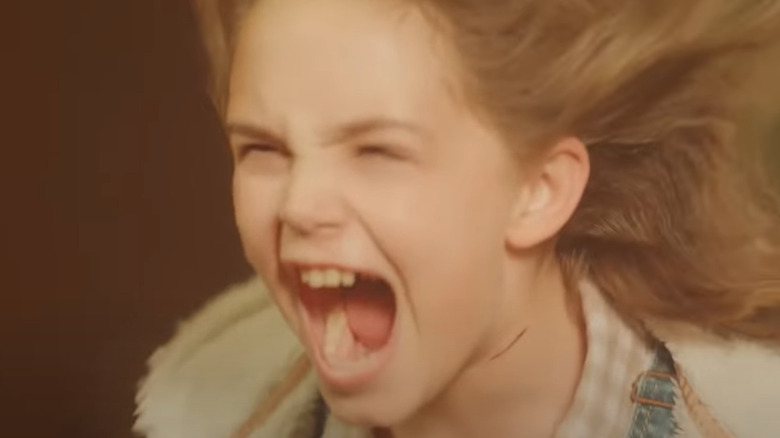 Universal Pictures/YouTube
Although a reboot of "Firestarter" was first announced by Universal Pictures and Blumhouse Productions as far back as 2017, a number of events significantly delayed the production of the Stephen King adaptation. Originally, Akiva Goldsman, who had produced another King adaptation, "The Dark Tower," was on board to direct the film. However, although Goldsman stayed on as a producer for "Firestarter," in June of 2018 he was replaced as director by Fatih Akin, whose previous work included the highly regarded crime thriller "In the Fade," per Variety. A few months later, in October, it was revealed that Goldsman was working on the Paramount+ "Star Trek: The Next Generation" spin-off series, "Picard," making it likely that he took a step back from "Firestarter" in order to commit to the new project. In late 2019, Akin was replaced by Keith Thomas, whose feature directorial debut, the horror film "The Vigil," premiered earlier that year (via Collider).
Casting continued until mid-2021, and the film began shooting in May of that year, wrapping production in July (via Movieweb). Finally, with the release of the official trailer in February 2022, fans were at last given an official release date. "Firestarter" will release both in theaters and for streaming via Peacock on May 13, 2022.
Who is in the cast of Firestarter?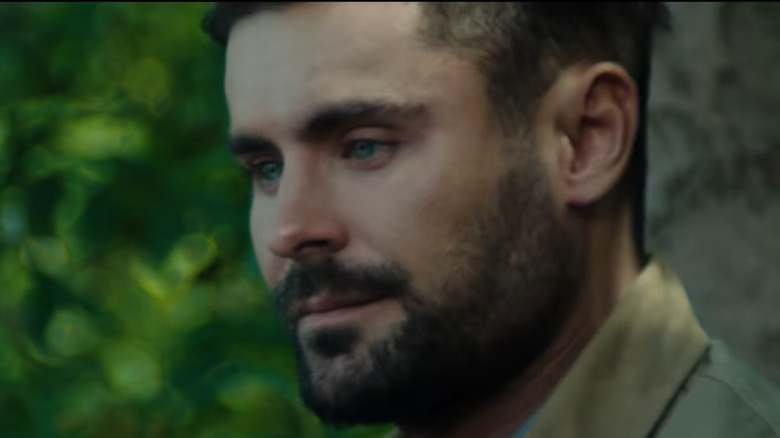 Universal Pictures/YouTube
Out the gate, the "Firestarter" reboot made an eyebrow-raising choice with its casting, bringing aboard Zac Efron as Andy McGee, the father of a girl named Charlie who has pyrokinesis, the ability to create incredibly destructive blasts of fire with her mind. The former Disney Channel star has proven himself to be a nuanced and capable actor over the years, and "Firestarter" will provide him with the opportunity to surprise audiences once again. Meanwhile, Charlie herself will be played by Ryan Kiera Armstrong, who previously appeared in a small role for another Stephen King adaptation, "It: Chapter 2." Sydney Lemmon joins the proceedings as Charlie's mother, Vicky, and Tina Jung is here as her teacher, Ms. Gardner.
Of course, no movie is complete without its villain, and Michael Greyeyes will play John Rainbird, an assassin who, in the novel, is hired to relentlessly pursue Charlie and becomes obsessed with killing her. Greyeyes is a veteran actor with acting credits on HBO's crime thriller "True Detective," the 2019 horror film "Blood Quantum," and much more. Captain Hollister, the head of the sinister government agency The Shop, will be played by Gloria Reuben, and Kurtwood Smith appears as government psychologist Dr. Joseph Wanless.
A movie's score is a character in its own right, and in a triumphant turn of fate, legendary director John Carpenter will score the "Firestarter" remake. Carpenter, who directed '80s horror classics "They Live" and "The Fog," among many others, was famously barred from directing the original "Firestarter" movie in 1984 after his Antarctic alien nightmare "The Thing" tanked at the box office. However, "The Thing" went on to be known as perhaps the best sci-fi horror film of all time, and Carpenter's inclusion in the "Firestarter" reboot at long last provides a sense of karmic justice.
Is there a trailer for Firestarter?
The official trailer for "Firestarter" was released in early February and tantalizes fans with the young Charlie's awful and awesome ability to will "a nuclear explosion" into being with nothing but her mind. As the trailer kicks off, we see Charlie's father, played by Zac Efron, helping her to control her powers with mindfulness exercises. He argues with other characters over how best to protect her, and warns that if she's ever captured, the people pursuing her will "put her in a cage."
But clearly, a power of this magnitude cannot be contained. The trailer gives us a good look at a scene in which Charlie's teacher, Tina, finds her hiding in the bathroom trying to contain her conflagratory powers. Tina touches the metal of the stall and it burns her fingers. The stall door bangs and shudders before getting blown clean off its hinges with a blast of flame. The rest of the trailer is a fireball of suspense, as The Shop, a government agency bent on capturing Charlie, tries to track her down. "She's the first of her kind," says Captain Hollister, The Shop's leader, "a real-life superhero." We see Charlie blast her would-be assassin, John Rainbird, into a wall, and she even smokes a crow into a heap of charred feathers. Whether the bird did anything to deserve it is unclear.
The trailer also confirms the release date for "Firestarter," as described earlier. Fans are sure to be burning with anticipation for the film's release to theaters and Peacock on May 13.