Why The Cast Of Bridgerton Looks So Familiar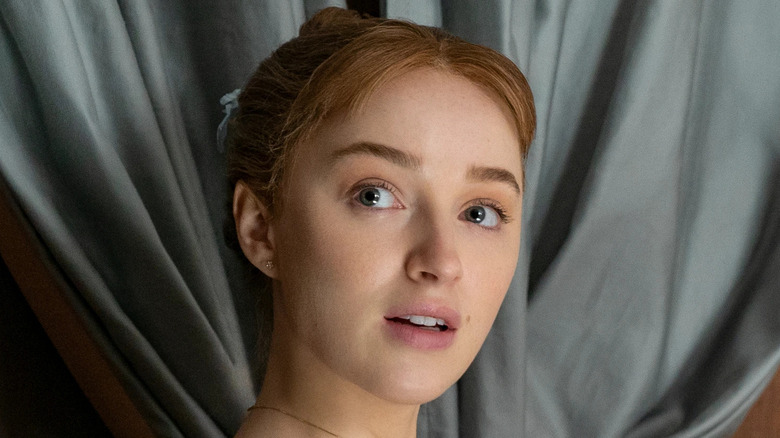 Liam Daniel/Netflix
Shonda Rhimes makes TV gold. With shows like "Grey's Anatomy," "Scandal," and "How To Get Away With Murder," she has one of the strongest track records on TV. "Bridgerton" is one of her newest shows, and it has been an absolute hit according to Entertainment Weekly, continuing her reign as the queen of television drama. "Bridgerton" is a period drama with a hint of "Gossip Girl." The series is based on Julia Quinn's novels set in London's Regency era, when women debut in court to find their husbands. The Bridgertons are a well-renowned family, and Season 1 details how eldest daughter Daphne finds her soulmate — all the while the details of her debut are closely monitored and shared with the public by the secretive Lady Whistledown.
Some of the cast members from "Bridgerton" might look familiar, even if you can't place them. Read on to find out where you've seen some of the cast, and why their faces, names, or even voices stood out when you binged the first season.
Phoebe Dynevor as Daphne Bridgerton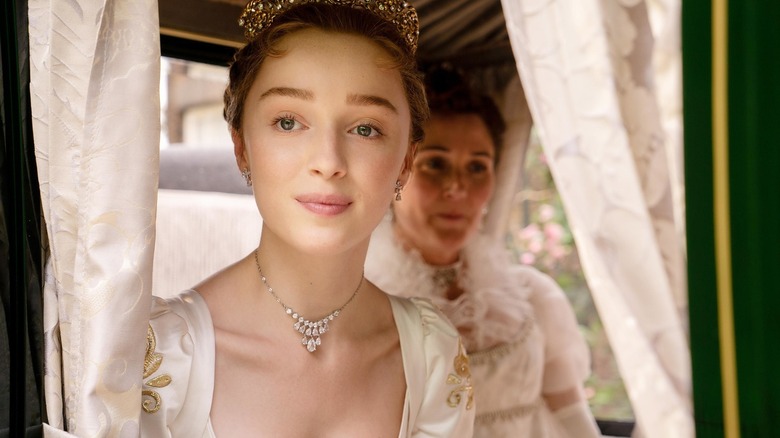 Netflix
Phoebe Dynevor portrays the gentle heroine of the show, Daphne Bridgerton. She's highly sought after by many suitors after receiving high praise from Queen Charlotte (Golda Rosheuvel) herself. However, Daphne soon finds herself caught in some drama, as she and the Duke of Hastings decide to trick London society into thinking that they are courting. This helps the Duke avoid the constant attention from other debuts and keeps Daphne as an interest to other suitors.
While "Bridgerton" has been a star-making role for Dynevor, she's been on our screens before, with her debut role in "Waterloo Road" (2009-2010) followed by her role in 2014's "The Village" as Phoebe Rundle. She followed these roles when starring in "Prisoner's Wives" (2012-2013) and "Dickensian" (2015-2016). Dynevor was also in the crime-comedy "Snatch" (2017 – 2018) where she starred opposite "Harry Potter" alum Rupert Grint and "Gossip Girl" star Ed Westwick. Between roles, Dynevor starred in the short "The Nature of Daylight" (2016) and had a role in one episode of the BBC period series "The Musketeers" in 2015.
Dynevor's personal life has also caught some attention, as she was previously linked with Pete Davidson in 2021.
Regé-Jean Page as The Duke of Hastings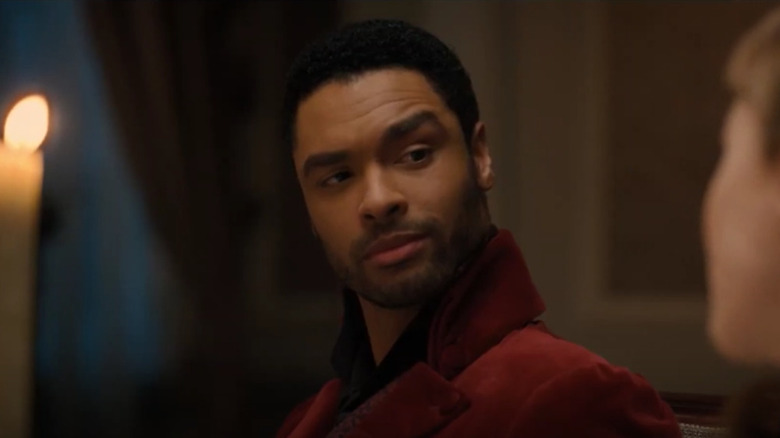 Netflix
Regé-Jean Page portrayed the handsome Simon Basset, aka The Duke of Hastings. Unfortunately, the actor announced that he would not return to "Bridgerton" for Season 2 to the disappointment of fans (Decider). Luckily, his work in the series has done nothing but sky-rocket his career.
If you found that The Duke looked familiar, it's likely because he was cast on another Shonda Rhimes show prior to the release of "Bridgerton." The short-lived series "For the People" (2018-2019) stared Page as Leonard Knox, and while that series was canceled after just 2 seasons, he clearly made an impression on Rhimes. You may also recognize Page from his role in 2016's "Roots" and "Sylvie's Love" in 2020. He also appeared in a blink-an-you-miss-it role in "Harry Potter and the Deathly Hallows — Part 1" standing next to Emma Watson's Hermione Granger. He's set to star in "The Gray Man," directed by the Russo brothers, and joined the cast of upcoming Dungeons & Dragons film, alongside Chris Pine and Michelle Rodriguez.
Freddie Stroma as Prince Friedrich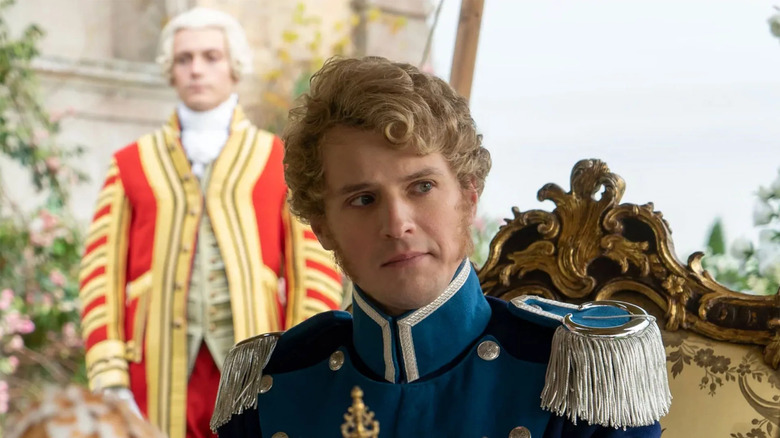 Netflix
What's a romantic period drama without a good love triangle? That's exactly what Freddie Stroma's Prince Friedrich provided for "Bridgerton," as Daphne was caught between the seemingly perfect Prince and the Duke who had her heart. Their relationship was anything but perfect in the beginning, making the Prince seem like a viable option. And if, like us, you were watching his character and trying to see past the facial hair and accent to see why he was so familiar, it's because Stroma is no stranger to television.
While he portrayed Cormac McLaggen in the final three "Harry Potter" films, he was also in the Emmy-winning series "UnREAL," where he met his now-wife Johanna Braddy. Since then, Stroma played in another period drama for one season as H.G. Wells in 2017's "Time After Time." Following that performance, he starred as Jake Marti in the Netflix comedy series "The Crew," however the show was abruptly canceled after just one season. Most recently he portrayed Vigilante in HBO Max's hit show "Peacemaker." where fans were delighted by his character, with some even believing that Stroma may have stolen the show (Den of Geek). And with John Cena's strong performance as the titular character Peacemaker, that's saying something.
Adjoa Andoh as Lady Danbury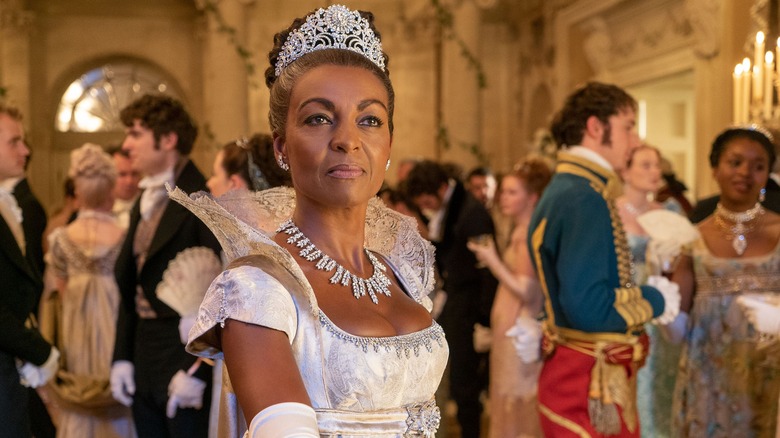 Netflix
Adjoa Andoh plays Lady Danbury in "Bridgerton." She acts as a mother figure for the Duke, as his own mother died during childbirth and left him with a hateful father. Lady Danbury has a commanding force in London society and seems to be well respected, even having the ear of the Queen on occasion. While "Bridgerton" has no shortage of drama, Lady Danbury's interference in the Duke's romantic affairs is what kicks off the entanglement between him and Daphne.
While Andoh is no stranger to stage work, as she has experience in UK theater, it's her TV appearances that audiences might be most familiar with. While she's used her voice for the "Doctor Who" video games "The Edge of Reality" (2021) and "The Edge of Time" (2019) alongside the show from 2006 to 2008, she's likely best known for her role in Clint Eastwood's 2009 film "Invictus" as Brenda Mazibuko. However, more recently, Andoh can be seen in another Netflix project, "The Witcher." In Season 2, she portrays Nenneke, the priestess and head of the Temple of Melitele in Ellander — a good friend and confidant to Geralt (Henry Cavill).
Nicola Coughlan as Penelope Featherington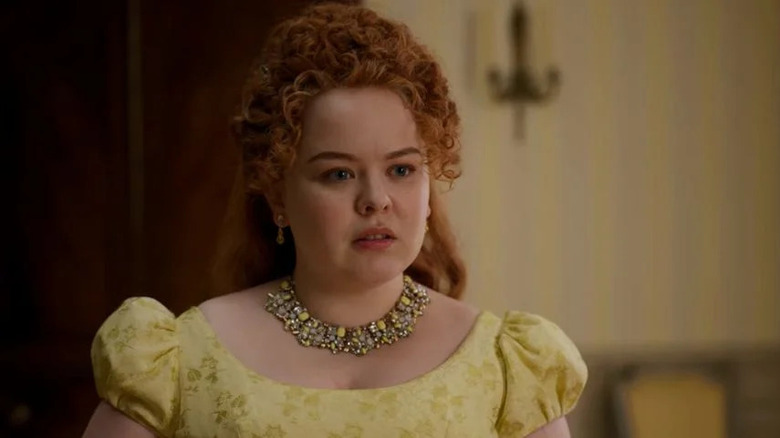 Netflix
Nicola Coughlan portrays the kind-hearted Penelope Featherington. At first, Penelope seems disinterested in debuting to find a husband, even though she does have a crush on Colin Bridgerton (Luke Newton). However, by the end of the first season, it's revealed the resident gossip girl columnist, Lady Whistledown is none other than Penelope herself, proving that underneath her nice girl persona lives a formidable woman.
While the voice-over used for Lady Whistledown may be familiar to audiences as the great Julie Andrews (best known for her roles in "Sound of Music," "Marry Poppins," and "The Princess Diaries"), actress Nicola Coughlan is familiar as well. She played Clare Devlin in the sitcom "Derry Girls." The show ran from 2018 to 2019 and became one of the most-watched shows in Northern Ireland (Belfast Telegraph). Prior to her role in "Derry Girls," Coughlan also played Hannah Dalton in the Hulu series "Harlots" in 2018.
Sabrina Bartlett as Siena Rosso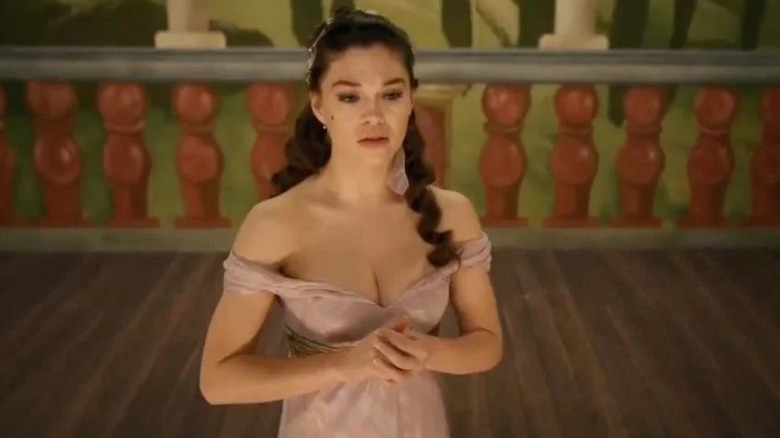 Netflix
Siena Rosso was an interesting character in season 1 of "Bridgerton." She's loosely based on Maria Russo, a minor character from the books. In contrast, Siena is a fleshed-out character in the show. She's an unapologetic woman who steals the heart of Anthony. Unfortunately, due to her status (or lack thereof), he breaks things off with her in order to take his place as head of the family, leaving Siena to find her own path.
Siena is played by Sabrina Bartlett has a rather small, but important role in HBO's "Game of Thrones." In Season 6, Bartlett portrayed a handmaid disguise worn by Arya Stark when she assassinated Walder Frey. While it was brief, this was a big moment for "GoT" fans, cementing Bartlett's face into our memories forever. After that, Bartlett got bigger roles in TV, from playing Matilda in a three-episode arc in "Versailles" (2017) to Princess Isabella in "Knightfall" (2017-2018). Prior to her role in "Bridgerton," Bartlett was cast as Abigail Turner in 2019's "Victoria." Most recently, you can find Bartlett in the British comedy series "The Larkins," where she plays Mariette Larkin, one of the main characters.
Polly Walker as Baroness Featherington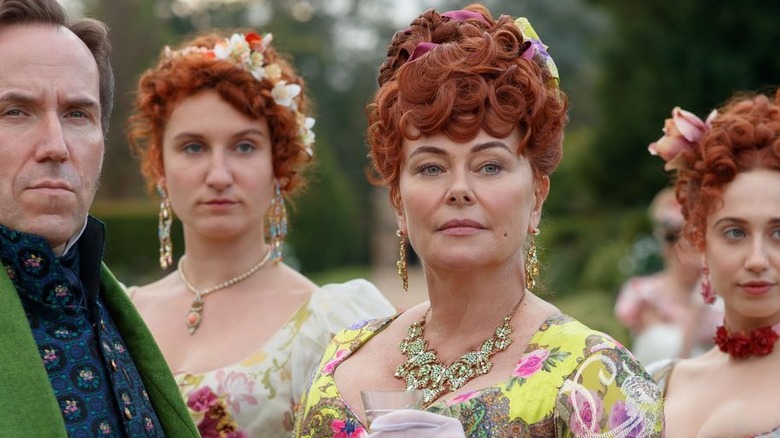 Netflix
Portrayed by Polly Walker, Baroness Featherington is an ambitious character. She's seen scheming her way throughout the 1st season of "Bridgerton," in the hopes of gaining higher status as her daughters debut. Unfortunately for her, her three daughters are outshined by their cousin Marina Thompson (Ruby Barker).
Polly Walker has had an impressive acting career over the past few years, however, she's likely most known for her Emmy-nominated role as Atia of the Julii in HBO's "Rome" (2005 – 2007). She's also had steady work on shows like "Pennyworth" (2019-2021), "Cursed" (2020), "Line of Duty" (2016-2019), and "Caprica" (2009-2010). While she's dominated the small screen for years, Walker has also dipped her toes into film with her roles in 2012's "John Carter" and 2010's "Clash of the Titans." Clearly, Walker enjoys working on period pieces, and we wouldn't have it any other way.
Jonathan Bailey as Anthony Bridgerton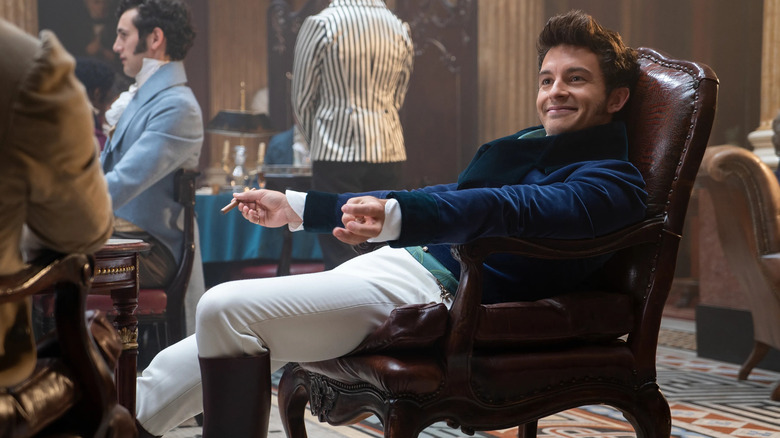 Netflix
Anthony Bridgerton begins the show as a carefree rich boy who doesn't want to take on the responsibility that comes with inheriting his late father's title Viscount. However, throughout the show, audiences see him trying his best to help his sister Daphne find an appropriate match. He also makes the difficult decision to stop seeing the opera singer Siena Rosso so that he might do the same. His story of finding a match will largely be the focus of season 2, so it stands to reason that audiences are wondering why actor Jonathan Bailey is so familiar.
Audiences may have recognized Bailey's voice as he's done some voice acting work in MMORP "Final Fantasy XIV," where he plays G'raha Tia. With a background in theater, it makes sense that Bailey has a strong voice presence. However, if it's not his voice that stands out, you may also recognize Bailey from his work in TV as well. Bailey's break came with his role as Josh in 2001's "Baddiel's Syndrome." Afterward, he played in a few one-off characters and in TV movies before landing the role of Danny Gordon in "Off the Hook" (2009). Following that, Bailey had steady work on shows like "Campus" (2011), "Leonardo" (2011-2012), "Groove High" (2017), and his hit role as Olly Stevens in "Broadchurch" (2013-2015).
Bailey can also be seen in 2016's "Crashing," 2017's "Chewing Gum, "W1A" (2014 – 2017), and Tom Clancy's "Jack Ryan" (2018).
Ruth Gemmell as Violet Bridgerton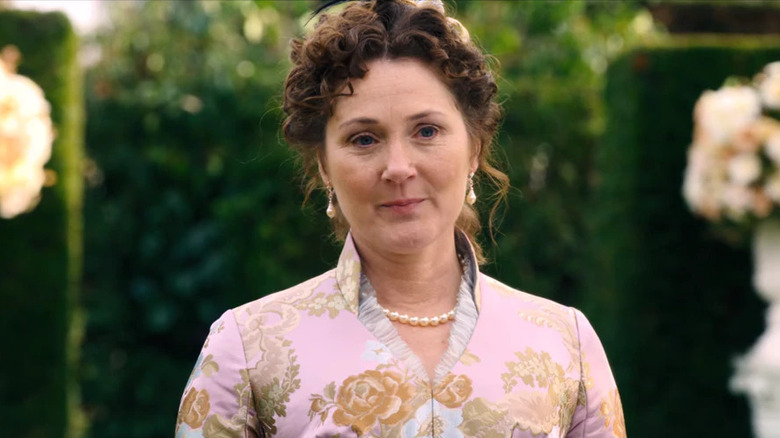 Netflix
Violet Bridgerton, the Viscountess and widower to her late husband, is the matriarch of the Bridgerton family. She's the mother of eight children and does her best to prepare her kids for the world. While she doesn't always make the right choices, it's clear how much she loves and cares for her family. She takes part in schemes with Lady Danbury to set up her daughter Daphne with Simon, the Duke of Hastings.
Actress Ruth Gemmell has a long list of acting credits, but she's commonly recognized for her work in "Fever Pitch" back in 1997 as Sarah Hughes, alongside Academy Award winner Colin Firth. Gemmell may also be familiar with her role as Debra in "EastEnders" (2009), her various roles in "The Bill" (1995-2009), as Linda Cummings in "The Walking Dead" (2002-2009), Alice in "The Fades" (2011), or Rebecca from "Inside Man" (2012) Some might recognize her from more series regular spots, including "Silent Witness" from 1996 to 2014. She was also cast as Jen in "Utopia" (2013-2014), Octavia Putney in "Penny Dreadful" (2015), Sarah Collingborne in "Home Fires" (2015-2016), and Gina Graham in "Deep State" (2019).
Claudia Jessie as Eloise Bridgerton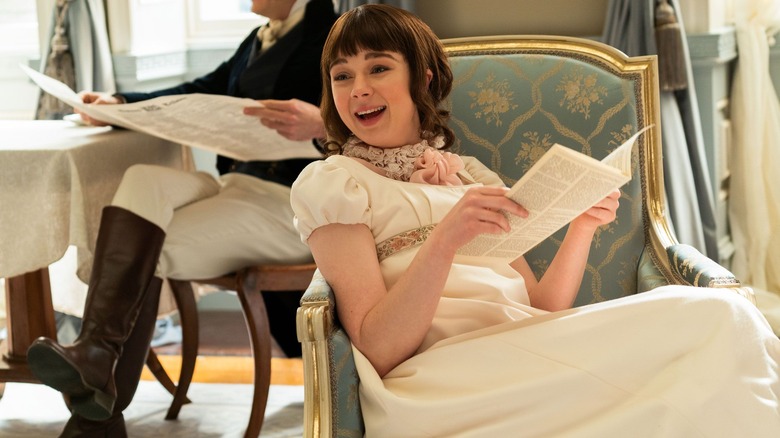 Netflix
Eloise Bridgerton is the younger sister of Daphne and best friend to Penelope Featherington. She detests debut society, and she focuses on education and independence over marriage and babies. She spends most of Season 1 trying to ascertain the secret identity of Lady Whistledown, who she believes to be the seamstress Madame Genevieve Delacroix (Kathryn Drysdale). However, viewers discover that Lady Whistledown is none other than her bestie, Penelope.
Actress Claudia Jessie has been in various TV roles throughout her career, you may recognize her from "Doctors" (2012-2014), in "WPC 56" (2015) as Annie Taylor, "Jonathan Strange & Mr Norrell" (2015), "Dixie" as Shari from 2014 to 2016, or as DC Jodie Taylor in 2017's "Line of Duty." However, it's her other period drama series that bring the biggest sense of familiarity. Jessie landed a leading role in ITV's "Vanity Fair" in 2018 as Amelia Sedley. Jessie told Belfast Telegraph how much she hated wearing a corset for her role as Amelia, as she felt it to be constricting and rather unnecessary. So when she got the role of Eloise, she felt a kindred spirit to the character — who was so outspoken as a modern-day feminist for London's elite Victorian society. Clearly, Jessie was meant to play this character.