The Bridgerton Scene That Was Surprisingly Difficult For Phoebe Dynevor To Film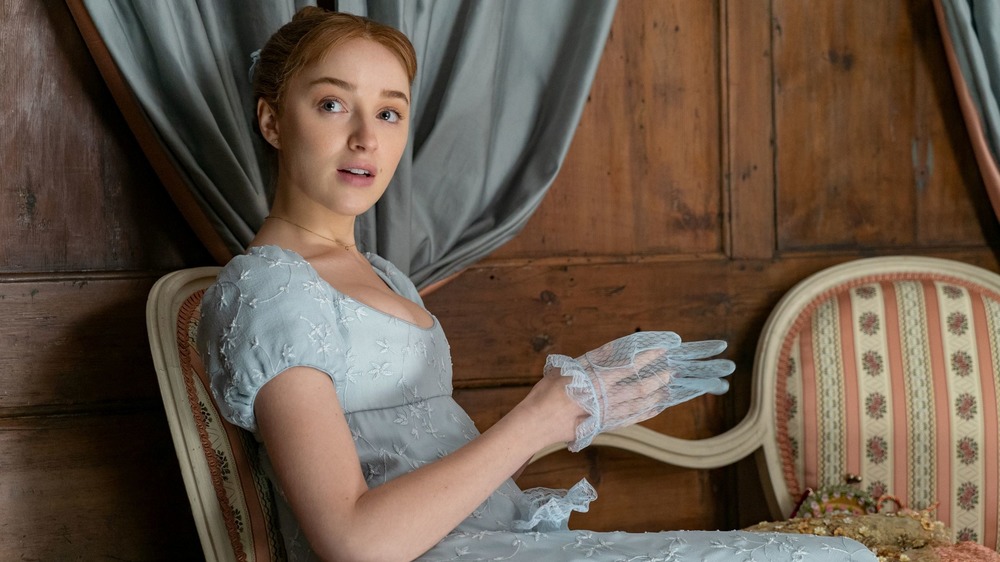 Liam Daniel/Netflix
Season 1 of Netflix's Bridgerton is a certified hit, and that's thanks in large part to the swoony romance between Daphne (Phoebe Dynevor) and Simon (Regé-Jean Page). Over the course of eight episodes, their fake relationship blooms into an extremely real one, leading to all sorts of memorable scenes that could have been difficult to film. However, in an interview with Glamour UK, Dynevor revealed the Bridgerton scene she had the most trouble filming had nothing to do with her character's intimate moments or even Daphne's race to stop a duel.
Instead, it was Daphne's grand entrance at the ball where she flirts with Prince Friedrich (Freddie Stroma) that left the actress feeling out of sorts for the most relatable reason. "One of the most difficult scenes for me was when Daphne walks down the stairs to greet the prince and everyone in the ball turns to look at her," Dynevor revealed. "It was actually the most uncomfortable scene ever and I just absolutely hated filming it, because I didn't feel very confident that day, I woke up and I just wasn't feeling in my power or in my strength. Watching it back I look the exact opposite of how I was feeling."
She may not have been feeling confident that day, but in the scene, Daphne exudes power as she walks down the stairs and pointedly ignores Simon as he silently stews in the corner. The moment is a big one for the show's heroine, because it marks the beginning of her truly coming into her own womanhood. And it speaks to Dynevor's talents that she was able to pull it off so perfectly despite what she was feeling at the time.
Phoebe Dynevor didn't feel any of that awkwardness during Bridgerton's many sex scenes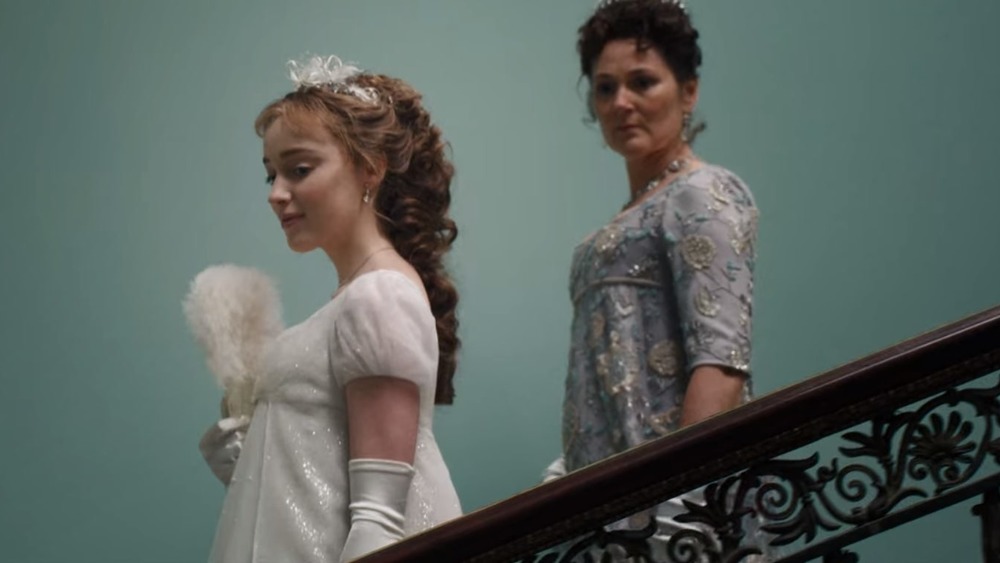 Netflix
Given how many exuberant love scenes Bridgerton managed to include in Season 1, it may seem surprising that Dynevor didn't highlight one of those as the most difficult to film instead. But the actress has said in multiple interviews that she was comfortable filming Daphne and Simon's love scenes thanks to the show's intimacy coordinator Lizzy Talbot, and her co-star Page.
Still, just because filming the scenes was easy that doesn't mean watching them with her entire family was a breeze. Dynevor revealed to Glamour UK that she moved back home during lockdown, and as a result, she was with her family when Bridgerton landed on Netflix. And while she did watch the show with her parents and her grandparents, she made sure she was in control of the remote at all times.
"I had to sit there and fast forward on high alert with the remote control," she said during an interview with BBC Radio's Steve Wright in the Afternoon, as reported by Insider. "We managed it just about."
Dynevor may not always feel confident on stage, but whether it's nailing a difficult scene or keeping her grandparents from getting an eyeful of Daphne and Simon's honeymoon phase, she's clearly always up for a challenge.