This Is Who Played Destiny In Finding Dory
After more than a decade of waiting, fans of the 2003 Pixar classic "Finding Nemo" finally got their long-awaited sequel in 2016 when "Finding Dory" debuted in theaters. Flipping the formula of the original movie on its head, the movie saw Marlin (Albert Brooks) and Nemo (Hayden Rolence, replacing Alexander Gould) join Dory (Ellen DeGeneres), per IMDb, on a quest to reunite Dory with her parents. "Finding Dory" was a major hit at the box office and, per Rotten Tomatoes, proved to be a major success with critics as well.
One of the strengths of "Finding Dory" lay in the film's willingness to bring in new characters in addition to some old fan-favorites. These newcomers helped flesh out the world established in "Finding Nemo" while adding some delightful humor and heart to the story. Some of these new voices included the cranky octopus named Hank (Ed O'Neill) and a beluga whale named Bailey (Ty Burrell). One other notable addition to the cast is the nearsighted whale shark named Destiny, Dory's childhood friend, who is reunited with her during their stay in an aquarium.
Following her introduction, Destiny has gone on to appear in the Disney parks, as well as spinoff shorts. Like many of the new characters introduced in "Finding Dory," much of what made Destiny a successful character is the performance behind the role. With that in mind, it's worth taking a look at the familiar voice actor who helped bring Destiny to life for the 2016 sequel.
Destiny was voiced by actress and comedian Kaitlin Olson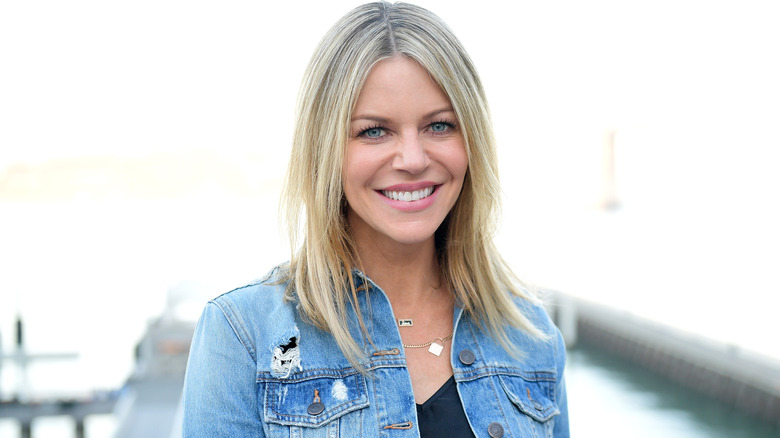 Matt Winkelmeyer/Getty Images
The lovable whale shark known as Destiny in Pixar's "Finding Dory" is voiced by actress and comedian Kaitlin Olson. Hailing from Portland, Oregon in 1975, Olson has been working in Hollywood since the early 2000s, getting her start at The Groundlings Theater and slowly growing her list of on-screen credits, per IMDb. Throughout her career, she has made numerous appearances across well-known film and television projects, amassing a resume of live-action as well as voiceover work.
Kaitlin Olson is likely most well-known for her role as Dee Reynolds on the long-running FX sitcom "It's Always Sunny in Philadelphia," on which she has consistently worked since the show began in 2005. As of this writing, she has appeared in 161 episodes (with more on the way) and has appeared on "The Always Sunny Podcast." She is also married to Rob McElhenney, who plays Mac on the show. In an interview with Metro, she revealed the two started secretly dating during production on Season 2. They wed in 2008.
Beyond her role as Dee in "Always Sunny," Olson has made appearances in titles such as "The Drew Carey Show," Melissa McCarthy's 2013 film "The Heat," "Curb Your Enthusiasm," and Fox's "The Mick," according to IMDb. She has also provided her voice to shows including "Family Guy" and "Brickleberry."