25 Best Curb Your Enthusiasm Episodes Ranked
One of the most celebrated comedies on television is "Curb Your Enthusiasm," which has been a staple on HBO since 2000. Helmed by Larry David, who also stars as himself, the Emmy Award-winning series features Larry going about his daily life in Hollywood, constantly frustrating his friends to no end as his social awkwardness and unorthodox perspective on the world leads to one comical mishap after another. With plenty of celebrity cameos and supporting characters, Larry's life is never dull (no matter how hard he tries to keep a low-profile) as he inevitably turns any misunderstanding into a full-blown disaster.
With eleven seasons of cringey humor, "Curb Your Enthusiasm" remains one of the best comedy shows on television. Here are the best episodes of them all, from the great to the pretty, pretty, pretty good. From a "Seinfeld" reunion to Larry's troubled love life, there's no shortage of memorable "Curb Your Enthusiasm" moments — and we've got them all right here.
25. The Black Swan (Season 7, Episode 7)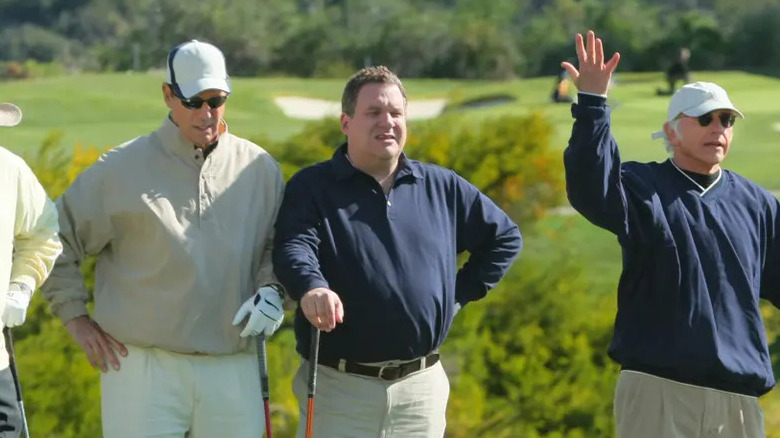 HBO
Of all the social circles and organizations to endure annoying lengths from their association with Larry, Larry's golf club perhaps has it the worst. Over the course of the Season 7 episode "The Black Swan," Larry breaks virtually every club rule, all the to immense chagrin of the club staff. Larry's growing list of infractions range from accidentally goading a fellow club member into a fatal heart attack to killing a black swan on the course with his golf club, with no slight gone unnoticed by the staff.
In the span of a single episode, "Curb Your Enthusiasm" demonstrates just how inadvertently disruptive Larry can truly be to those around him over something as innocuous as a day at a golf course. And, of course, the hilarity doesn't end with Larry's day on the links, as he stumbles into other hijinks while innocently going about his business — from reacting a misspelled gravestone an offer to pay for a friend's tuition gone wrong.
24. Beloved Aunt (Season 1, Episode 8)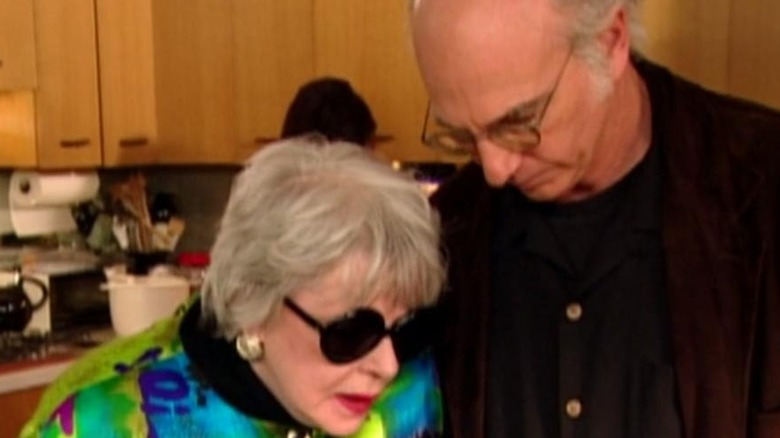 HBO
By the end of "Curb Your Enthusiasm" Season 1, the series really begins to find its own voice. This is especially apparent in the season's latter episode "Beloved Aunt." Tasked with writing the obituary for Cheryl's aunt, a celebrated figure in her family, a lewd typo effectively makes Larry persona non grata with Cheryl and her relatives. This gaffe is made with the best of intentions, but Larry finds himself quickly reminded which proverbial road good intentions are paved with.
What makes "Beloved Aunt" such a standout in Season 1 and among the series' best episodes is that no matter what well-meaning gesture or action Larry takes, each decision systematically makes every misunderstanding considerably worse. This formula would become something of a norm for the show, as Larry continually alienates Cheryl's family each time he tries to ameliorate the situation, with each proposed effort quickly going off the rails.
23. Mister Softee (Season 8, Episode 9)
There are a lot of juggling plotlines in virtually every episode of "Curb Your Enthusiasm," both paying off from longstanding elements introduced throughout a given season and those contained within a single episode. This particular storytelling strategy works to great effect in Season 8's penultimate episode "Mister Softee," mixing Larry's past and present. In the episode, Larry confronts unresolved issues from his childhood while simultaneously facing new complications as he resumes his dating life, with his car inadvertently making things worse.
"Mister Softee" capitalizes on Larry's lifelong of baseball while showing just how funny something as his ill-timed sexual and romantic issues can be. A traumatic memory affects Larry's love life before he discovers that his shaky car possesses greater romantic prowess than himself. This is true not just with his current girlfriend, but any woman riding in his front passenger seat. The episode closes out on a fittingly awkward note.
22. The Ida Funkhouser Roadside Memorial (Season 6, Episode 3)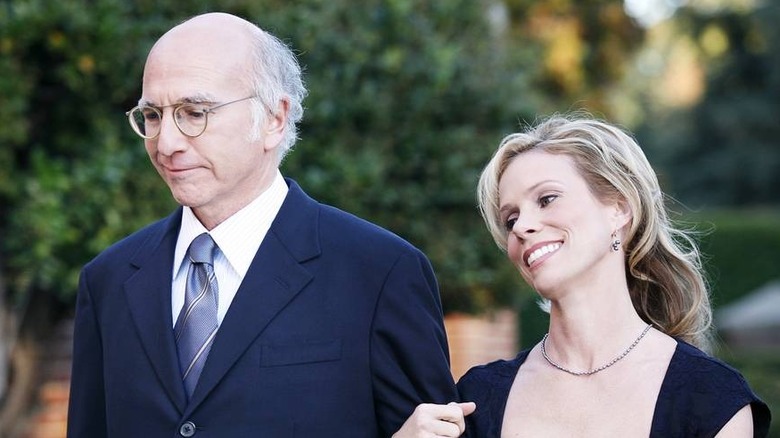 HBO
Among all of Larry's friends on "Curb Your Enthusiasm," none perhaps suffer more than Marty Funkhouser. Portrayed expertly by the late, great Bob Einstein, Marty is used and abused throughout the series (either deliberately or unconsciously) by Larry. However, the gravest injustice Larry has committed on the Funkhouser family comes in the Season 6 episode "The Ida Funkhouser Roadside Memorial."
After Marty pays a cash debt to Larry, the irascible comedy writer finds that no one is willing to accept the money Marty paid him since it's soaked in Marty's sweat. This leads to a renewed tet-a-tet with Marty at the worst possible time when Marty loses his mother to a car accident and a roadside memorial being erected in her honor. And with Larry in the need for some fresh flowers, Marty suffers the ultimate insult from his old friend.
21. The Spite Store (Season 10, Episode 10)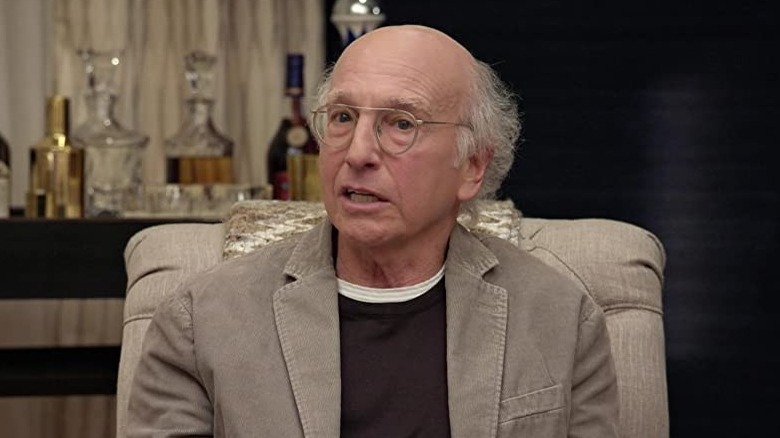 HBO
At the beginning of "Curb Your Enthusiasm" Season 10, local coffee shop owner Mocha Joe finally reaches his breaking point with Larry's behavior, banning him from his establishment. Incensed, Larry spends much of the season opening and operating his own coffee shop next door — not because he wants a fine cup of coffee, but out of sheer spite to steal away Mocha Joe's business. By the Season 10 finale episode "The Spite Store," Larry learns his efforts have not gone unnoticed across the greater Los Angeles area.
As Larry's coffee shop feud kicks into high gear, a whole host of celebrities decide to get into a variety of side businesses motivated entirely by spite after being wronged by various restaurants and retail outlets around town. As Larry faces the shock of what he has inspired amidst all the celebrity cameos, he is quickly (and expensively) reminded that he is not quite the entrepreneur he thinks he is, when his shop hits a fiery snag to close out Season 10 on a strong note.
20. The N Word (Season 6, Episode 8)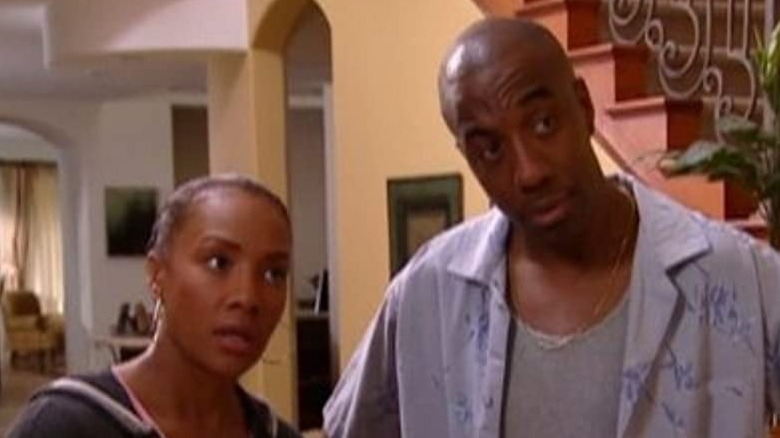 HBO
It feels like every edgy television comedy has to have an episode that addresses racial epithets and "Curb Your Enthusiasm" is no different, though it does so with perhaps more grace than one might expect. The beginning of Season 6 saw Larry host a family whose home had been lost to a devastating hurricane, setting Larry on a course to examine how he reacted to differences in racial cultures in his everyday life — and forming an enduring friendship with Leon Black.
Things came to a head late in the season with the episode "The N Word," which Larry's standing with the Black family rocked by several incidents — including quoting slurs better left completely unsaid. Along the way, Jeff gets to experience the bald discrimination that Larry constantly endures, following a sudden medical procedure that forces him to shave his head.
19. The Watermelon (Season 11, Episode 4)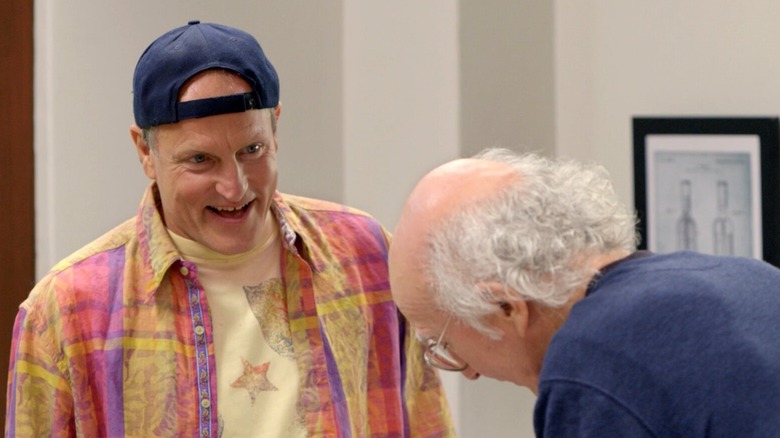 HBO
"Curb Your Enthusiasm" Season 11 sees Larry plan a new series intended to chronicle his childhood, "Young Larry," with all the behind-the-scenes production drama that comes with the project. As casting for the fictional show-within-show begins, guest star Woody Harrelson, portraying himself, is approached but finds himself sparring with Larry. With Woody as a critic of the dairy industry, Larry attempts to appease his would-be colleague by falsely claiming to locally source his own milk, leading to a series of deceptions.
"The Watermelon" is a prime example of how strong "Curb Your Enthusiasm" remains so many seasons into its life while Woody significantly elevates the proceedings, fitting seamlessly in with Larry's typical antics. In addition to the disgruntled Woody, Larry has to contend with a Klansman in need of a dry cleaner and learns Leon actively avoids leaning into certain racial stereotypes, making for exceptionally awkward week in his life. 
18. Vehicular Fellatio (Season 7, Episode 2)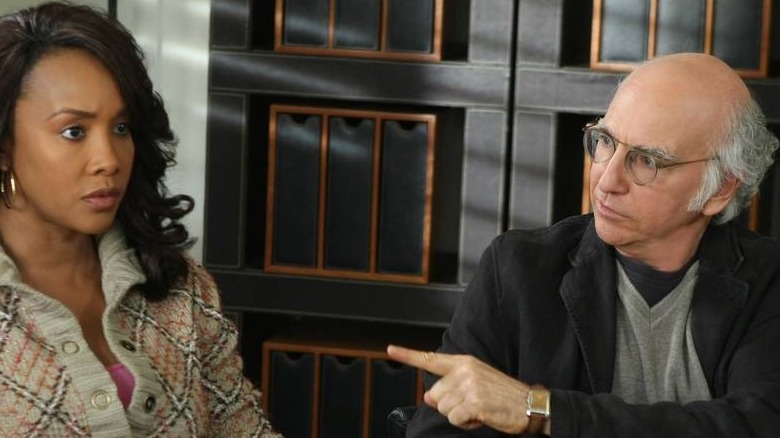 HBO
There is no shortage of compromising positions that the cast of "Curb Your Enthusiasm" find themselves in, and some of the absolute funniest are in the Season 7 episode "Vehicular Fellatio." True to its suggestive title, a wave of misunderstandings regarding passengers performing oral sex on their drivers leads to comical consequences for Larry and his friends as their passengers are caught in compromising positions.
"Vehicular Fellatio" marks the end of Larry's romance with Loretta Black, which had begun at the end of Season 6, but also saw J.B. Smoove's increased prominence as Leon Black. This ascent effectively gave "Curb Your Enthusiasm" its second wind, with Leon and Larry's interplay and hyper-verbal rapport giving the show a well-appreciated lift fueled by Larry and Leon's natural comedic chemistry. If there was ever a breakout character in the latter half of "Curb Your Enthusiasm," it's Leon and all that starts here.
17. Trick or Treat (Season 2, Episode 3)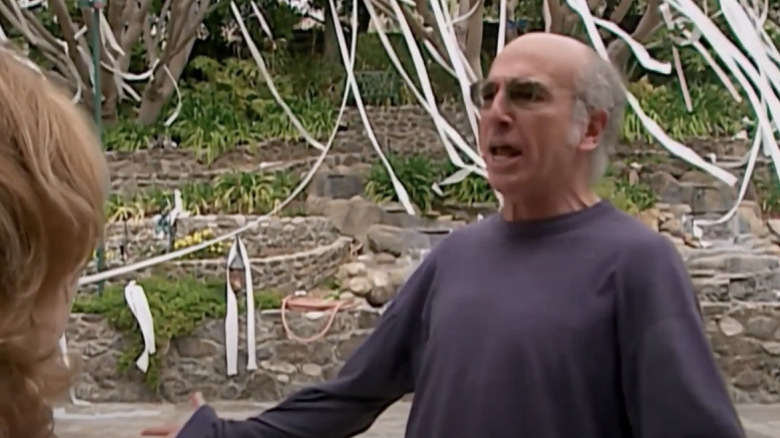 HBO
One of the most hilarious early episodes of "Curb Your Enthusiasm" is Season 2's "Trick or Treat," with Larry falling prey to the former rather than simply handing out candy. After Larry refuses to give two teenage girls candy on Halloween, as he feels both are too old and neither are wearing costumes, they mercilessly prank his house. The gravest injustice committed of all is a rather rude message left on the David household's front door, striking particularly close to home for him and his insecurities.
"Trick or Treat" underscores that no matter how rude some of the people Larry encounters are, he has an innate ability to make every situation that much worse. This inevitably robs any sense of sympathy that Larry may have earned to hilarious effect. A prime example of this is "Trick or Treat" revealing just how insecure Larry is about his baldness, underscored by the lengths he goes to obtain justice on the merry pranksters.
16. Opening Night (Season 4, Episode 10)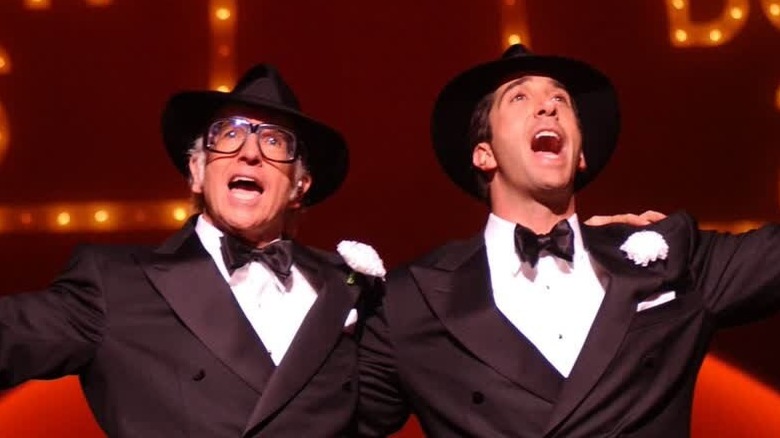 HBO
From references to "West Side Story" and "Hamilton," "Curb Your Enthusiasm" has always worn its pop culture influences visibly on its sleeve. This is especially apparent throughout the show's fourth season, with Larry tapped personally by Mel Brooks to star in the latest Broadway run of his popular stage musical "The Producers."  This opportunity takes the characters to New York City for the latter portion of the season, as Larry prepares to make his Broadway debut starring in one of his comedy hero's finest works.
Much of the Season 5 finale episode, "Opening Night," features a largely faithful adaptation of "The Producers," with Larry joined by guest star David Schwimmer as his on-stage co-star. In a metatextual wink to the audience, "Opening Night" includes Brooks and his real-life wife Anne Bancroft hoping that their stage show will be a flop only to be sorely disappointed. A bonus guest star appearance by Stephen Colbert as a disgruntled tourist helps propel the Season 4 finale to even greater heights.
15. Larry vs. Michael J. Fox (Season 8, Episode 10)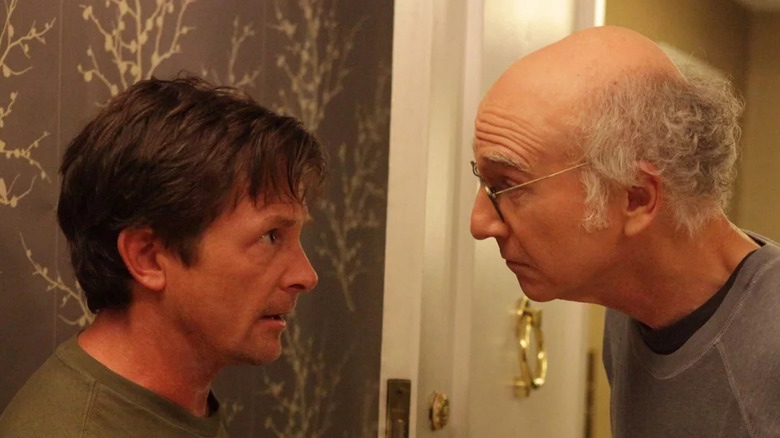 HBO
In the wake of Larry's divorce with Cheryl being finalized, he and much of the "Curb Your Enthusiasm" main cast relocated back to New York City for the latter half of Season 8. As Larry attempts to enjoy life as a single man once again, he discovers he is now neighbors with actor Michael J. Fox. The two new neighbors quickly found themselves butting heads in the aptly titled "Larry vs. Michael J. Fox," as the fan-favorite actor reminded audiences just how funny he truly is.
Enduring a series of slights from Fox, which the actor attributes to his Parkinson's Disease, Larry forms an escalating feud with his neighbor. This, however, puts Larry on the defensive, with many of their friends and the general public siding with Fox over his condition and Larry's usual abrasive nature. Season 8 closes on a funny note, with Larry gaining a new celebrity rival.
14. The Therapists (Season 6, Episode 9)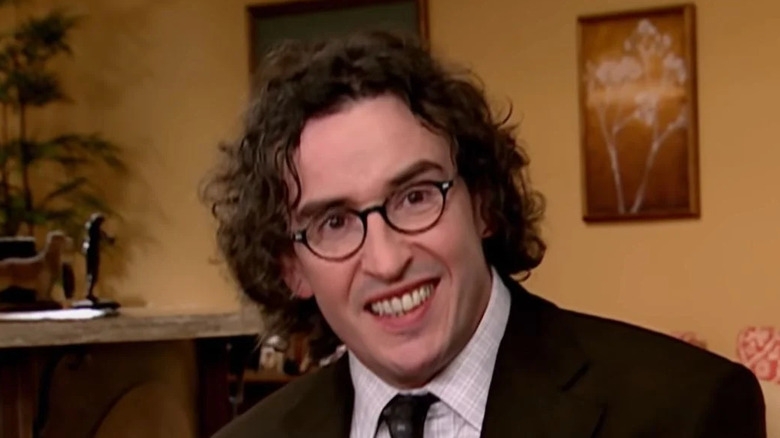 HBO
One of the biggest twists in "Curb Your Enthusiasm" was the dissolution of Larry and Cheryl's marriage halfway through Season 6. In the wake of this separation, the season's penultimate episode "The Therapists" demonstrates just how far Larry will go to try and win Cheryl back. After the once-happy couple splits, they meet with individual therapists, with Larry roping his therapist into an elaborate scheme to reconcile with Cheryl — while she receives counter-advice from her own therapist.
With guest star Steve Coogan portraying Larry's therapist, the episode utilizes Coogan's natural comedic talents to great effect, while reminding the audience just how wacky and outlandish "Curb Your Enthusiasm" can occasionally get. "The Therapists" also shows just how funny Cheryl and Larry's dynamic can be post-marriage, ensuring her character wasn't completely written out of the show and giving the character a more interesting direction than she had previously.
13. Krazee-Eyez Killa (Season 3, Episode 8)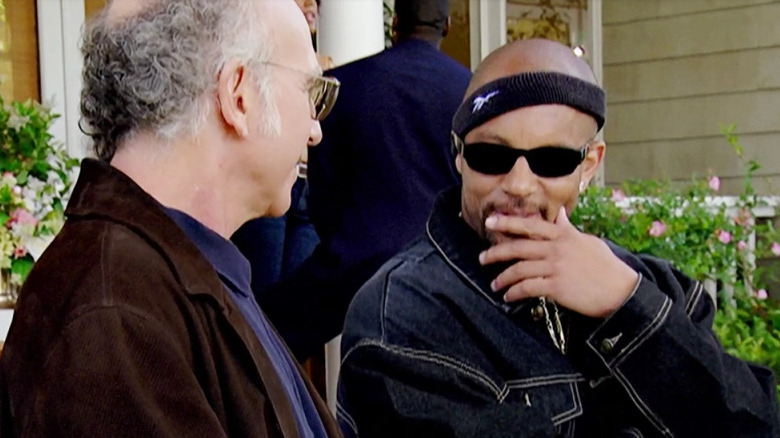 HBO
Among the actors and celebrities playing fictionalized versions of themselves, comedian Wanda Sykes also plays herself throughout "Curb Your Enthusiasm" and is given an especially large role in the Season 3 episode "Krazee-Eyez Killa." After meeting Wanda's eponymous rapper boyfriend, Larry learns Krazee-Eyez Killa has affairs behind his girlfriend's back — a fact that is poised to impact Larry and Wanda's friendship.
Larry's interactions with Wanda often carry a notable awkwardness in how he handles their differences. This is hilariously evident here, as she is someone who can always see right through him. Backed by a standout performance from guest star Chris Williams as Krazee-Eyez Killa, Larry tries to keep a secret, only for Wanda to prove once again that she is not so easily deceived. "Krazee-Eyez Killa" is a gem of an episode from Season 3 and the series itself would do well to bring back the eponymous character and Wanda to double down on this hilarity.
12. The Bat Mitzvah (Season 6, Episode 10)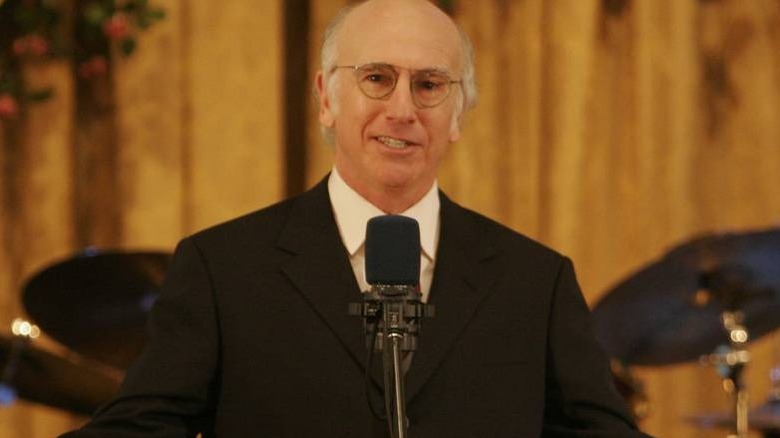 HBO
"Curb Your Enthusiasm" Season 6 ends on a gleefully wacky note, with Larry discovering that a rumor is going around that he holds a secret fetish. Desperate to dispel this peculiar untruth, Larry decides to take the opportunity of appearing at Sammi's bat mitzvah to announce that this rumor is false. Larry is completely oblivious to the fact that he's about to create an even greater faux pas in publicly addressing this untruth.
As only Larry David and "Curb Your Enthusiasm" can, a child's coming-of-age celebration is completely derailed with comically lewd stakes at play. Larry also is shown growing closer to the Black family, who were introduced at the start of the season. "The Bat Mitzvah" is an oddly low-key season finale, but one that feels earned and the closest thing Larry has probably gotten to a happy ending.
11. The Car Pool Lane (Season 4, Episode 6)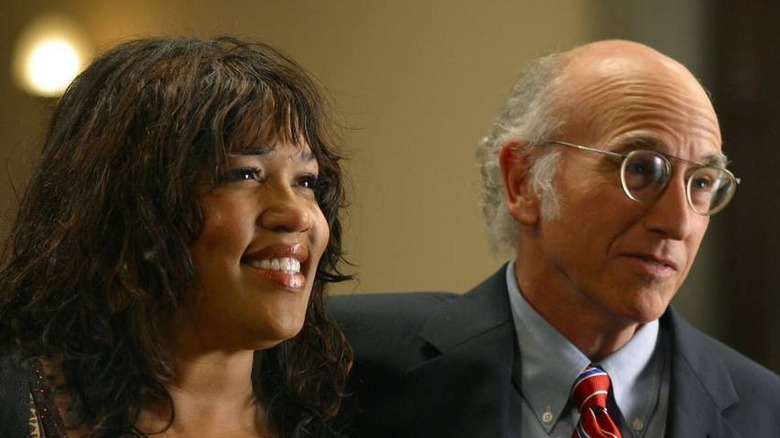 HBO
One of the greatest secret weapons on "Curb Your Enthusiasm" was Bob Einstein's Marty Funkhouser, and few episodes better utilize the actor's comedic talents than the Season 4 episode "The Car Pool Lane." The episode follows Larry trying to obtain tickets to a baseball game, only for the underhanded strategies he uses throughout his daily life finally catching up to him in grand display.
"The Car Pool Lane" is a masterclass showcase for how "Curb Your Enthusiasm" introduces seemingly disparate subplots in a single episode only for them to organically and hilariously converge by the episode's end. Initially unrelated tales of Larry using a sex worker to gain access to carpool lanes and get out of jury duty seamlessly tie into the greater story. Marty getting roped into Larry's antics are just icing on the cake, as Larry's plans inevitably begin to collapse upon themselves around him.
10. The Grand Opening (Season 3, Episode 10)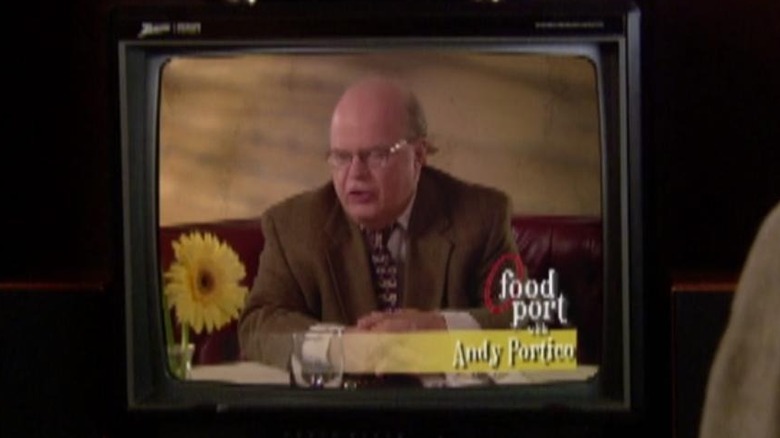 HBO
"Curb Your Enthusiasm" Season 3's overarching storyline involved Larry and several of his friends entering a partnership to open their own restaurant, with Larry's bizarre sensibilities about restaurant dining making the endeavor all the more unnecessarily complicated. This culminates in the Season 3 finale "The Grand Opening," where Larry can't help but get in his own way for his new business' big day, virtually committing self-sabotage every step of the way.
Despite Larry's outlandish vision for the restaurant, the dining location finally launches with a lavish event. However, as per "Curb Your Enthusiasm" tradition, the opening quickly goes off the rails, as a series of misunderstandings and disastrous decisions made by Larry make the launch a night to remember. From a prominent food critic having his thumbs broken to a surprise choice in chef, one restaurant opening quickly pokes holes in Larry's entrepreneurial spirit.
9. The Ski Lift (Season 5, Episode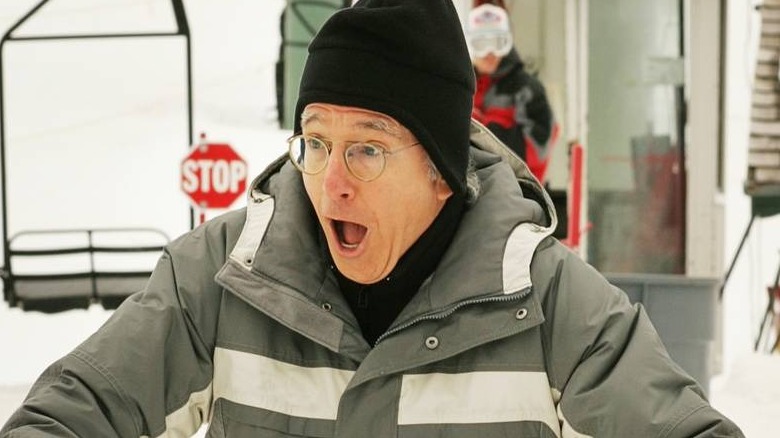 HBO
Of all the awkward places and situations Larry could find himself trapped in, there is something about him left dangling on a ski lift while on a trip to a ski resort that is just so ripe for comedic effect. This is heightened by him being stuck on the lift with an Orthodox Jewish woman who traditionally cannot be with a single man after sunset, giving the already awkward situation now has a steady ticking clock.
What makes the Season 5 episode "The Ski Lift" even more hilarious is that Larry presents himself as an Orthodox Jew in order to get out of donating a kidney. However, as Larry is not a particularly religious person, this ruse is tested by the incident on the lift, with each passing moment set to unravel this elaborate deception for good. "Curb Your Enthusiasm" leaves no selfish deed unpunished, and a wintry getaway provides the season with a welcome change in scenery.
8. Denise Handicapped (Season 7, Episode 5)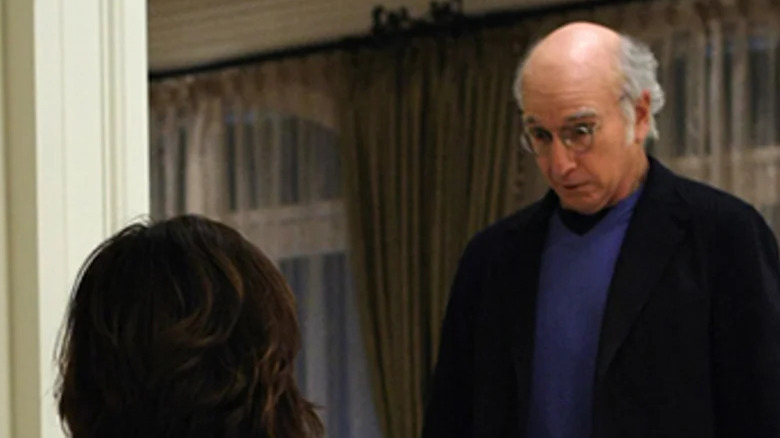 HBO
Just as "Seinfeld" had an entire episode that saw Kramer date a woman with a disability, "Curb Your Enthusiasm" takes this premise and pushes it to even more awkward depths as only the HBO series can. In the Season 7 episode "Denise Handicapped," Larry begins dating a woman with a disability, only for complications to arise when they plan to attend a recital together and unforeseen developments hinder their amorous evening.
Larry realizes just how much people view him more favorably for dating a woman with a disability, but this inevitably backfires when Larry's more conceited tendencies lead to trouble. In true "Curb Your Enthusiasm" fashion, Larry finds himself unable to adjust to the considerations of dating someone with a disability. This immense shortcoming once again highlights just how awkward and self centered he is, botching a date and prospective relationship in one fell swoop.
7. The Table Read (Season 7, Episode 9)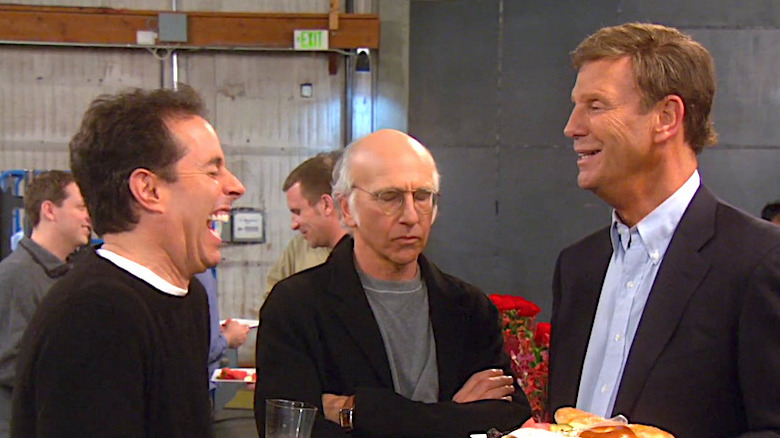 HBO
One of the most buzzed about elements in "Curb Your Enthusiasm" Season 7 was its reunion of the "Seinfeld" cast for a faux reunion special within the story of the HBO series. By the season's penultimate episode, "The Table Read," the pieces behind this unique twist on an eagerly anticipated television reunion finally began to come together on-screen. As the first table read for the planned special begins, Larry finds himself trapped in another disastrous misunderstanding, which includes mounting tension between himself and Jason Alexander.
One source of limitless comedy for "Curb Your Enthusiasm" is Larry's interactions with children and "The Table Read" is a prime showcase for this. Larry finds himself in an awkward text exchange with a little girl regarding his true feelings about the show "The Wizards of Waverly Place," exposing his inability to speak appropriately with children. This mishap exacerbates Jerry Seinfeld's concerns that the reunion special is destined to fail like the "Seinfeld" series finale, as the long-awaited reunion looms.
6. The Accidental Text on Purpose (Season 9, Episode 6)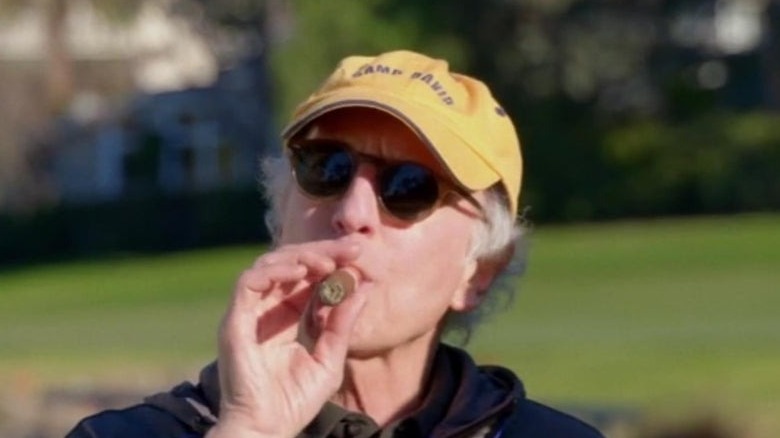 HBO
Like "Seinfeld" before it, "Curb Your Enthusiasm" is largely driven by seemingly innocuous observations surrounding daily life, including questioning the awkward nature behind certain social norms. These observations are often accompanied by unorthodox strategies in dealing with everyday matters, including dating. This is explored in the Season 9 episode "The Accidental Text On Purpose." And while Larry's strategy to help his friends with their relationship woes seems genius on the surface, victory is only ever fleeting.
With both Marty and Richard running into problems with their respective significant others, Larry offers his own off-kilter advice while helping Jeff defuse tension with his wife Susie. This involves the would-be Romeos sending text messages to their partners affirming their relationship, claiming to have been sent on accident. This strategy, of course, backfires on all parties involved, with Larry left to take the blame as his penchant for failed deception returns to the forefront.
5. Elizabeth, Margaret and Larry (Season 10, Episode 8)
Larry has always been something of a social outlier for the way he addresses common situations that most people handle more rationally. These tendencies are explored and emulated in the Season 10 episode "Elizabeth, Margaret and Larry." The episode has Jon Hamm, portraying a version of himself, shadowing Larry to study him and learn his mannerisms and motivations in researching for a role with a similar personality. Hamm eventually nails his mimicry of Larry with unerring accuracy. 
With "Elizabeth, Margaret and Larry," the audience is really getting two Larrys for the price of one, and the entire supporting cast thrown off by this impromptu double vision. Making the situation all the more awkward is that Jeff is forced to move in with Larry and Leon after Susie kicks him out of the house. Larry also embarks on a tentative romance with Cheryl's sister Becky, much to Cheryl's obvious chagrin.
4. Seinfeld (Season 7, Episode 10)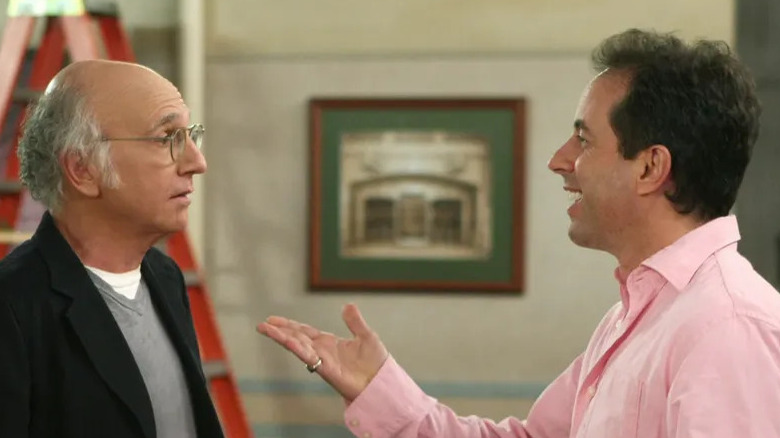 HBO
There are two major plotlines running concurrently throughout "Curb Your Enthusiasm" Season 7 — Larry puts on a "Seinfeld" reunion special by reassembling the sitcom's main cast, while also attempting to win back his estranged wife Cheryl. As most of the "Seinfeld" cast settles back into their iconic roles, Larry finds himself chafing with star Jason Alexander, culminating in a fraught production that serves as the Season 7 finale.
Simply titled "Seinfeld," the cast proceeds to shoot the reunion special while Larry investigates who stained Julia Louis-Dreyfus' prized antique table. He also tentatively reconciles with Cheryl. Larry's insistence on being right and his growing friction with the cast causes sparks to fly on and off set, while "Curb Your Enthusiasm" delivers on its ambitious promise. A solid episode elevated by its in-show "Seinfeld" reunion, the season finale offers fans a glimpse at what could have been with its episode within an episode.
3. Happy New Year (Season 10, Episode 1)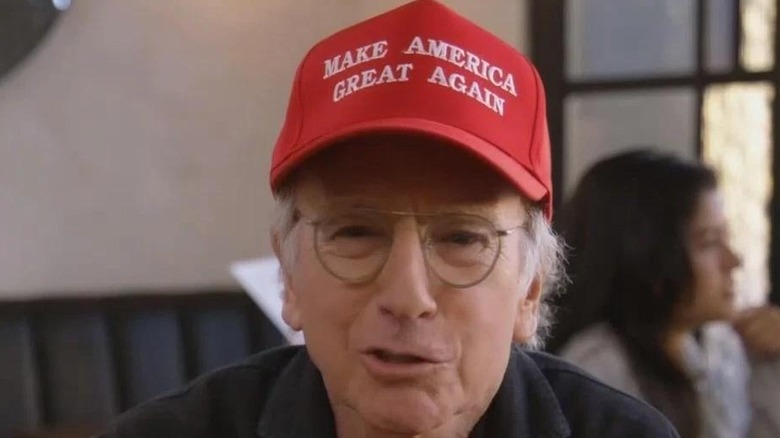 HBO
No show can tap into the contemporary zeitgeist quite like "Curb Your Enthusiasm," and this is readily apparent in the Season 10 premiere episode "Happy New Year." The season begins with Larry inadvertently finds himself accused of sexual harassment by his personal assistant, an accusation that is poised to ruin him. To make matters worse, he also strikes up a feud with small business owner Mocha Joe that sets the entire season's core conflict into motion.
From commenting on the #MeToo movement to Larry deciding to wear a "Make America Great Again" hat to convince people to leave him alone, the Season 10 premiere provides a perfect showcase for just how "Curb Your Enthusiasm" reacts to and pokes fun at current events. Logistically, "Happy New Year" lays the groundwork on some of the big payoffs across Season 10, deftly balancing its growing number of subplots as it sets its fractious stakes with aplomb.
2. The Doll (Season 2, Episode 7)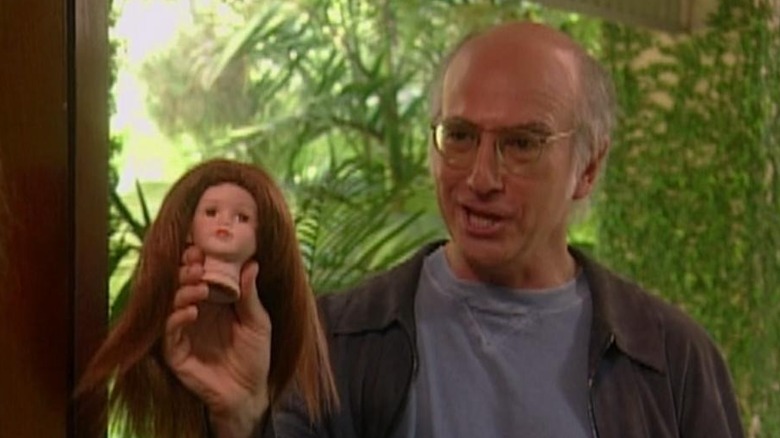 HBO
The early seasons of "Curb Your Enthusiasm" had Larry semi-regularly reunite with "Seinfeld" alum Jason Alexander and Julia Louis-Dreyfus, with the latter playing a key role in the Season 2 episode "The Doll." While Larry and Julia are able to successfully pitch a new television series to ABC, Larry gets into an escalating set of mishaps with the network executive's family that threatens to derail their plans — all stemming from playing with the executive's daughter and her beloved doll.
"The Doll" demonstrates just how far Larry will go in order to save face while not being afraid to revel in the idiocy of it all. "Curb Your Enthusiasm" is a show powered by the art of the awkward, cringey misunderstanding with its curmudgeonly protagonist always dead center. Only someone like Larry could take something so seemingly innocuous as indulging a young girl on a playdate and turning it into a bona fide social disaster.
1. Palestinian Chicken (Season 8, Episode 3)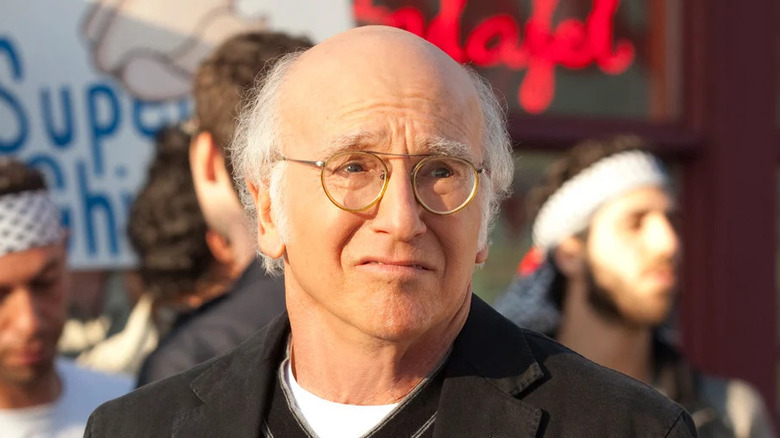 HBO
It was probably only a matter of time before "Curb Your Enthusiasm" would try its hand at addressing something as sensitive as Israeli-Palestinian relations. Season 8 episode "Palestinian Chicken" delivers an ideal "Curb" episode. As Marty reconnects with his Jewish roots, a Palestinian restaurant opens next to a Jewish deli, causing tension between the two businesses, with Larry caught smack dab in the middle of competing interests.
"Palestinian Chicken" offers a glimpse at how Larry, Marty, and Jeff all address their own Jewish heritage, along with an additional subplot that has Larry drawn into keeping secrets for an estranged couple. This goes poorly, as Larry is perhaps the worst person in the world to safeguard with sensitive information, while he stumbles into his own romantic woes. And, really, the opportunity to see Larry quote "The Scarlet Pimpernel" after having sex in front of a disgusted Marty is worth the price of admission alone.