Adam Project Director Shawn Levy Confirms What It's Really Like Working With Ryan Reynolds - Exclusive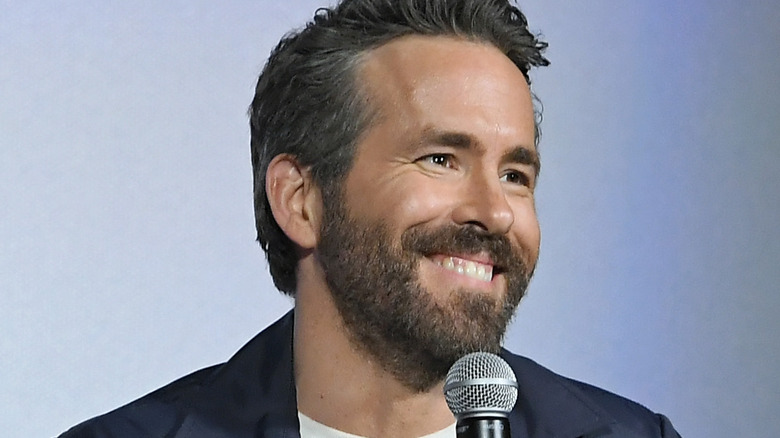 Charley Gallay/Getty Images
Actor Ryan Reynolds and director Shawn Levy are no strangers to working together, having completed "Free Guy" together and recently releasing "The Adam Project." Levy is even slated to direct the third installment of the "Deadpool" films. Clearly, something clicks when this duo takes on a project together, creating movie magic that's rare in Hollywood these days with the number of reboots, remakes, and unoriginal plots. 
However, both "Free Guy" and "The Adam Project" refreshingly mesh genres, boasting moments of sci-fi tinged with romance, family, and humanity's ability to hope. The world isn't done watching this team work together, and it doesn't look like the duo plans to stop anytime soon.
Looper spoke to Shawn Levy during an exclusive interview where he dished on what it's like working with Ryan Reynolds. He also shared some fun moments from set and revealed how Reynolds and Mark Ruffalo cultivated their hilarious father-son vibe.
The great and last movie star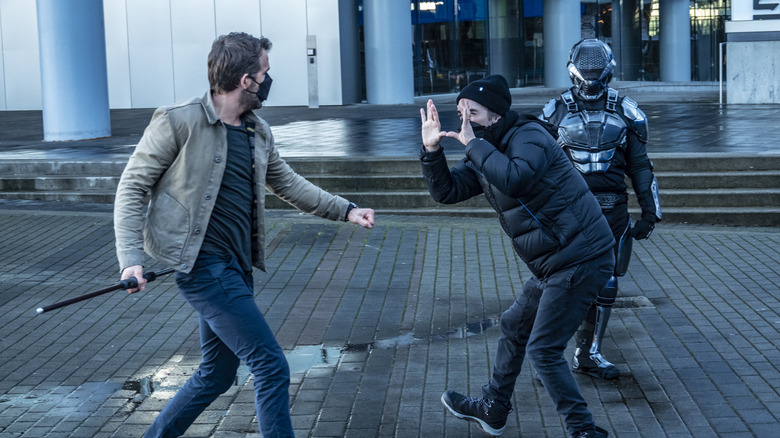 Netflix
On why Levy loves teaming up with Ryan Reynolds, he explained how rare it is to find an actor like Reynold. "I love Ryan on screen. I think he's one of the truly great and last movie stars, and he might be the one movie star who is as brilliant at comedy as he is at the drama and the action," Levy said. "I love the guy on screen, but most importantly, I love him offscreen. He's a true 360 filmmaker. We're not just director and star, we're fellow producers, and we're in it together in every word of the script, in the edit, in the music, in the songs, all of it. I love that it really feels like an all-around and quite profound, creative brotherhood." If there's one thing about Ryan Reynolds, it's that he's involved in every step of a production.
Levy delved into funny stories from set, recalling, "I would say that there [was] not one shooting day on 'Free Guy' or 'Adam Project,' where Ryan and I aren't looking for ways to make things better. The fun of 'Adam Project' is, we had cast this kid, Walker Scobell, who, unbeknownst to us, is a rabid 'Deadpool' fan, so he can channel that trademark Ryan rhythm without any direction." That's definitely a good trait for an actor playing Reynolds' younger self. Levy added, "We could throw jokes and improvisations at Walker, and he could deliver them with perfect Ryan timing, as if it was Ryan in a mirror. That was an incredible luxury to have."
An awkward paternal dynamic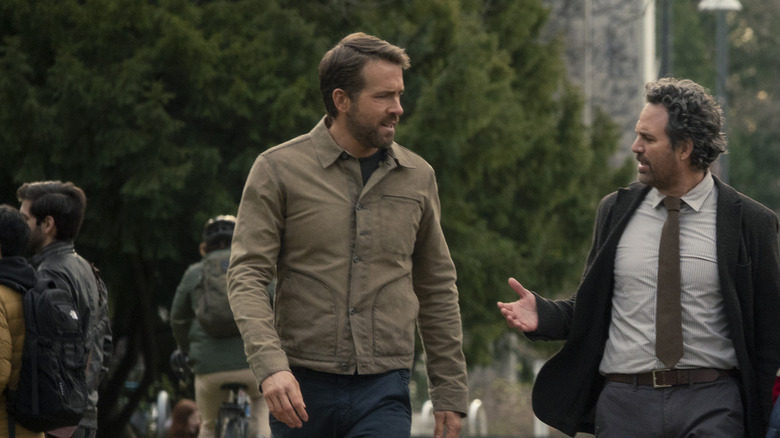 Netflix
One of the best aspects of the film comes from Reynolds' and Ruffalo's bizarre father-son dynamic. On working with the actors and cultivating that dynamic, Levy explained, "The whole point was the awkwardness of their age similarity. It's so foreign to us to think of our parents as a peer. Frankly, we don't even think of them as humans. We think of them as a mom or a dad." He added, "That's such a delightful, weird awkwardness built into the premise of this movie. The whole reason we wanted Mark, in addition to the fact that he's a great actor, is that he has this innate warmth, and he has this dad, lovey, warm ethos to him, that makes the movie better and definitely sticks the landing."
Levy touched on bringing together the familial closure at the end of the movie, saying, "When we get to that final section, where we bring things to closure, and I won't get into the details, but [if] you've seen the movie, it was 'Roll the cameras and let Mark drive the scene and let Ryan look in his eyes, listen to his words,' and [if] you've seen the movie, everything flows from that. That's what Mark brings."
"The Adam Project" is now streaming on Netflix.