The Staggering Amount Of Time Netflix Viewers Spent Watching The Adam Project's Debut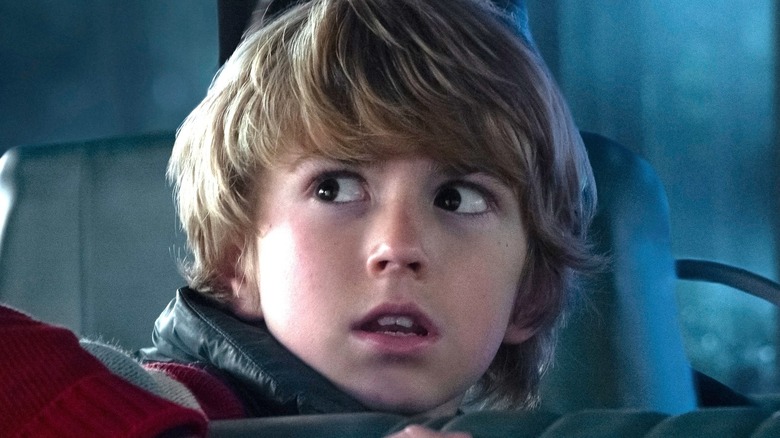 Doane Gregory/Netflix
Netflix has already released an impressive slate of original films this year. But if you've been tracking some of the more high-profile projects the streamer has on the horizon in the coming months, you know 2022 is primed to be a big one on the original content front. And of the big budget films Netflix is dropping this year, few are bigger than the just-released sci-fi spectacular "The Adam Project."
Directed by "Stranger Things" bigwig Shawn Levy, the new film finds Ryan Reynolds portraying a time-hopping pilot from the year 2050 who travels back to 2022 to team up with his 12-year-old self (Walker Scobell) and his long-departed father (Mark Ruffalo) to try and save the world from a dystopian future. 
"The Adam Project" — which also boasts the talents of Zoe Saldana, Jennifer Garner, and Catherine Keener — landed on Netflix less than a week ago. While critics have been relatively lukewarm to its charms (per Rotten Tomatoes), Netflix subscribers have clearly been a bit more amenable to them. So much so, that you might be genuinely shocked to learn how much time they've spent watching "The Adam Project" since its March 11 debut. 
Netflix viewers spent nearly 100 million hours watching The Adam Project over the weekend
For obvious reasons, Netflix bosses track viewership numbers (specifically hours watched) in lieu of box office receipts to track a new project's success when they debut on the platform. They also use those numbers to map out their Global Top 10 rankings every week. If the streamer's recent Top 10 list is any indication, the number-one ranked "The Adam Project" is a massive hit indeed, with viewers having already spent an astonishing 92,430,000 hours watching the film.
That's not entirely a surprise, because if recent cinematic history has taught us anything, it's that the general public continues to devour whatever Ryan Reynolds is serving. And when you surround a wildly popular talent like that with a creative team fronted by Shawn Levy and a beyond-impressive cast of A-list supporting players, odds are something good will come of it. That's clearly what's happened with "The Adam Project," which now seems primed to make a run at Netflix's vaunted all-time hit list.
As for Reynolds and Levy, with two major movies under their collective belt, the duo are looking to keep the blockbuster train rolling by teaming up for the MCU-bound "Deadpool 3." That film will, of course, be a very different sort of beast, but given what they've already accomplished, we couldn't be more excited to see what they bring to the Marvel realm.