The CSI: Cyber Character You Likely Forgot Kelly Osbourne Played
Ethan Miller/Getty
Kelly Osbourne is probably best known for being the daughter of Ozzy Osbourne. She will also forever be associated with being part of the slate of television series that kicked off the reality television era with her family-oriented MTV show "The Osbournes," which ran from 2002 until 2005. Besides reality shows and tackling hosting duties for a variety of events, Osbourne has also been acting since she was 20. After appearing as herself in "Austin Powers: Goldmember," she played Deborah Tynan in the series "Life as We Know It" (via IMDB). The teen drama, which also co-starred Chris Lowell and Jessica Lucas, only lasted a season, but she would continue to dabble in acting for years to come.
Since her stint on "Life as We Know It," Osbourne has had guest roles in "Hotel Babylon," "Drop Dead Diva," and a role as Megan Jackson in the short-lived series "Are We There Yet?", according to her IMDb page. But, for the most part, she is busy appearing onscreen as herself, co-starring in music videos from Fergie and Pharrell, and hosting shows like "Extra with Billy Bush," "The Talk," and "Access Hollywood." 
Few people remember that Osbourne had a small but pivotal role in an episode of "CSI: Cyber." The fourth spin-off in the "CSI" franchise with a cast fronted by Patricia Arquette, Ted Danson, and James Van Der Beek, it focused on solving cyber crimes.
Osbourne plays a dangerous hacker in this Season 2 episode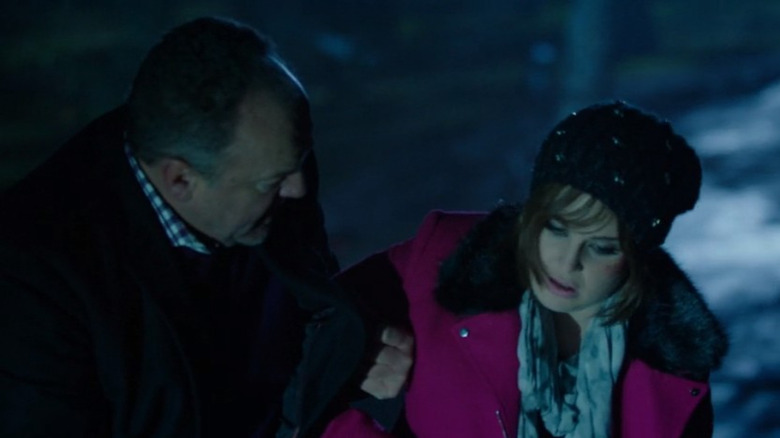 CBS
In the Season 2 episode called "The Walking Dead," a man named Andrew Michaels (Brent Sexton) almost hits a couple in the road while driving at night. He intervenes after he sees the man shove the woman to the ground, telling them he has called the police. "CSI: Cyber" viewers at home, especially those with a keen eye, may have realized at the time that the woman in this scene is none other than Kelly Osbourne.
Back at FBI headquarters, Deputy Director Avery Ryan (Patricia Arquette) gets a call that her ex-husband is dead. It turns out her ex-husband is Andrew Michaels, the same man seen helping up Osbourne's character. Ryan discovers that Stella Kaine (Osbourne) is a digital assassin. She was hired to hack Andrew's computer, and then hack into the electronic death registration system to digitally kill him. The team subsequently discovers Stella is responsible for a long list of digital kills. Osbourne's performance is a convincing one as a hacker negotiating for her freedom, telling the FBI she'll help them find the real bad guy — but only if they give her immunity. While she pretends she's helping them, the team finally realizes that Stella is the criminal they were searching for all along.
In early 2021, news emerged that Osbourne decided to start seriously pursuing acting, telling The Sun that "I am in training every day and in acting classes every day and really preparing for this new thing." No word on what we'll see her next in, but she is more determined than ever, sharing, "I've got terrible anxiety from it all, but it's my dreams, and my dreams are finally coming true."