The Umbrella Academy Season 3 Release Date, Cast, And Teaser - What We Know So Far
For fans of Netflix's bombastic superhero bonanza "The Umbrella Academy," the wait for the show's new season has been the very definition of agonizing. That naturally has a lot to do with the way things were left in the final minutes of the Season 2 finale, which found the time-hopping Hargreeves staving off another apocalyptic event and returning to their own timeline. Only, when they arrived, they found their home occupied by a different group of supers calling themselves The Sparrow Academy.
It was a head-spinning turn of events to be certain, and one that most fans of the series never saw coming. It also teased what's sure to be another truly wild adventure for the upcoming Season 3, and fans have been waiting to see exactly how that adventure will play out. Thankfully, we're set to find out what troubles lay ahead for the Hargreeves faction soon enough. Here's everything we know about Season 3 of "The Umbrella Academy" so far.
When will Season 3 of The Umbrella Academy be released?
It's hard to believe, but by the time Season 3 of "The Umbrella Academy" makes its way to Netflix, nearly two years will have passed since that Season 2 finale shocker. Or, we should say, shockers, as loads of major twists dropped during the final hour of Season 2. Let us not forget the revelation that Lila Pitts (Ritu Arya) is one of the Hargreeves' super "siblings" and a supremely powered mimic, which dropped before she vamoosed to some unknown point in time via one of those handy Commission cases. 
There's certainly more to come with that story, even as The Umbrella Academy's tango with The Sparrows is likely to dominate the Season 3 narrative. According to a recently released teaser (more on that in a moment), fans will get to see those storylines play out before the actual two-year anniversary of the show's last installment. Season 2 debuted on July 31, 2020, and we now know that Season 3 of "The Umbrella Academy" is officially set to hit Netflix on Wednesday, June 22, 2022.
Who's in the cast of The Umbrella Academy Season 3?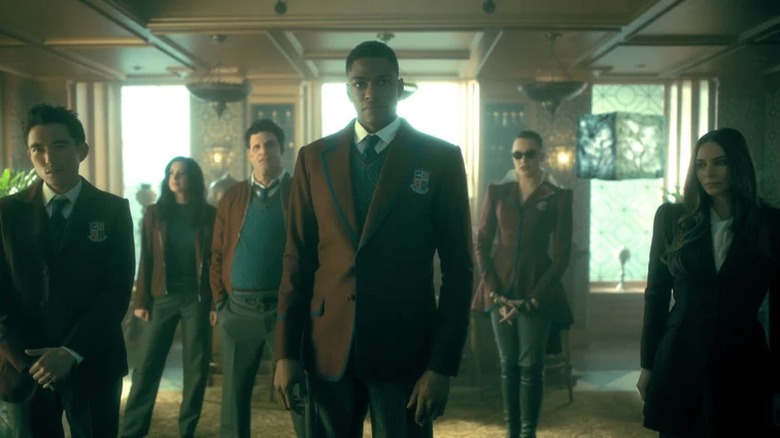 Netflix
Given the way things were set up for Season 3 of "The Umbrella Academy," there's obviously going to be a lot of narrative ground to cover. And as it is, fans of the first two seasons of the series will likely be delighted to know that Tom Hopper, David Castañeda, Emmy Raver-Lampman, Robert Sheehan, Aidan Gallagher, Justin H. Min, and Elliot Page are all set to reprise their roles in the upcoming season, per Polygon. Given the character's overall reception in Season 2, fans should be equally happy to know Ritu Arya is indeed returning as Lila Pitts in Season 3 as well. Likewise, Colm Feore is slated to return as the newly revived Sir Reginald Hargreeves and Adam Godley will reprise his role as the voice of Pogo, though he might not be playing the same character you've seen before.
As you might expect, the Season 3 cast of "The Umbrella Academy" is getting significantly bigger with the arrival of the Sparrow Academy. The new faces in that motley crew belong to Justin Cornwell, Britne Oldford, Jake Epstein, Genesis Rodriguez, and Cazzie David. "Euphoria" star Javon Walton has also joined the cast in an undisclosed role, but he confirmed to Entertainment Weekly that he's not part of the Sparrow Academy. He added that his character is a "pretty crazy" addition to the lineup, but he's "really lovable."
As for who else might turn up in Season 3, that's anybody's guess, but even despite the events of the second season finale, we'd be far from shocked to see the return of Marin Ireland's Sissy, as well as some version of her now-powered kiddo, Harlan (Justin Paul Kelly).
Netflix has released a teaser for The Umbrella Academy Season 3
As for what that super-sized cast will be up to in Season 3 of "The Umbrella Academy," that remains less than certain, as Netflix has yet to release a proper trailer for the new season. Still, given the arrival of The Sparrow Academy, theories abound that the new run of episodes will cover the "Hotel Oblivion" storyline from Gerard Way's and Gabriel Bá's source material. Should that prove to be the case, well, we're all in for a legitimately mind-bending treat.
While we await a proper trailer for Season 3 of "The Umbrella Academy," Netflix has just released an intriguing teaser. It is brief and doesn't give much away, but it seems to confirm that the new season will pick up exactly where Season 2 left off, with Luther (Tom Hopper) and his crew staring down their presumed replacements — not to mention their long-departed brother, Ben (Justin H. Min) — in The Sparrow Academy. If the new teaser is any indication, those crews are not taking kindly to each other as they appear to be prepping to throw down in Sir Reginald's posh library. And if nothing else, the prospect of the Season 3 opener fronting full-on fisticuffs between The Sparrows and The Umbrellas should have us all desperate for June 22, 2022 to hurry up and get here already.
Season 3 is another 'new world'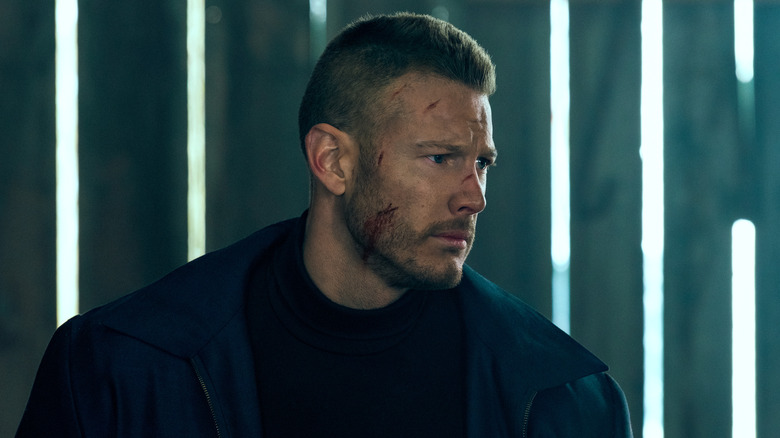 Netflix
Each season of "The Umbrella Academy" is set in a different time or world, and there are several versions of each timeline. Season 3 will also follow that pattern as star Tom Hopper teased a "whole new world" for the upcoming season, per Radio Times. "There's a whole host of new characters potentially, and new relationships, and a whole new world again," he explained. "That's what I love about each season — it puts us into a whole new world and presses the reset button again, rather than just carrying on where we left off."
From the second season finale and the Season 3 trailer, we know that when the Umbrella Academy siblings return to the present, it's not the world they grew up in. Instead, they come face to face with the Sparrow Academy, who have essentially taken their place in the world, and created a new timeline in the process. The Sparrows will be one of the central storylines running through the third season and they'll provide a lot of confusion for the Umbrellas as they try to navigate this new world. "It will obviously be a fun and tragic season, for them to understand what's happening and how it came to be," showrunner Steve Blackman teased to Collider.
What caused the timeline to change?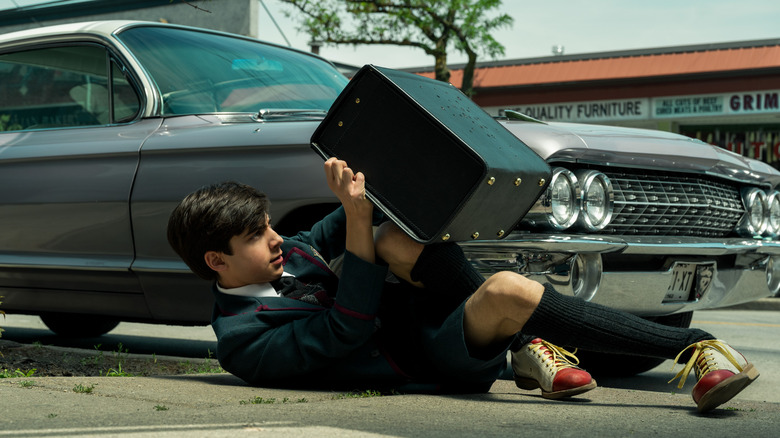 Netflix
When the Umbrella Academy siblings return to their present (2019) in the Season 2 finale and are met by the Sparrow Academy, it's clear something has gone very wrong with the timeline. "The Umbrella Academy" has already showcased multiple different timelines and characters who regularly time travel in its first two seasons, so it's not that surprising that the prime timeline changed after the Umbrella siblings prevented the second apocalypse. However, what's different about this timeline is that the Umbrellas have effectively erased themselves from history and undone the world they grew up in.
Their actions in Season 2 were probably the catalyst for the new timeline. Viewers will recall how all the living Umbrella siblings met their father Reginald Hargreeves in "A Light Supper" while they were all in 1963. There, Five informs him that they're his adopted children from the future, that they have superpowers and are trained to stop the end of the world, and that he called them the Umbrella Academy.
Since they told Hargreeves about his future, it's probable that he made it his new mission to create a better Academy with a new and improved set of super-powered children. If you look closely in the Season 2 finale, it's clear he recognizes them when they arrive at the Sparrow Academy in 2019. What exactly this means for Season 3 is still anyone's guess, but you can be sure the Umbrellas are going to face off with Hargreeves and his new children.
What you need to know about the Sparrow Academy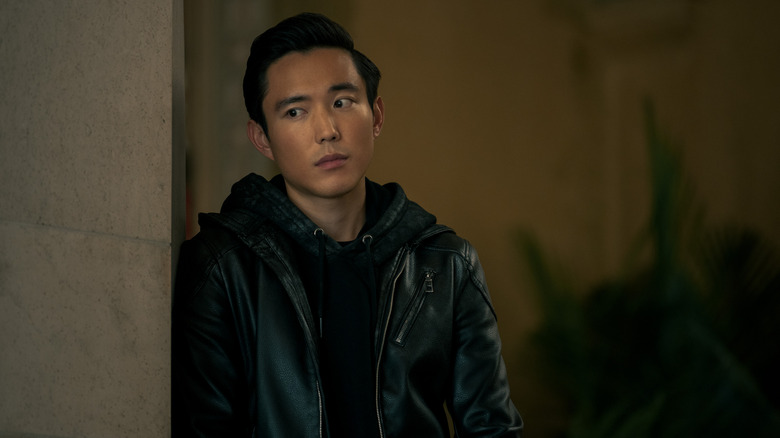 Netflix
Now that the Sparrow Academy has replaced the Umbrella Academy, it brings a slew of fresh faces and characters to the screen. Justin Cornwell leads the Sparrows as Marcus, who is described by Netflix as "a charming, chiseled colossus" (via Deadline). Justin H. Min returns as Ben, who's now Sparrow #2. However, as Netflix explained, this is not the character we know. "This Ben is a Machiavellian tactician, wrapped up in a pretty boy body with a rumbling inner squid." And he's determined to usurp Marcus' status as leader. Marcus and Ben are joined by Fei (Britne Oldford), Alphonso (Jake Epstein), Sloane (Genesis Rodriguez), Jayme (Cazzie David), and Christopher, a telekinetic cube.
Fei is probably the smartest of the Sparrow siblings, and most of the time she's "willing to work things out," but you definitely don't want to cross her. Alphonso is the comedic crimefighter who's covered in scars from his battles. Sloane is a "romantic and a dreamer" who wants more from life that just being Sparrow #5. Jayme, who's "smart and sharp as a knife," can be found fighting or chilling out next to her only friend Alphonso. Some of the Sparrows' powers are still to be revealed, but we do know that Ben's powers have stayed the same and that Fei can manifest crows. Netflix has also confirmed what Christopher (Sparrow #7) can do. His powers include turning "the room freezing cold and induce paralyzing fear." His origin is unknown, but he's treated like any other Sparrow sibling and is extremely powerful.
Not much is known about the Sparrows' motivations in Season 3 yet, but viewers can be sure there'll be some tense fight scenes between these new arrivals and the Umbrellas.
How much of Season 3 will be based on the comics?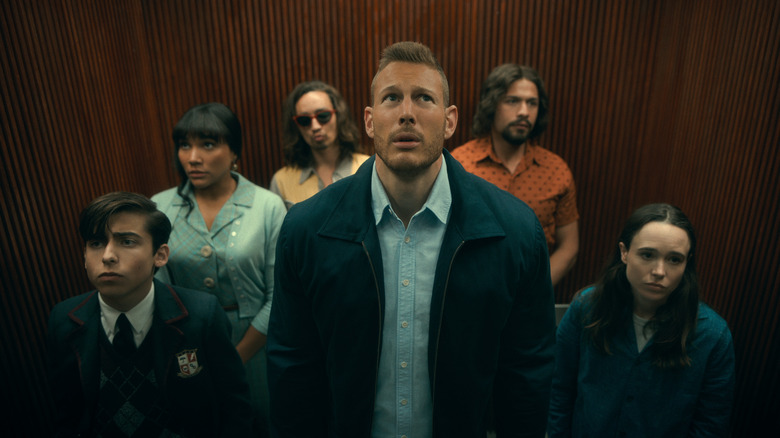 Netflix
If you didn't already know, "The Umbrella Academy" is based on the graphic novel series written by "My Chemical Romance" singer Gerard Way and illustrated by comic book artist Gabriel Bá. In 2019, Steve Blackman adapted the series for Netflix and brought Way's characters to life. Blackman told Collider that he and Way have worked in close "collaboration" throughout the process. "He's given me the roadmap for the graphic novel, [but] we both accepted that the graphic novel and the TV series are different things," Blackman explained, adding that he prefers to use the graphic novels as "a springboard" and noting that it's not always possible to stick to the original material, whether that's because of budget restrictions or creative reasons.
This explains why "The Umbrella Academy" has deviated from the graphic novels on several occasions and will do so again in Season 3. Viewers have already seen one of the biggest changes at the end of Season 2. The first two seasons have more or less lined up with the first two volumes of the graphic novels, but the way the Sparrow Academy is introduced is a massive departure from them. They first appear at the end of Volume 3 and are the focus of Volume 4, but we know they will be a big part of Season 3. Because of this, and the fact that they're much younger than expected, it's likely that the Sparrows won't be exactly the same characters you see in the graphic novels either.
When is The Umbrella Academy Season 3 set?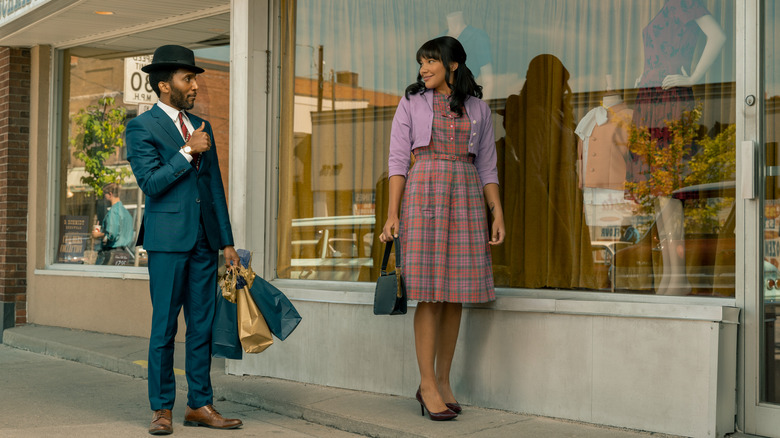 Netflix
It's been two years since new episodes of "The Umbrella Academy" graced the small screen. Season 2 premiered on Netflix in July 2020, but those episodes are set throughout history and entirely out of the Umbrellas' present — that is, until they returned to 2019 in the finale. "The Umbrella Academy" trailer confirms that Season 3 picks up exactly where the previous season left off, so despite the two-year offscreen time jump, Season 3 will also be set in 2019 — at least at the start. There's obviously no guarantee that the Umbrella Academy siblings will stay in the same time for the entire season. In fact, given Five's time travel abilities, it's safe to assume they won't.
First things first: The Umbrellas have to fix the timeline. It's possible that they'll realize their mistake was revealing too much about the future to their father when they met him in the 1960s and so will go back to try and fix it. This, of course, offers a way for Allison's husband Raymond Chestnut (Yusuf Gatewood) to return to the series, too. Alternatively, they might go to 1989 and try to stop their father from adopting the Sparrows instead of them. The possibilities are endless, but viewers can definitely expect to see some crazy time travel in Season 3.
The Umbrella Academy must save the world from another apocalyptic event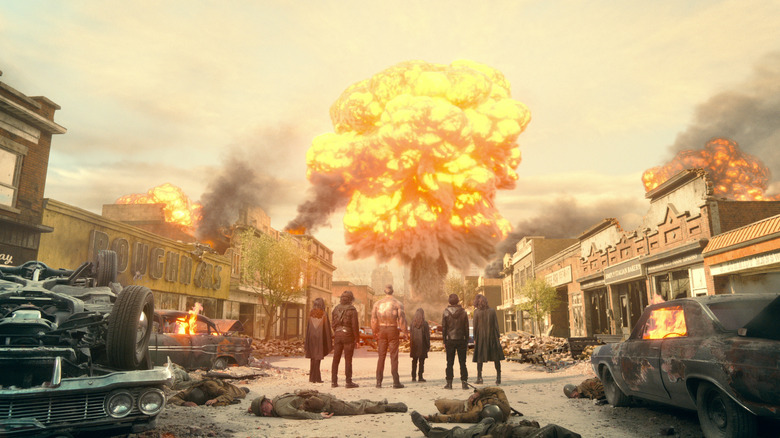 Netflix
It just wouldn't be "The Umbrella Academy" if there wasn't the threat of an apocalypse looming over each season. The trailer for Season 3 has revealed that another extinction-level event is on the horizon. Five soon realizes that when the living Umbrella Academy siblings time-jumped from 1963 to 2019, they caused a time paradox. "Our little paradox brought forth the freaking Kugelblitz," he warns afterward. It's definitely going to be as bad as it sounds.
Both of the previous apocalypses were brought forth by Elliot Page's character, so it makes sense that one or all of the Umbrella Academy siblings also caused this cataclysmic event — basically they're just cleaning up their own giant messes each season. In this case, the Kugelblitz's destruction begins when it starts swallowing parts of Earth, which viewers can expect to start happening soon after the Umbrella siblings arrive back in 2019. Then, they only have "four, maybe five days" to save the world from being blitzed.
The apocalypse won't be their only problem in Season 3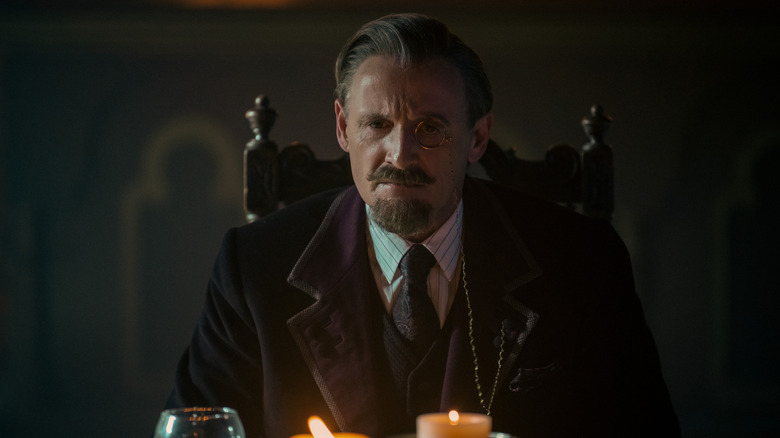 Netflix
Luther, Allison, Klaus, Diego, Viktor, and Five face problems on multiple fronts in Season 3. Not only are they facing the literal end of the world from the Kugelblitz, but they're definitely going to have a big showdown with their father and the Sparrow Academy. "It's gonna be very complicated for the Umbrella Academy siblings," showrunner Steve Blackman told Inverse. "They don't have their home anymore, their father is alive and well — which he shouldn't be — so needless to say there will be more destructive family madness."
It is also possible that other familiar enemies could return in Season 3. If the Temps Commission exists outside of time, they will surely detect this giant shift in the timeline. And since the Umbrella siblings have been replaced by the Sparrows, in theory Hazel and Cha-Cha have never interacted with them before, so one or both of those masked assassins could return to clean up the timeline.
The Televator could come into play in Season 3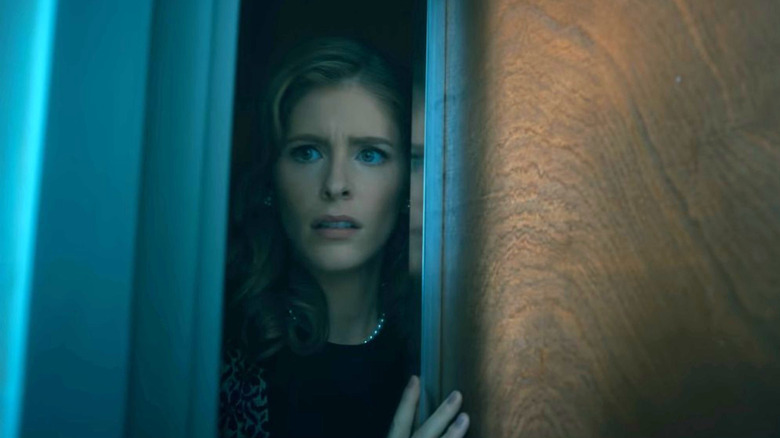 Netflix
The Televator is an Easter Egg from Season 2, which could be important in Season 3 of "The Umbrella Academy." Reginald Hargreeves invented the Televator, which is an elevator lift that can travel through time, space, and dimensions. It briefly appears in the episode "The Seven Stages," when Grace breaks into Reginald's office. Although it's not what she's there for, she stumbles upon the blueprint for the Televator. Nothing comes of this fleeting discovery in Season 2, but now that Reginald is alive in the present, the Televator could be what paves the way from "The Umbrella Academy" to introduce the Hotel Oblivion storyline from Gerard Way's comic books.
The Hotel Oblivion is an interdimensional prison which Hargreeves created to house supervillains. From the title of the third season finale ("Oblivion"), we can deduce that the Hotel Oblivion will make its screen debut in Season 3. If Steve Blackman pulls elements from the comic book's storyline, viewers might see the Umbrella Academy siblings fighting dangerous villains who have escaped from Oblivion.
There are several logical ways that this storyline could bring the Televator into play, too. If it's not used to help defeat these supervillains, Reginald could use it to try and imprison the Umbrella siblings, who he now views as his enemies. Or it might become a way to explain that the timeline with the Sparrow Academy is actually an alternate dimension, but only time will tell.
Where will Lila Pitts be in Season 3?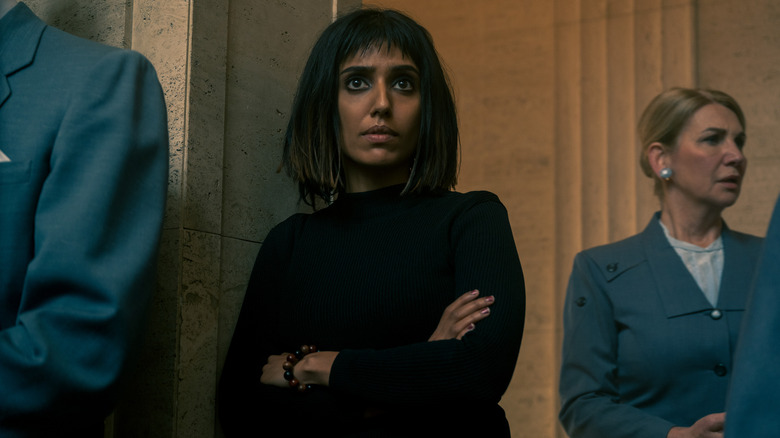 Netflix
Lila Pitts is one of the most interesting characters that Season 2 of "The Umbrella Academy" introduces. You'll recall that she befriends and forms a romantic attachment to Diego while working undercover for her adoptive mother the Handler, but ultimately changes sides. Lila escaped the Cooper farm unscathed in the season finale, and thankfully, Ritu Arya has confirmed her character will return for the show's third season. However, that leaves viewers with more questions than answers, so what will Lila be doing in Season 3?
Following the revelation that Lila was also one of the babies born on October 1, 1989 and she has the ability to mimic other people's powers, there's certainly room to explore her storyline. Arya shared her hopes for the character with Elle, saying, "I'd love to see how her relationship with the siblings develops. I'd love to see what happens with her and Diego. And her relationship with herself, because we leave her at a point [where] she's breaking." It looks like she'll get the opportunity to explore it all as the trailer confirms that Lila will team up with the Umbrellas again. The show's official posters even hint she'll become the newest member of the Umbrella Academy, essentially replacing Ben (via CBR).
Continuing to dive into Lila's character means her origin story could be revisited, too. And, with the amount of time travel the Umbrellas do, it's wholly possible that the Handler still exists in another timeline, so don't rule out an appearance from Kate Walsh either.
What else does the trailer tell us about Season 3?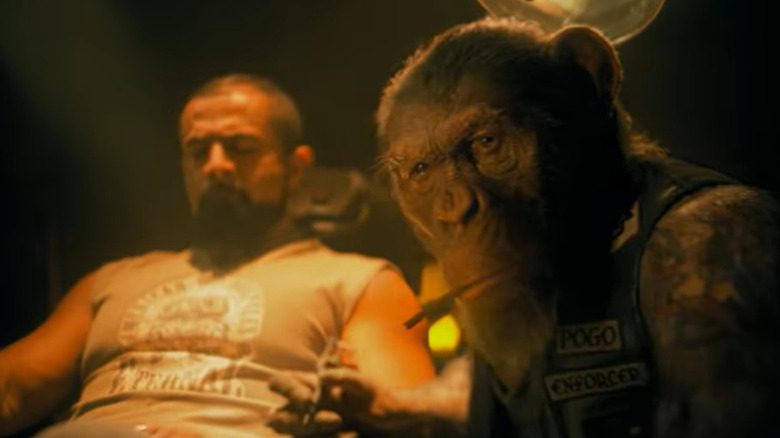 Netflix / YouTube
The trailer for the third season of "The Umbrella Academy" reveals several juicy details about its forthcoming episodes. First, we get to see more of Viktor Hargreeves, who Elliot Page first teased on Instagram in March 2022. Entertainment Weekly has since confirmed that Page's character will come out as transgender during the third season. In an essay for Esquire, "The Umbrella Academy" writer Thomas Page McBee explained that "Steve [Blackman] was passionate about incorporating Elliot's real-life transition into the show. It was right for the actor as well as the character because it deepened existing themes."
Other changes that viewers can expect to see in Season 3 stem from the alterations to the timeline. In the new version of 2019, Reginald Hargreeves leads the Sparrow Academy, having never adopted the Umbrella Academy siblings. This means other versions of their characters are out there, and Five teases that they might run into them at some point. At the end of the trailer, Five also makes another revelation, having tracked down Pogo, who, instead of residing at the Sparrow Academy, appears to be working in a tattoo parlor — although he recognizes Five, so there's definitely more to that story.
A brief scene from the trailer and an additional teaser from Netflix also confirm that since they have no home, the Umbrellas will be forced to hide out at Hotel Obsidian. Klaus proudly states that back in the day this hotel "played host to world leaders [like] Roosevelt, Gandhi, Stalin, Gorbachev, Castro ... and not one, but two Kardashians, allegedly." However, the rest of the Umbrellas aren't impressed by its run-down appearance.