Why Tom Holland's First Spider-Man Audition Made A Stuntman Cry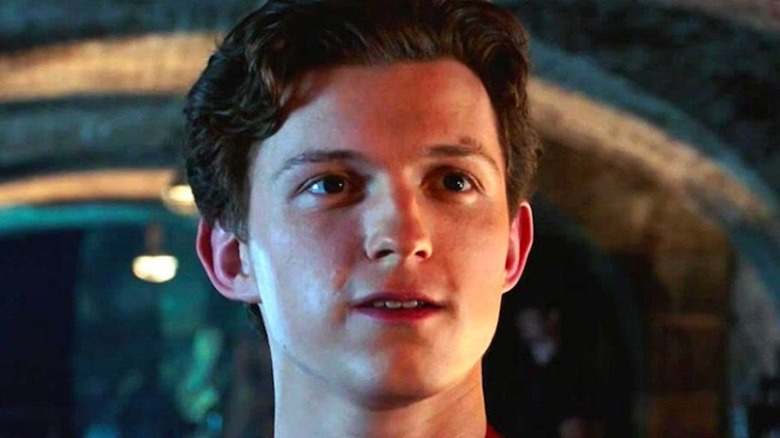 Marvel Studios/Sony Pictures
It's been over six years since Tom Holland first swung into theaters as the Marvel Cinematic Universe's version of Spider-Man. The young Peter Parker was first recruited in "Captain America: Civil War" by Tony Stark (Robert Downey Jr.) to help bolster his forces against Steve Rogers (Chris Evans), and since then, Marvel Studios and Sony Pictures have collaborated on an entire "Spider-Man" trilogy, which shows the webslinger growing from inexperienced vigilante to Avenger, to wanted fugitive, to — finally — the friendly neighborhood hero fans know and love. 
The most recent entry in the franchise, "Spider-Man: No Way Home, raked in $1.867 billion (via Box Office Mojo), and depicted him working alongside (and at odds with) Doctor Strange (Benedict Cumberbatch) to help fix the multiverse, a saga that will only get bigger in the upcoming "Doctor Strange in the Multiverse of Madness." 
It's impressive that Holland's Spider-Man has helped pave the way for all this, especially considering the occasionally rocky relationship between Marvel Studios and Sony. For anyone not familiar with the situation, Sony owns the rights to Spider-Man and all of his related characters, which were sold off when Marvel was in financial trouble in the 1990s. While the company put out two of their own versions of the wall-crawler before the MCU came knocking – starting with Tobey Maguire in 2002's "Spider-Man," and then Andrew Garfield in "The Amazing Spider-Man" reboot in 2012 — the Tom Holland incarnation of the character has won near-universal acclaim.
But when it came to finding the new Peter Parker, Holland's first audition was a surprisingly emotional experience for everybody involved.
Tom Holland got acrobatic in his first Spider-Man audition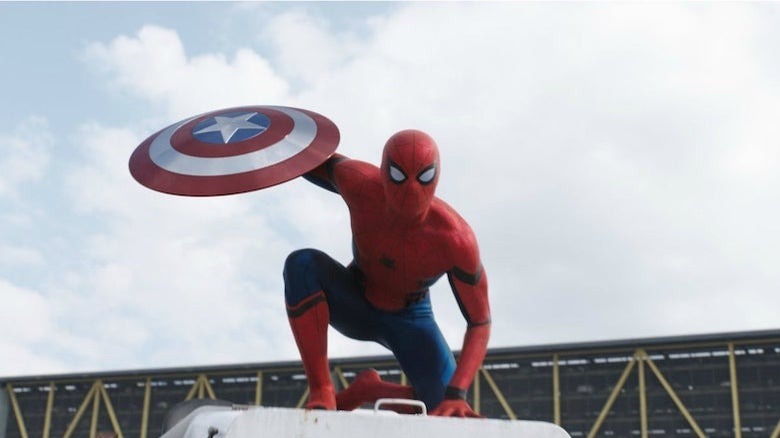 Marvel Studios/Disney
Spider-Man is known for being acrobatic, agile, and able to flip and swing across the New York skyline with ease. However, while the character's trademark movements can obviously be created with CGI, one quality that has separated Tom Holland from past Spider-Man performers is his ability to, in fact, move like Spidey. And sure enough, when Tom Holland first stepped into his audition with Kevin Feige, director Joe Russo, as well as other Marvel and Sony executives, he decided to prove just how well he fitted the role. 
Marvel stuntman James Young recently opened up to Corridor Crew on YouTube about watching Holland's audition for the first time. He explained, "They had the actors come in, in the underwear Spider-Man suit, the one he wears in the first movie. They did this whole sequence of 'Hey that shield doesn't obey the laws of physics at all,' they did the whole thing... Chris [Evans] came in on his day off." However, while Young was on hand to perform Spider-Man's now-iconic entrance — where he webs up Captain America's shield and flips into the scene — it appears Holland asked to do it himself. This choice amazed the executives, the creatives, and Young himself.  
"Tom Holland proceeds to skip and throw the most perfect side flip," Young explained. "Straight past Chris Evans, lands on his mark, goes "Hey Cap, how you doing?" Spins around, 'You like my suit?'" 
Clearly the star instantly had a passion for the role. Young added that there was an emotional atmosphere in the room because of how well the audition went, saying "All you heard was jaws... I got goosebumps and tears in my eyes. This kid just came in, and that's Peter Parker."