This Look At Finn Wolfhard As Kid Loki Is Flat-Out Perfect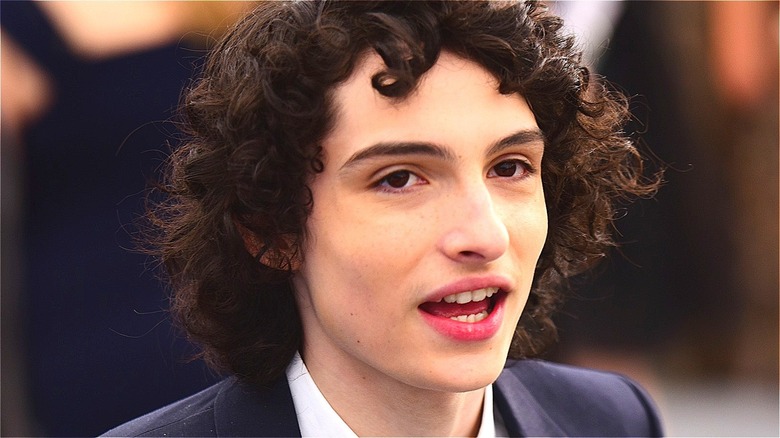 Chelsea Guglielmino/Getty
With the wide world of the Marvel universe ever expanding, there are many new and exciting developments on the horizon. The Multiverse is a concept that has been toyed with in recent years and will be further explored in "Doctor Strange: In the Multiverse of Madness." But looking back in recent history, some of the most fascinating depictions of the Multiverse are the variants in Disney's series "Loki."
Loki's (Tom Hiddleston) search for redemption comes to a head after he is grabbed by the Time Variance Authority in the Disney show. Loki is known as a time variant, one that threatens to dismantle the Sacred Timeline just by existing. And he isn't the only one. In Episode 5 "Journey Into Mystery," Loki meets different versions of himself who are also variants, including Classic Loki (Richard E. Grant) who is a clever spin on Loki's origins in the comics.
Another stand-out is a child version of Loki known as Kid Loki (Jack Veal). Veal's portrayal was impressive, showing Loki's penchant for finding opportunities at a young age. However, he isn't the only depiction of the character. One of the more interesting renditions of this character is a fan reimagining on Instagram. An artist envisioned Finn Wolfhard hypothetically in the role, and it makes a lot of sense.
Finn Wolfhard could be inspired casting for Kid Loki
Out of many of the up-and-coming actors in the entertainment industry, Finn Wolfhard is one of the most recognizable. The young actor has been featured in music videos for Canadian rock band PUP, but broke out when he starred as Mike Wheeler in Netflix's "Stranger Things." Since then, he has appeared in other notable franchises such as "Ghostbusters" and "It." If anyone could pull off an appearance as Kid Loki, it's Wolfhard, the young actor who has demonstrated immense range.
This version of Kid Loki was posted on Instagram by an artist with the handle @clements.ink. The image features Wolfhard with the eerie green eyes that are a visual interpretation of Loki's magic. He is also in a classic gold and green color scheme with the trademark horned crown. There is no telling if Kid Loki will show back up in the Marvel universe, but there are sure to be many interesting outcomes if he does. Should this artist get their wish, it would be a step up for the actor to tackle a meaty and complex role.