Loki's Richard E. Grant Reveals What It Was Really Like To Play Classic Loki - Exclusive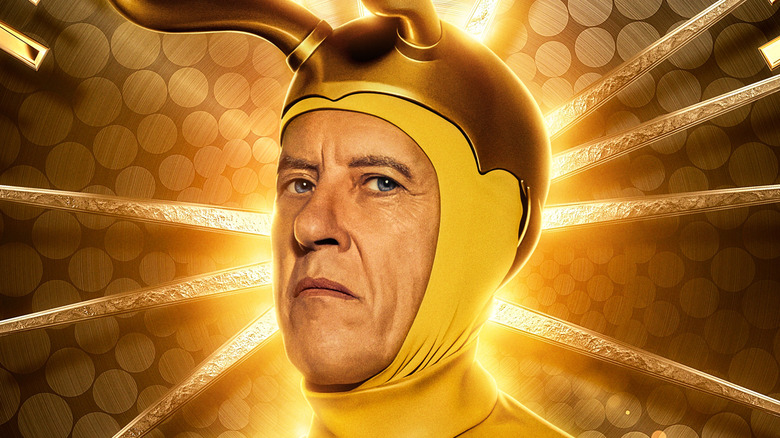 Marvel Studios/Disney
Contains spoilers for "Loki" Episodes 5 and 6
Even though Oscar-nominated actor Richard E. Grant is readying his next project — the movie musical "Everybody's Talking About Jamie," for release next month on Amazon Prime — he's still buzzing about his pivotal role in Marvel Studio's latest Disney+ series "Loki."
Starring Tom Hiddleston in the title role, "Loki" finds the Time Variance Authority (TVA) on the hunt for Loki variants throughout the centuries who are threatening to disrupt the Sacred Timeline. The interesting thing is, Loki himself is one of the people looking to capture the variants, leading to some very interesting encounters throughout the series' six-episode run.
One of the Loki variants that the God of Mischief happens upon in Episodes 5 and 6 of the series is Classic Loki (Grant), whose costume resembles the legendary character's attire as he appeared in the Marvel Comics, as opposed to the reinvented look Hiddleston's character has had on the big screen.
Richard E. Grant says it was important not to imitate Tom Hiddleston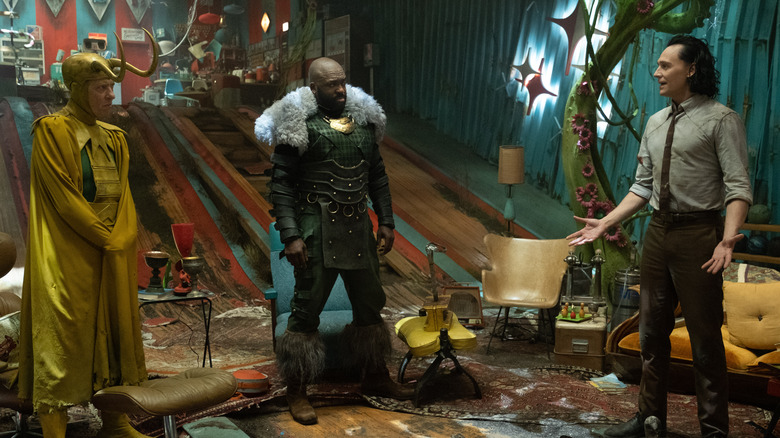 Marvel Studios/Disney
Tom Hiddleston became a fan favorite as Loki and went on to appear in six MCU films before launching into the "Loki" TV series. Essentially, Hiddleston has defined the character for a generation, a fact that wasn't lost on Richard E. Grant when he signed on for a guest role on the series. In an exclusive interview, he admitted that he was quite nervous filming his first scene with Hiddleston, despite an extensive amount of showbiz experience to the set.
"The beginning of every job is nerve wracking and having the guy that has claimed that role for the last decade — and is the producer of the show and the star of the TV spinoff — to say that was daunting is an understatement," Grant said. "I thought, 'Well, the worst thing I can do' — because he's a brilliant mimic as well, Tom — I thought, 'It'll be suicidal if I tried to imitate or copy him.'"
Instead, Grant said, he keyed in on a lesser-known aspect of Loki. "What I just latched on to is how Loki says in his backstory that he's been very lonely and wants to be with other people. He is the God of Outcasts rather than just being the God of Mischief," Grant said. "I thought, 'Well, I understand that. I will go for the God of Outcast because that's not something that he is zoned in on particularly.' He's been the God of Mischief more so that's the steer I took on it."
Richard E. Grant's hopes for being a muscular superhero were dashed in Loki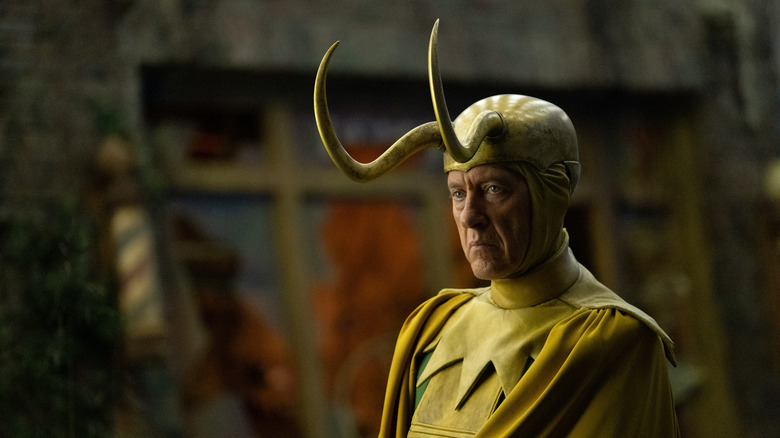 Marvel Studios/Disney
While Richard E.Grant starred as Wolverine's (Hugh Jackman) villainous nemesis, Dr. Rice, in the 2017 Marvel superhero blockbuster "Logan," his turn as Classic Loki in "Loki" marked the first time the actor played a super-powered individual. Grant thought that the role would come with a requisite muscle suit, but quickly discovered Classic Loki wouldn't be ripped. "You will understand why as I'm a man born without any muscles, why I haven't seen the Jack Kirby drawings. I thought, 'Well, finally, I'm going to have a Marvel muscle suit to fill out this cape and be the classic V-shape with a tiny white front and everything," Grant said. "These costume designers adamantly said, 'No, you're just, you're going to have great powers as Loki. You don't have to have the muscles.' I said, 'Oh my God. This is not how I imagined it,' But they were very insistent."
Grant took his lack of bulging muscles as Classic Loki with good humor, though, yet he's looking forward to the day when he wears a superhero costume that carries a bit more weight, so to speak. "I felt bereft that I never got to have the muscle suit, but I travel in hope," Grant said, laughing.
Only time will tell if Grant gets an opportunity to reprise his role when "Loki" Season 2 is released; if there is a next time, Classic Loki's crown should be where Grant left it, since he didn't take it from the set as a souvenir from the production. "When I was blown to smithereens, it just clunked onto the landscape and that's where it stayed," he said.
"Everybody is Talking About Jamie" debuts on Amazon Prime Video September 17.