Why Kid Loki Looks So Familiar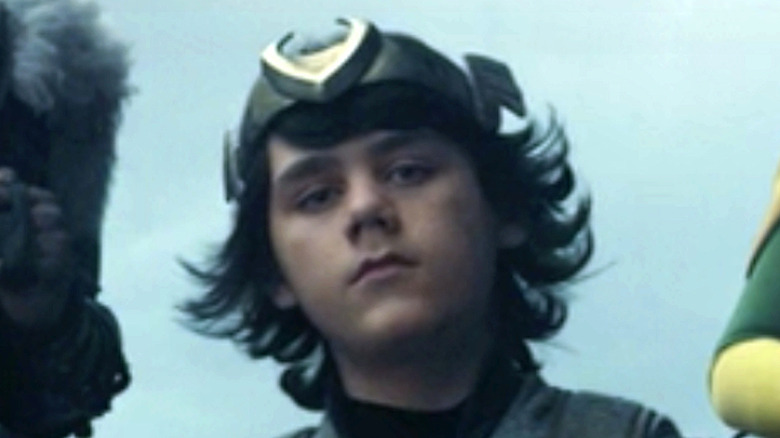 Disney+/Marvel
Disney+'s new Marvel TV series "Loki" continues to wow viewers with its ambitious storyline and many twists and turns. Tom Hiddleston returns once again as the God of Mischief, Loki Laufeyson, and is joined by talented actors like Owen Wilson as Mobius, Gugu Mbatha-Raw as Ravonna Renslayer, and Sophia Di Martino as an mysterious new character named Sylvie, among many other big names. "Loki" is the third Marvel television series for the Disney streaming platform, and with a 93% on Rotten Tomatoes, it clearly impresses. 
With every episode comes new revelations and brilliant action, as Loki is labeled a "time variance" and forced to work for the Time Variance Authority to fix the timeline issues he's caused by existing. The most recent episode, "The Nexus Event," appears to end with Loki in a not-so-great situation, but thanks to a final credits scene, there's a lot more to look forward to in episodes 5 and 6 now. One particular appearance — which has been rumored since before the show premiered — really got fans revved up, and that's Kid Loki. 
Played by a rising actor named Jack Veal, Kid Loki is one of three new Loki variants that Hiddleston's character meets in the new episode. A fan-favorite from the comics, Kid Loki is Loki reborn as a younger, more innocent version of himself, though still just as mischievous. As Kid Loki plays a big part in a major "Young Avengers" story arc, Marvel fans hope that Kid Loki will go on to appear in further MCU shows and movies. 
For some people watching the newest episode, the young actor playing Kid Loki might seem a bit familiar, so here's a look at all the major roles of his career so far. 
Jack Veal played Little James in The End of the F***ing World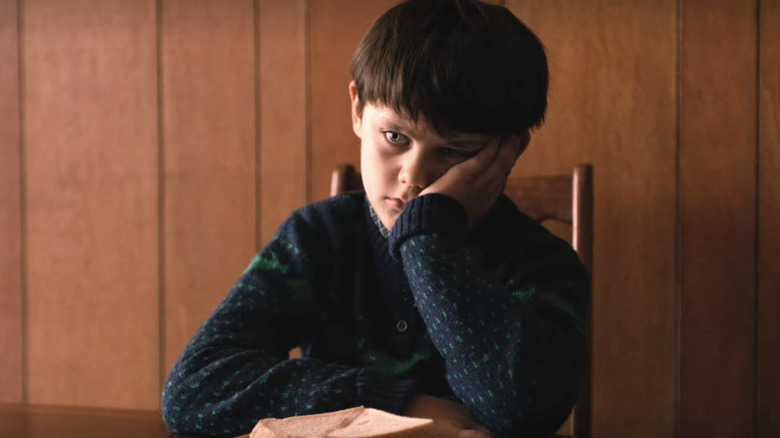 Netflix
As a young actor, Veal ends up getting a lot of roles playing younger versions of various characters, but he works hard to make each performance his own. In 2017, Veal played Little James in the hit Netflix dark comedy "The End of the F***ing World," which stars Alex Lawther as James, a 17-year-old boy who strongly believes himself to be a full-blown psychopath and begins planning his first murder. Instead, he finds himself falling in love with the girl he picks as his victim, Alyssa, played by Jessica Barden. 
Throughout the show, James and Alyssa find friendship and maybe something more in each other, venturing on a road trip across England to escape their boring lives at home. Veal is a big part of Season 1 as a younger version of James, appearing through flashbacks to show how James always felt different and alone even as a young boy. This all changes when he meets Alyssa, who also understands what it feels like to be an outsider. The popular series is based on Charles Forsman's mini-comics of the same name, and "The End of the F***ing World" has two seasons.
Veal portrayed Young Simon Brown in Tin Star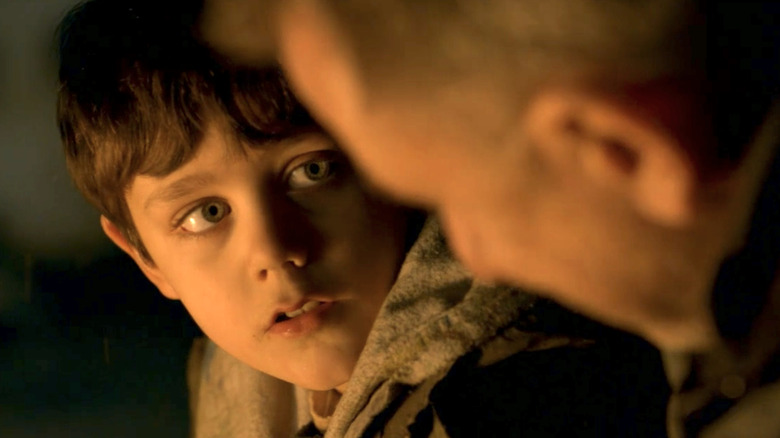 Sky Atlantic/Amazon
Next up, Veal is in two episodes of the crime drama "Tin Star," an Amazon Original and Sky Atlantic series that stars Tim Roth as James "Jim" Worth, a former police detective in London who used to work on undercover missions. When the show starts, Jim is moving with his family to the small town of Little Big Bear in Canada as the new police chief. At first glance, the Little Big Bear town members see Jim as a soft pushover, but soon enough they find out that he has a much darker version of himself hiding just beneath the surface. 
Veal plays a character named Simon in flashbacks to Jim's life before Little Big Bear. While working undercover, Jim takes on an alter ego named Jack, a drug-addicted man living with a woman and her young son Simon in a rundown house. Jack is truly the only positive role model for Simon, who grows very attached to the man. But it all comes crashing down when Jack's real identity is revealed to the man he is trying to get close to, a criminal named Frank (Ian Puleston-Davies) who is also Simon's uncle. Jack flees, and it isn't until long after that his past catches up to him and "Jack" and Simon meet again.
The rising actor also appeared as Young Liam in The Corrupted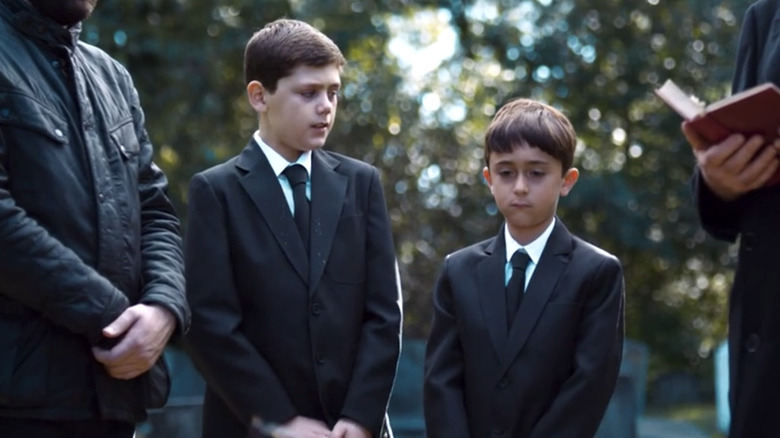 Once again, Veal plays a young boy forever changed by childhood trauma in 2019's "The Corrupted." The movie, which stars Sam Claflin as Liam McDonagh and Timothy Spall as Clifford Cullen, is about an ex-con who tries to return to a life of normalcy in London, only to discover that his father's death when he was a kid wasn't a suicide, and the man responsible might be closer than he thinks. Veal plays Young Liam, who looks after his little brother after they walk into a warehouse to find their father dead from a bullet wound below the chin. 
Alone and with no one to turn to, Liam quickly becomes involved with crime and ends up in jail, but once he's out, he intends to start over and do better for his family. Unfortunately, London is right in the middle of a crime takeover as Clifford leads a system of deep corruption in Scotland Yard and other offices of influence, and Clifford and his allies will get rid of anyone who gets in their way. When Liam discovers that his father's death is likely connected to these criminals, he simply can't sit back and do nothing, and so he takes the problem into his own hands.