The Marvel Movie You Likely Forgot Starred Sam Elliott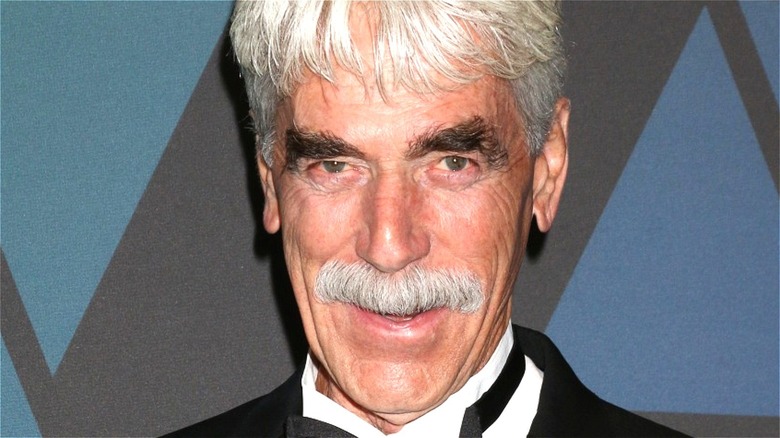 Kathy Hutchins/Shutterstock
Prolific actor Sam Elliott's illustrious career dates back more than five decades, beginning in earnest in 1969 with guest roles on a pair of TV series, as well as a bit part simply billed as "Card Player #2" in Paul Newman and Robert Redford's classic Western "Butch Cassidy and the Sundance Kid." While the role wasn't nearly as remarkable as his esteemed co-stars, Elliott, thanks to his indomitable swagger and booming drawl, has himself become a staple in Westerns throughout his career with such film classics as 1993's "Tombstone" and, most recently, the hit Paramount+ streaming series "1883."
But although Elliott acknowledges and "embraces" his typecasting as a cowboy (via NPR), the actor has also proven that he has the mettle to act in any genre. Elliott has appeared in more than 100 projects overall, per his IMDb page, including the 1989 action-drama "Roadhouse" and comedies such as the Coen brothers' 1998 classic "The Big Lebowski." He earned his first and only Oscar nomination for his pivotal supporting role opposite Lady Gaga and Bradley Cooper in the 2018 romance drama "A Star is Born."
Also on Elliott's impressive resumé, though, is a Marvel superhero film that seems to have fallen by the wayside since it was made before the official formation of the Marvel Cinematic Universe.
Elliott showed up in this Hulk-sized 2003 Marvel movie
Before the sprawling MCU films began in 2008 with director Jon Favreau's "Iron Man," starring Robert Downey Jr., several Marvel movies were made by different studios who owned the rights to various characters (via /Film). Sony, of course, owns the rights to produce the "Spider-Man" movies, which kicked off in 2002 with director Sam Raimi's version of the web-slinger starring Tobey Maguire. Before it was purchased by Disney, 20th Century Studios had the rights to such properties as "X-Men," "Fantastic Four," and "Deadpool," while Universal Pictures had the rights to "The Incredible Hulk."
Universal's first movie featuring the character, director Ang Lee's "Hulk," was released in 2003 with Eric Bana starring as Dr. Bruce Banner, a scientist who, after absorbing gamma radiation, turns into a hulking green monster every time he has fits of anger. Jennifer Connelly also starred in the film as Banner's love interest, Betty Ross, while Sam Elliott played her father, General Thaddeus "Thunderbolt" Ross. Despite his daughter's relationship with Banner, Ross has no qualms about using any means necessary to stop the scientist's massive alter-ego, which eventually leads to a showdown with the Hulk.
Elliott's tenure as Ross lasted only one film, however, as Universal rebooted the franchise in 2008 with "The Incredible Hulk." Bana and Connelly were replaced by Edward Norton and Liv Tyler as Banner and Betty Ross, respectively, while William Hurt took over the role of Thaddeus Ross from Elliott. And while "The Incredible Hulk" is officially included in the MCU, Hurt is the only actor in the film to reprise his role in subsequent appearances in the MCU. He plays Secretary of State Ross in the "Captain America" films "The Winter Soldier" and "Civil War," as well as the "Avengers" films "Infinity War" and "Endgame."