Why Sam Elliott Thought He Would Die Filming Yellowstone's 1883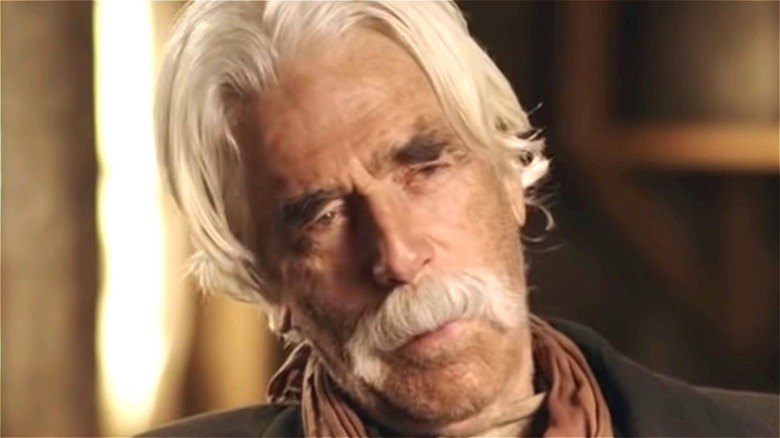 Paramount+/YouTube
If you throw a horseshoe in just about any direction of Tyler Sheridan's expanding "Yellowstone" universe, chances are you're going to hit some hard-faced, no-nonsense cowboy who could kill you with a thousand-yard stare. James Dutton (Tim McGraw), John Dutton (Kevin Costner), the list goes on and on. However, few can measure up to the stoic, mustachioed Shea Brennan of "1883," as portrayed by a big and small screen journeyman and someone who has spent decades building a career on stoic, mustachioed cowboy characters: Sam Elliott.
Appearing in tough-guy roles in the likes of "Roadhouse," "We Were Soldiers," and even playing an original "Ghost Rider," Elliott is undoubtedly made of sterner stuff. Or so his numerous iconic performances as gruff, hard-faced heroes have led us to believe. Be that as it may, even the man himself who stars in "1883" has admitted that there have been occasions filming this new Wild West series that took him to his limit. No, not as an actor — it's clear he's tailor-made for a project like this — but as a living, breathing human being. The show managed to extract quite the physical toll on his body.
Incredibly, as revealed in an episode of the Official Yellowstone Podcast, it was wandering along these gorgeous but grueling terrains that took their toll on Sam Elliott. In fact, at one point, he wondered if shooting "1883" would be his final act among the living.
Sam Elliott had to deal with harsh temperatures when filming 1883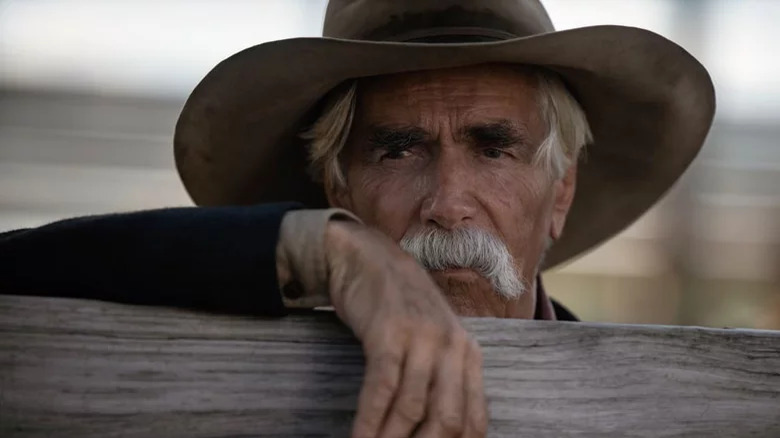 Paramount+
Speaking on the Official Yellowstone Podcast, where he also revealed that he almost missed out on entering Sheridan's epic world, Sam Elliott explained just how demanding the life of an aging cowboy in "1883" can be. The series sees him as Shea Brennan: a grizzled Civil War veteran whose past is marred with tragedy and death. Nevertheless, he takes up the job of guiding the Duttons and several other folks along the perilous Oregon Trail. On paper, such a description was just business as usual for Elliott, but that all changed once he stepped outside in costume.
"I think the hell of it is just dealing with the elements, more than anything," Elliott explained. "There were times when it was like 108 degrees down there in Fort Worth when we first started." With heat like that to handle, it's understandable that the required attire to add to the show's authenticity caused issues for him and the cast involved. "We were out in the sun all day long, we were wearing wolves' jackets. The immigrants were wearing layers and layers of wool clothes." Sadly, this was just the start of the cast's woes.
The tough weather conditions continued as the shoot moved to Montana, though the cast had to deal with blistering cold temperatures that time around. Donning little more than a standard pair of pants, a shirt, and a light jacket, Elliott had serious doubts about his wellbeing. "I just remember thinking 'What the f**k, man? Am I gonna die on this trail?'"
Elliott wasn't the only one taken aback by the elements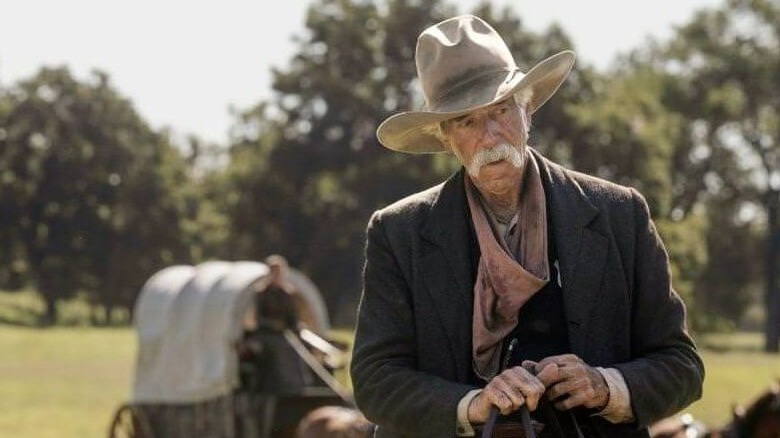 Paramount+
Thankfully, Sam Elliott and his co-stars made it through principal photography without any major health scares, but it's plain to see where his concerns came from. Nothing compares to real grass, trees, buildings, and the like, but harsh weather is a major drawback to on-location filming. As it turns out, Elliott wasn't the only person on the "1883" team who had trouble combatting the temperamental climate. His co-star, Tim McGraw, echoed similar claims about the shoot during his recent appearance on "The Late Show with Stephen Colbert" (via YouTube).
"When we signed up for this, I told Faith [Hill] 'Look, we're either gonna be on fire the whole time or freezing cold,'" McGraw recalled, and he wasn't wrong. He posits that they enjoyed around a mere five days or so where the weather was comfortable. Otherwise, temperatures went back and forth between near-triple-digits or single-digits. To make matters worse, the crew often had to contend with heavy winds as well, making filming even more difficult for all involved. Sure, period-accurate clothing and sets sure do look great, though they could easily become major hindrances in their own ways.
The inaugural season of "1883" is currently streaming on Paramount+, and if you're a fan of "Yellowstone" or Westerns in general, it's definitely worth checking out. Not to mention, Sam Elliott and the rest of the cast went through the wringer to make it happen, so it couldn't hurt supporting them and the product of their hard work.