Michael Chiklis Discusses The Thrill Of Playing Celtics Coaching Legend Red Auerbach In Winning Time - Exclusive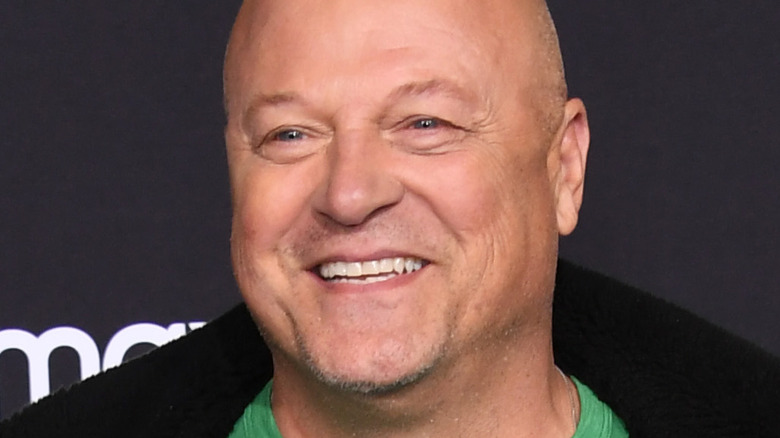 Jon Kopaloff/Getty Images
While "Winning Time: The Rise of the Lakers Dynasty" is the name of the new series about L.A.'s storied "Showtime Lakers" squad that dominated the NBA in the 1980s, some of the team's rivals are showcased, too. Among those on the other side of the ball are Earvin "Magic" Johnson's (Quincy Isaiah), NCAA-turned-NBA foe Larry Bird (Sean Patrick Small), as well as the Boston Celtics executive who drafted him — that being the legendary coach-turned-general manager Red Auerbach (Michael Chiklis).
Auerbach plays a pivotal role early on in "Winning Time," just as an enterprising investor by the name of Dr. Jerry Buss (John C. Reilly) buys the Lakers and is determined to turn the team's home games into a showbiz experience. Buss seeks out Auerbach for advice, but the cigar-chomping, take-no-prisoners GM blows smoke at the rookie owner's aspirations.
Since cigars are permanently attached to Auerbach's legacy — both the NBA Coach of the Year trophy and a statue in Boston feature the coach seated on a bench with a stogie in his hand — in fact, Chiklis was required to act the part and smoked "quite a few" faux cigars during production. 
"I was an original member at the Grand Havana Room back in the day, so I did smoke my share of cigars, and I love them, but I quit because I was smoking too many of them, and I want to live, and so I quit ... 22 years ago," Chiklis told Looper in an exclusive interview. "So I was a little concerned about this. You can't smoke cigars on set anymore, so they had ... It's this horrible clove that ... Oh, it's awful. That's what I had to smoke to play Red. They look right. It looks right, but boy, oof, not good."
Chiklis wishes his father could have seen him play Auerbach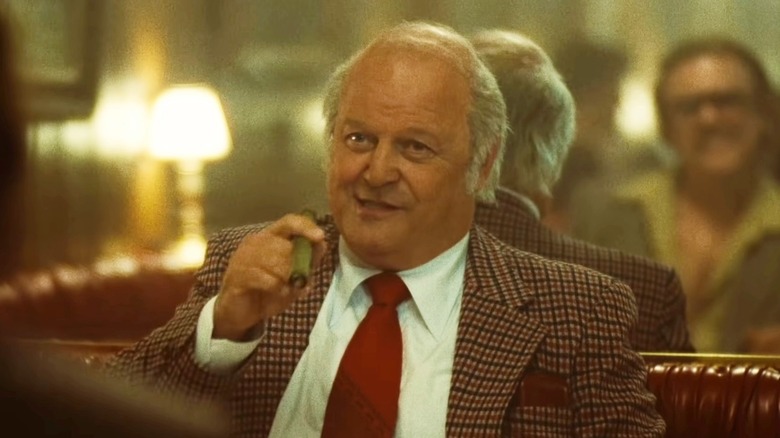 HBO Max/YouTube
Michael Chiklis, whose massive résumé includes such hit series as "The Commish," "American Horror Story," and "The Shield" — the latter of which earned him a Best Dramatic Actor Emmy in 2002 — hails from the Boston area. And while Red Auerbach is a legend in the city and the state, Chiklis said he wasn't afraid of letting down the hometown team.
"I guess it would've [been intimidated], had I not been through this kind of thing a number of times before. I've played a number of iconic people in my career, so I'm familiar with that feeling," Chiklis told Looper. "I approach it the same way every time. Do your due diligence. I studied him. I read the books. Be as truthful and as forthright and true to the man as possible, and you should be okay. Born, raised, and educated in the Boston area ... I hate that my father isn't alive to see this because he would freak out for this series! He loved Red Auerbach."
The interesting part about the role for Chiklis is also that Auerbach is seen in "Winning Time" from the Lakers' point-of-view. However, that didn't change the way the accomplished actor portrayed the Celtics hero. "You have to understand, I knew that he would be portrayed as a villain, if you will, at least initially, because he's the principal antagonist — one of the principal antagonists — but I know that Red Auerbach was loved and revered by his teams, by the administrations, and the fans of the Boston Celtics," Chiklis told Looper. "Conversely, if you were on the other side of that, you f***ing hated this guy because he was so formidable and he was so incredible, and he played to win. You know what? That's a fun role to play. It's great to slip on that jacket and smoke those stogies."
"Winning Time" is now on HBO and HBO Max, with a new episode premiering every Sunday through May 8.