The Best Bensler Moment In Law & Order: SVU Season 5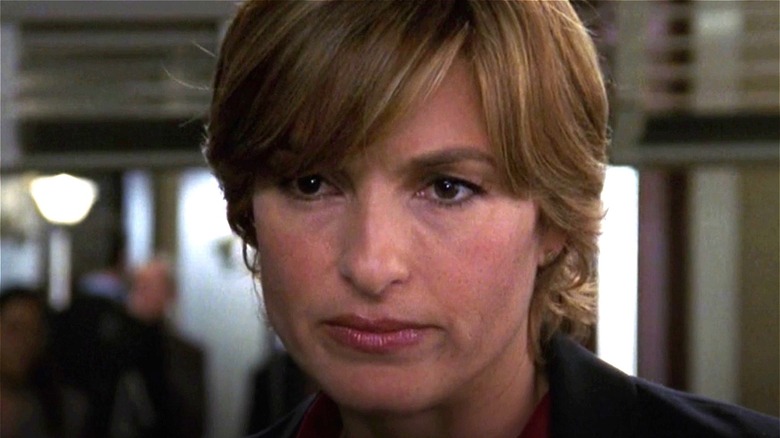 NBC/Hulu
This article contains mentions of sexual assault.
With over 500 episodes under its belt, fans of "Law and Order: Special Victims Unit" have no shortage of moments to choose from as their favorites. The central appeal of the series, however, has always been the partnership of Elliott Stabler (Christopher Meloni) and Olivia Benson (Mariska Hargitay). While Stabler can sometimes get too personally involved in cases — and has had plenty of moments where he's told to keep his anger in check — Benson provides the perfect balance as someone who brings an equal amount of empathy and passion to the job, but who can still keep more of a cool head. It's a perfect give and take partnership. 
Even after Meloni left the series in 2011 and Benson took on more of a leadership role within the Special Victims Unit, fans still clamored for more of Stabler and Benson, with the two providing some of the best moments from the entire show. Stabler returned to the series in 2021's "Return of the Prodigal Son" and headlines "Law and Order: Organized Crime" now, giving fans plenty of opportunities to see the pair of characters grow together again. 
It's worth asking what some of their best moments from the series' long run are, particularly with the two re-teamed and fighting crime within the same televised universe again. There is one moment that stands out as the best in Season 5, as Benson is thrust into a new situation and has to rely on her SVU team more than ever ... especially Stabler. 
Bensler's best moment in Law and Order: SVU was in Control
There are plenty of fan-favorite episodes in "Law and Order: Special Victims Unit" Season 5, a relatively early look at the partnership between Olivia Benson (Mariska Hargitay) and Elliott Stabler (Christopher Meloni), but the best moment between Stabler and Benson comes during an episode where Benson confronts the case of a victim whom she did not believe years before. The case at hand leads detectives to an apartment with photo albums of victims, one of whom Benson recognizes as the woman whose kidnapping and sexual assault story she did not believe. 
The case leads Benson to big personal revelations, but also finds her and Stabler at odds when Benson is found over the dead body of the suspected rapist, killed by a stab wound and leading to an interrogation of her by Stabler at the crime scene. It's a reversal of the typical roles as Stabler is the one telling Benson she's "out of control."
Benson later asks Stabler why among all his questions he did not ask whether she actually killed the man even after she is accused in court, and Stabler reveals he always believed his partner, saying, "I know you didn't do it. You would've shot the bastard." The words came at perhaps Benson's lowest personal moment in Season 5, and it showed the conviction these two partners continue to share. 
If you or anyone you know has been a victim of sexual assault, help is available. Visit the Rape, Abuse & Incest National Network website or contact RAINN's National Helpline at 1-800-656-HOPE (4673).