Henry Cavill's Latest Movie Transformation Is Turning Heads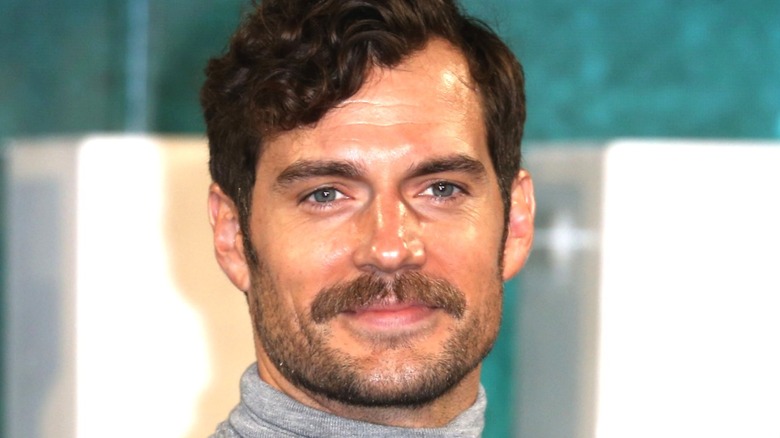 Cubankite/Shutterstock
In 2017, Superman actor and future "Witcher" star Henry Cavill famously grew a mustache for his role in "Mission Impossible: Fallout." While making such an alteration to his look was arguably noteworthy in its own right, his mustache became a talking point when it was revealed that he was maintaining his mustachioed look during "Justice League" reshoots, meaning that his face in those shots had to be digitally altered to match the rest of the film. When it came time to release his own reedited "Justice League," Zack Snyder characterized those shots — which he claimed to have only seen in memes — as an element of the original version he was happy to remove. After completing his work on "Mission Impossible: Fallout" and shaving his mustache, Cavill memorialized his notorious facial hair on his Instagram account.
Currently, Cavill is slated to star in "Argylle," a spy thriller directed by Matthew Vaughn of "Kingsman" fame. Cavill began teasing his role in the film as early as July 2021, when he shared a cartoon mock-up of his character to his Instagram page. Now, the better part of a year later, some brief footage of "Argylle" has surfaced online, revealing Cavill's look in the film — and people have thoughts.
Viewers aren't sure what to make of Henry Cavill's Argylle haircut
Thus far, Henry Cavill's look in "Argylle" has been showcased in just one image and one short clip. The first image, of Cavill dancing with co-star Dua Lipa, is available on the film's official page on Apple TV+, where it will premiere as a streaming service original. A brief video clip of Cavill's character then aired during the 2022 Apple Event (via YouTube), giving viewers their best look at his appearance in the film yet, in a shot framing Cavill at its center and from head-on. It was largely in response to this footage, which highlights Cavill's tall, croppped haircut, that viewers expressed some strong opinions.
The Twitter account for pop culture website Culture Crave, for example, shared a screencap of Cavill from the Apple Event video with the caption "Did my guy dirty," followed by a crying face emoji, and received upwards of 15 thousand likes. User @Uber_Kryptonian wrote, above a similar image, "I'm convinced Matthew Vaughn hates Henry Cavill," to the tune of more than 3,000 likes. Meanwhile, user @Drew_TandB posted, "Look how they massacred my boy. #HenryCavill #Argylle," once again including a variation of the same image.
From the sound of it, then, few people are happy with Cavill's "Argylle" haircut. More information about his character, and potentially why he looks the way he does, should be revealed as the film's 2023 release nears closer.