Why Diana From Bull Looks So Familiar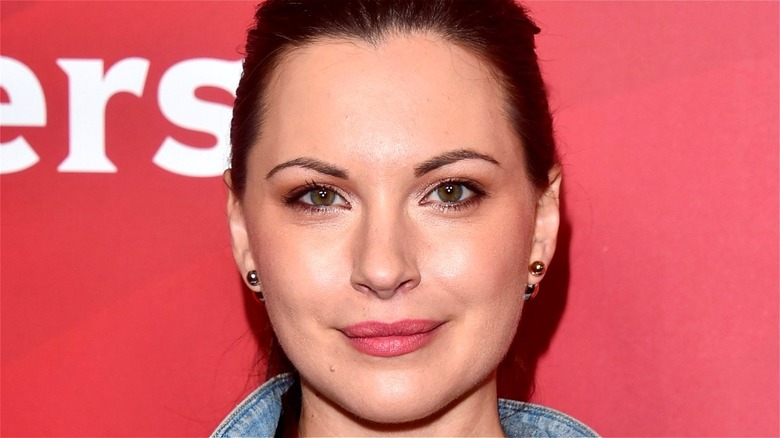 Alberto E. Rodriguez/Getty
One of the most popular legal dramas currently on TV is "Bull," the CBS series starring Michael Weatherly as Jason Bull, a psychologist with an uncanny knack for picking the perfect jurors to help his legal clients' cases and arguments. Though the series is coming to an end in 2022, fans have had plenty of time to get attached to Bull and the rest of the show's colorful cast of characters.
One such character that fans of the series will no doubt already be acquainted with is the recurring character Diana Lindsay, Bull's on-again-off-again romantic rival who pops up every now and again to add some more spice to the psychologist's already hectic life. However, some viewers may wonder why Diana looks so familiar to them. As it turns out, the actress behind Diana, Jill Flint, has been a part of a whole bunch of other notable TV shows over the years and even had a role in a major superhero flick.
Jill Flint played two separate characters in two Law & Order spin-offs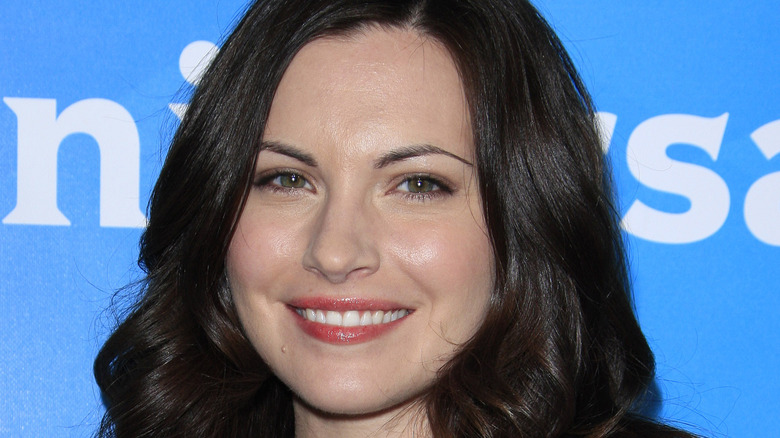 Joe Seer/Shutterstock
There are few TV universes that can match the scope and scale of the long-running "Law & Order" police procedural franchise. In fact, the franchise has become so massive and has spanned so many episodes across different seasons of different shows that it's not all too surprising a few guest actors, such as Jake Weary from "Animal Kingdom," have popped up multiple times across the universe as different characters.
Flint is responsible for playing a pair of these odd doppelgängers, as the actress made guest appearances on both "Law & Order: Trial by Jury" and "Law & Order: Criminal Intent" as two completely separate characters. Her appearance in the former actually came in its very first episode, "The Abominable Showman," in which she portrayed an actress-turned-murder-victim's roommate Karen. The following year, Flint appeared on Season 6, Episode 8 of "Criminal Intent," titled "The War at Home," as a woman named Trisha.
Jill Flint got in on the romantic hijinks of Gossip Girl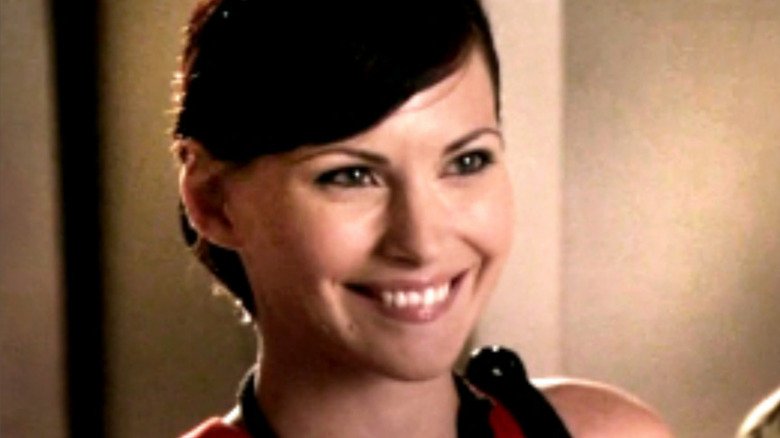 The CW
"Gossip Girl," the popular CW drama focusing on the lives on several precocious teenagers living in the bustling metropolis of New York City, was often an exercise in taking its colorful cast of characters and seeing just how complicated and messy their personal and romantic lives could possibly get. As was the case throughout the show, any other characters in the vicinity of these wild dynamics also found themsevles quickly enveloped into the drama.
Flint actually played one of the first recurring characters to get roped into the messy web of passion, as she portrayed an art dealer named Bex Simon during the show's first two seasons. Bex was introduced as Lily van der Woodsen's art liaison, though things quickly got awkward between the pair when she immediately sparked up a romance with Lily's ex-husband Rufus. It goes without saying that things didn't work out neatly.
Romance fizzled once again for the actress on Nurse Jackie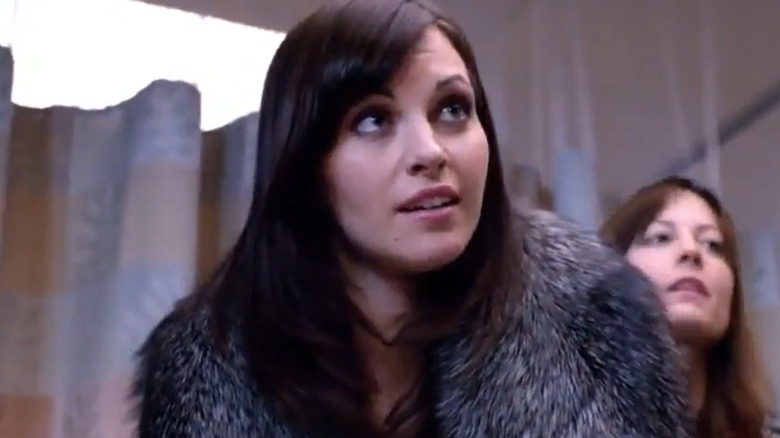 Showtime
Flint also had a stint on one of the edgier medical dramas of recent television history. The actress appeared for four episodes of the first season of "Nurse Jackie," the dark comedy that followed the exploits of Jackie Peyton (played by the talented and diverse Edie Falco), an emergency department nurse grappling with a serious drug addiction.
During her time on the show, Flint portrayed Melissa Greenfield, a love interest of the friendly yet arrogant Dr. Fitch Cooper (Peter Facinelli). Just as was the case with her "Gossip Girl" character's romantic prospects, things didn't pan out well for Flint's Greenfield in the love department. Not only does she get broken up with when she thinks the relationship has been going well, but in typical Cooper fashion, the doctor bungles his breakup and accidentally insults her, hurting her feelings despite his best intentions.
Flint's character almost got convicted for murder in CSI: Miami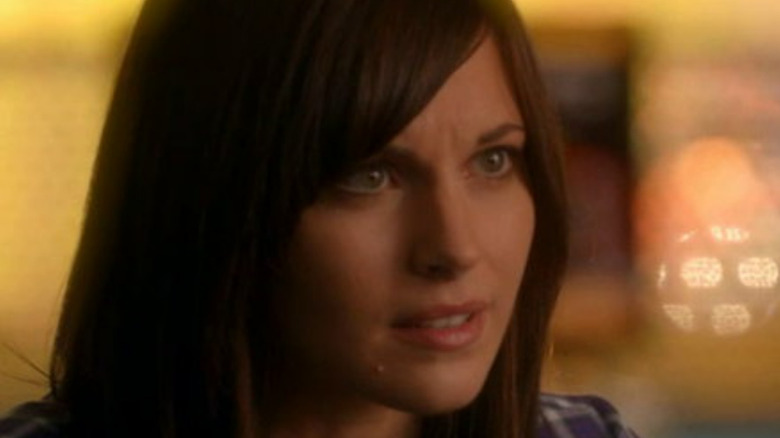 CBS
The "Law & Order" franchise isn't the only storied police procedural TV universe that Flint has been a part of. The actress also once popped up in the "CSI" franchise, as she made a guest appearance on the spin-off show "CSI: Miami" in Season 10, Episode 14, titled "Last Straw." 
In the episode, Flint portrayed as a young woman with a soft spot for horses named Elle Toring. Toring found herself as a prime suspect in the murder cases of both her former college sorority president and her best friend. All the clues the CSI team found seemed to point to her being the culprit, but in the end, it turned out to be Toring's vengeful father who was the killer, resenting the victims for how they treated his daughter in college. Her innocence may have been cleared, but Toring's life was pretty much in shambles by the end of the episode and it's pretty depressing to watch her try and move forward. What is it with Flint's guest characters not getting happy endings?
Jill Flint played the suspicious receptionist in The Amazing Spider-Man
Anyone who recently embarked on a major "Spider-Man" movie marathon leading up to or in the wake of 2021's massive blockbuster hit "Spider-Man: No Way Home" may find Jill Flint to look especially familiar. As it turns out, the actress shares a funny yet crucial scene with Andrew Garfield's iteration of the webslinger early on in "The Amazing Spider-Man."
When Peter Parker is sneaking into the Oscorp Lab to meet Dr. Curtis Connors, he is confronted by the building's receptionist, played by none other than Jill Flint herself. The two have an awkward exchange as Peter pretends that he's an intern named Rodrigo Guevera while the receptionist suspiciously allows him access to the building. It's pretty obvious that she knew something was up, but her blind eye did end up indirectly leading to this version of Peter getting his radioactive spider-bite and subsequent superpowers. It's too bad she probably never found out about her role in all of that.
Jill Flint tried to outwit the famed Sherlock Holmes on Elementary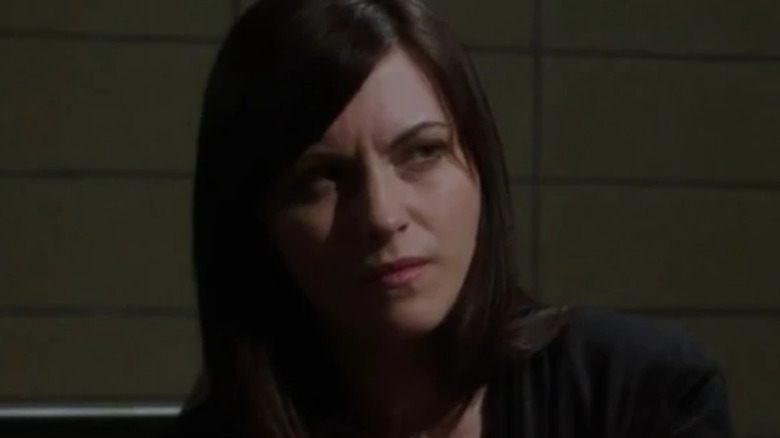 CBS
Flint also made a single guest appearance on Season 1, Episode 19 of the modernized Sherlock Holmes mystery series "Elementary," where she played a woman named Alysa Darvin and once again found herself as a prime suspect in a murder case. The big difference from her appearance on "CSI: Miami," however, was that this time, she actually was the culprit. Well, one of them, anyway.
Darvin and her two accomplices are revealed to have committed a sizable robbery and murdered a security guard, though a surprising series of betrayals and backstabbings between the trio, as well as some expert sleuthing on the part of Holmes (Johnny Lee Miller) and Watson (Lucy Liu), end up getting all three of them caught by the end of the episode. Another case in the books for the storied detective duo and another bitter ending for one of Flint's characters.
The actress played Kalinda's FBI love interest on The Good Wife
Before she took on the law as Diana in "Bull," Flint recurred throughout another hugely popular legal drama: "The Good Wife," which starred Julianna Margulies as the seasoned lawyer Alicia Florrick as she returned to the legal profession following a scandal. 
Across the show's first six seasons, Flint sporadically appeared as Lana Delaney, an FBI agent who gets romantically involved with Florrick's close friend and co-worker, the mysterious investigator Kalinda Sharma (Archie Panjabi). The pair had a complex on-again-off-again relationship that dipped in and out of view until the end of Season 6, when Sharma was forced to go into hiding for her own protection and didn't return for the show's seventh and final season. It's unclear whether the two worked out in the long run, but one can at least hope that happiness was in the cards for them somehow.
She finally got a happy ending on Royal Pains
Jill Flint's first role as a main cast member on a show came in the form of her time on the endlessly rewatchable medical comedy-drama "Royal Pains," which focused on the exploits of Hank Lawson (Mark Feuerstein), a successful doctor who gets fired from his original workplace only to find new work as a concierge doctor for wealthy residents in the Hamptons. For the first four seasons of the show, Flint starred as Jill Casey, a doctor at the local Hamptons community hospital who begins a complicated romantic relationship with Lawson and helps him create his own clinic.
Casey eventually left the show at the end of its fourth season, giving up on trying to make her romance with Lawson work and deciding to go do relief work in Africa. However, when the show finally reached its conclusion at the end of Season 8, Casey returned and Lawson left the Hamptons to rekindle their old relationship. The two ended off the series with a happy ending, shown to be engaged several years into the future.
Flint portrayed Dr. Alexander on The Night Shift
Moving from one medical drama to another, Jill Flint went on from "Royal Pains" to star in "The Night Shift," the NBC series that centered upon the complex professional and personal lives of the late night staff of a hospital emergency room. Throughout all four seasons of "The Night Shift," Flint portrayed Dr. Jordan Alexander, the no-nonsense head of the night shift staff — not to mention, the on-again, off-again girlfriend of loose cannon Dr. TC Callahan (Eoin Macken).
Though Alexander and Callahan found themselves at odds at the show's outset, they slowly rekindled their romance and Alexander vacated her position in order to be with Callahan. Unfortunately, until the doctor had a miscarriage that strained the couple's relationship and ultimately led to their breaking up once more. In the final season of the show, Alexander returned to once again lead the night shift staff.