The Real Reason FBI Agents Were Present On Ozark's Set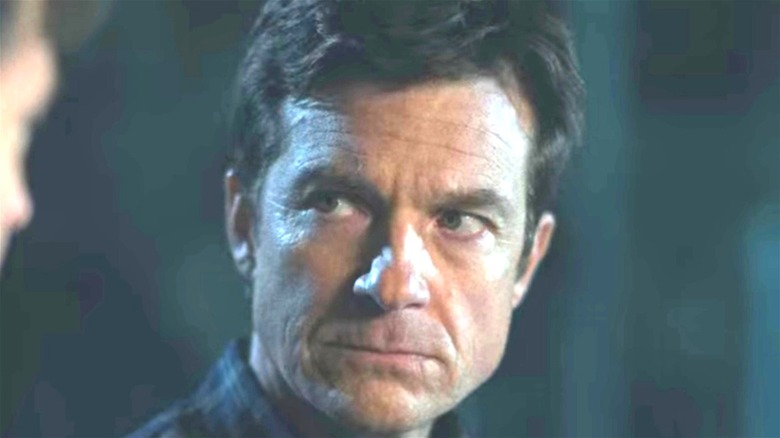 Netflix
Netflix's "Ozark" is getting ready to take its final bow, with Season 4's much-anticipated second half releasing later this spring. And in case you've missed it, things have gotten pretty intense for the Byrde family. Delightfully toxic relationships with the FBI and Mexican cartel — along with all the other holes that Marty and Wendy (Jason Bateman and Laura Linney) have dug themselves into over the past four seasons — appear to finally be coming to a head, and as they do, the show's producers and writers continue to up the illicit ante. 
Money laundering, drug smuggling, murder, and other criminal acts have become the cream of the "Ozark" crop as of late, even more so during Part 1 of Season 4. Things have gotten so crazy with Netflix's Midwestern crime drama that actual FBI agents have been showing up on set to keep a close eye on everyone involved. But can you guess why?
FBI brought in to teach Ozark cast and crew about illicit activity
Creating the criminal underworld of "Ozark" was a task that the show's producers and writers took very seriously, to the point where they brought in someone from the FBI to help tutor everyone on all things illegal. According to writer/producer Chris Mundy, this federal agent visited the writers' room so everyone involved could "pick her brain" in an earlier season (via Daily Express). 
When it comes to "Ozark" Season 4, the FBI has continued to play a major role in all of the ongoing storylines, so it would also make sense for this aforementioned agent to offer their expertise again. However, it hasn't been confirmed by anyone in production if the FBI was active in the Season 4 writers' room — though the Daily Express reported it as so. 
There are, of course, plenty of actors playing FBI agents around the set, though. Fictional FBI foot soldier Maya Miller (Jessica Frances Dukes) has been a pivotal character on the show for quite some time now and recently told Looper how awesome it's been to work with everyone involved. "I went to set even when I wasn't called because I wanted to absorb as much as I could from these people," Dukes said. "It was magical." 
Part 1 of "Ozark" Season 4 is streaming on Netflix, while Part 2 will drop on April 29.