Who Are The Officers On Chicago Fire
NBC
Launching in 2012 as the first entry in producer Dick Wolf's "One Chicago" slate of Chicago-centric action-dramas, "Chicago Fire" follows the adrenaline-fueled exploits of first responders tackling the Windy City's most perilous fire, emergency, and rescue situations. Crewed by a diverse line-up of firefighters, paramedics, and support staff, the series chronicles not only the pulse-pounding on-duty adventures of its characters, but it also delves into the often-tempestuous intra-department romances and other personal affairs of the heroes and heroines who call Firehouse 51 their homebase.
While the show offers glimpses into the lives of everyone on the various firehouse squads, from the longest-serving veterans to the newest firefighter candidates, many storylines zero-in on the officers charged with leading their crews into life-threatening danger and other rescue ops on a weekly basis.
With that in mind, here are the officers at the top of the hierarchy when it comes to calling the shots on "Chicago Fire."
Chicago Fire's officers are a dedicated group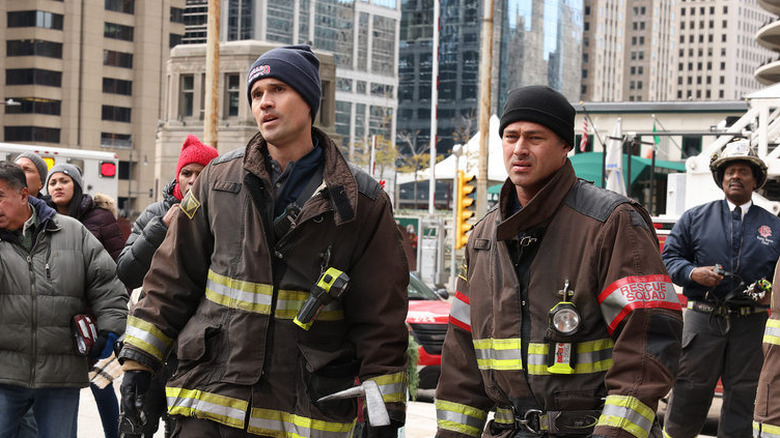 Adrian S. Burrows Sr./NBC
As long-time "Chicago Fire" fans are likely to agree, the men and women guiding the various teams of first responders answering emergency calls out of Firehouse 51 are a truly admirable collection of strong-willed and decisive leaders.
In charge of the elite Squad 3 truck crew and its highly trained technical rescue experts, there's the stalwart Kelly Severide (Taylor Kinney). Recently rising to the Lieutenancy of Truck 51 is Stella Kidd (Monica Rae Mayo), who was able to assume her new position because the acting Lieutenant, Jason Pelham (Brett Dalton), accepted a gig at another firehouse.
Serving as company officer on the second shift of Engine 51 is veteran firefighter Christopher Herrmann (David Eigenberg), while sitting in the Deputy District Chief's chair in District 4 is Wallace Boden, Jr. (Eamonn Walker). And last but not least, departing the show after 200 episodes as a Lieutenant and then Captain of Truck 81 is Mathew Casey (Jesse Spencer).
Want to catch all of these dauntless leaders and their crews in action? "Chicago Fire" airs Wednesday nights on NBC, and you can stream past episodes for free on Peacock.