Danielle Colby Admits The Real Reason She Agreed To Join American Pickers
Fans of The History Channel's long-running rummage and resell series "American Pickers" have been tuning in to watch Antique Archaeology owner and hidden treasure-finder Mike Wolfe turn another person's collectible clutter into dollars signs since the series debuted back in 2010. Though the cast has seen at least one major transition over the years, Wolfe's trusty partner-in-crime and office manager Danielle Colby has stuck with the series throughout. 
Whether she's hunting down antique leads for Wolfe, filling him in from the other side of the phone while he drives around in his giant van, organizing the pickers' itinerary, or building relationships and networking with buyers and suppliers, Colby has been the true linchpin of both the show and the shop for over a decade.
Of course, "American Pickers" isn't Colby's only pursuit. She's also an artist and a designer with a background in burlesque, circus arts, costume restoration, and roller derby (via her personal website). With all of these various passions on her plate, it's a wonder she's able to hold down the fort and star in the reality show. Nevertheless, as she revealed to Famous Interview early in the show's run, her time and skills were something she felt she had no choice but to offer.  
Danielle knew Mike couldn't do it on his own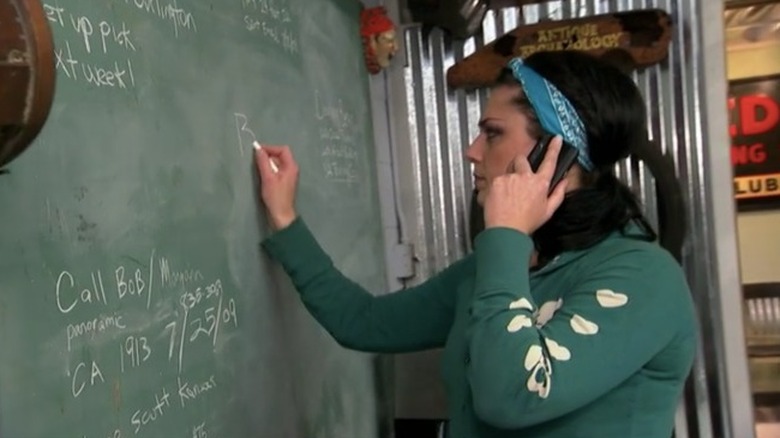 History
Danielle Colby told Famous Interview that she met her series and business cohort Mike Wolfe when he would come into her clothing shop, often bringing along vintage pieces for her to restore. "That's kind of how I got started with him," she explained, but "then the show came about and he knew he was gonna be on the road. He knew that he was gonna need somebody at the shop, so he asked me to help him out." Prior to the start of the series, the antique hunter had already been headhunting Colby for "about 5 years," but as she revealed, she had her reservations. 
"I'm a flaky artist," Colby told the outlet, "so I kind of wanted to do my own thing, but help him at the same time so I never really [felt] an obligation for quite some time." That all changed, however, when Colby took a long, hard look at what the series would mean for her friend and fellow history lover. "I just looked at the situation like this," she said — "there's no way he can do this on his own. So, I decided to work for him."
Colby came to Wolfe's rescue and the rest, as they say, is History (Channel gold).